Chicken bewbies, that is. It seems like everytime I let someone else pick up chicken at the store for me, I end up with gigantic chicken breasts that take
forever
to cook. See, I know this Chicken Marsala recipe from
Weight Watchers
works in the time frame it says because I have made it before and it was super tasty. However, it took almost twice as long to cook the breasts, so my sauce became too reduced and I had to add extra wine and broth -- but mostly wine as I ran out of broth. I guess it wasn't too bad, it was just slightly thicker and darker than I remember.
Chicken Marsala
2 tsp. olive oil
1 cup mushrooms, fresh, sliced
1 lb. uncooked boneless, skinless chicken breasts (four 4 oz. pieces)
1 tsp. dried thyme
1/2 tsp. table salt
1/4 tsp. black pepper
1/2 c. wine, Marsala variety
1 1/4 c. canned beef broth, reduced-sodium, divided
1 1/2 tbsp. cornstarch
Heat oil in a large skillet over medium-high heat. Add muschrooms and saute until tender and releasing liquid, about 5 min.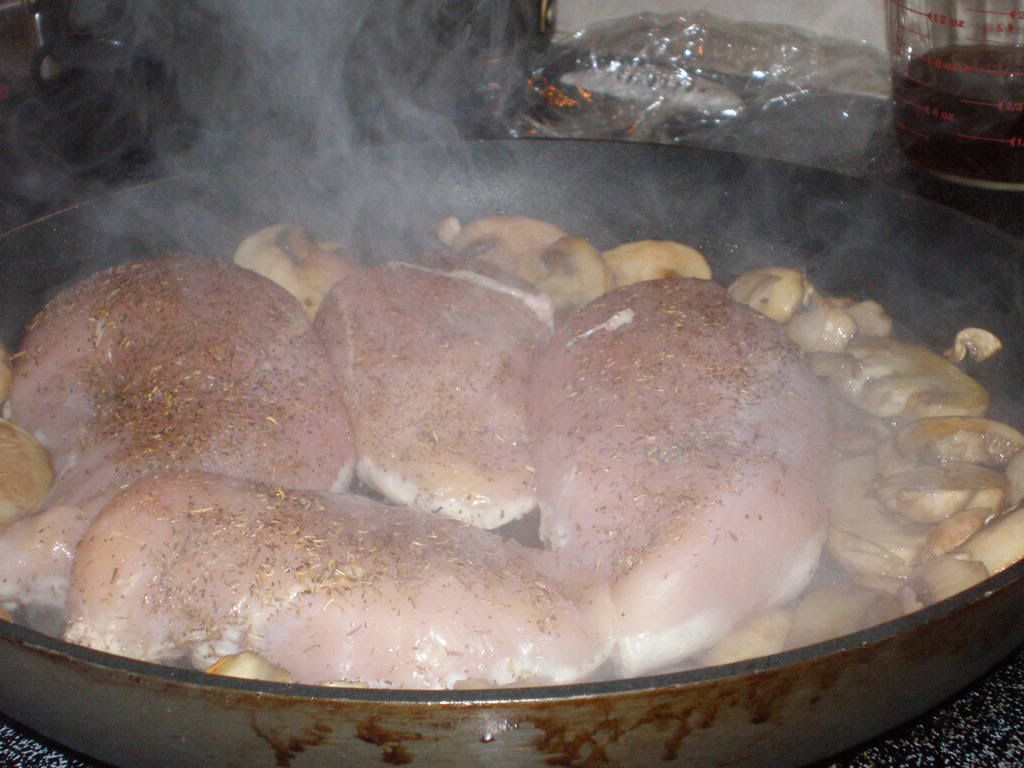 Meanwhile, place chicken on a plate and season both sides with thyme, salt, and pepper. Move mushrooms to outer edge of skillet once cooked. Place chicken in center of skillet and saute until golden, about 2-3 minutes each side.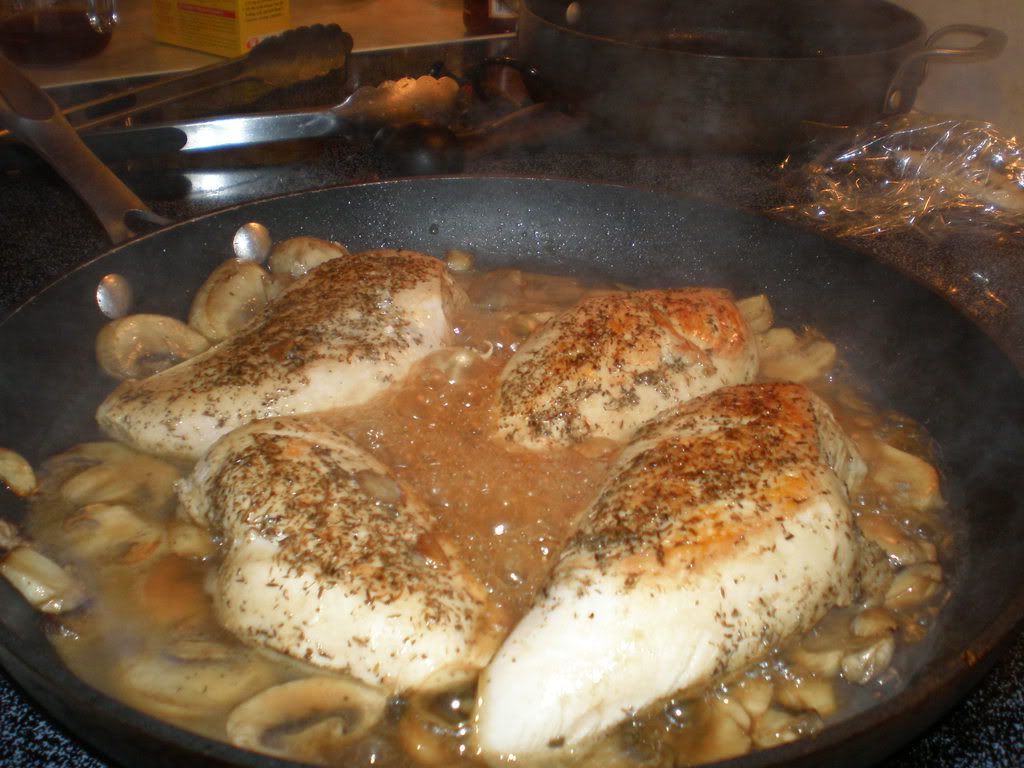 Add wine to skillet; simmer 1 minute. Add 3/4 cup of broth and simmer, uncovered, until chicken is tender and cooked through, about 8 minutes. Dissolve cornstarch in remaining 1/2 cup of broth in a small bowl; add to skillet. Simmer until sauce thickens, stirring constantly and incorporating mushrooms into the liquid, about 1 min.
Serve chicken with mushroom sauce spooned over top.
Yields about 3 oz. of chicken and 1/3 cup of sauce per serving.
WW Point value: 4

Pretty good, especially for a "diet-type" meal.
Nutrition Facts
Amount per serving
Calories 288
Calories from fat 100
% Daily Value


Total Fat 11.2
17%


Saturated Fat 2.8g
14%


Trans Fat 0.0g


Cholesterol 101mg
34%


Sodium 630mg
26%


Total Carbs 4.6g
2%


Sugars 0.7g


Protein 34.9g


Vitamin A 1%
Vitamin C 1%


Calcium 3%
Iron 12%