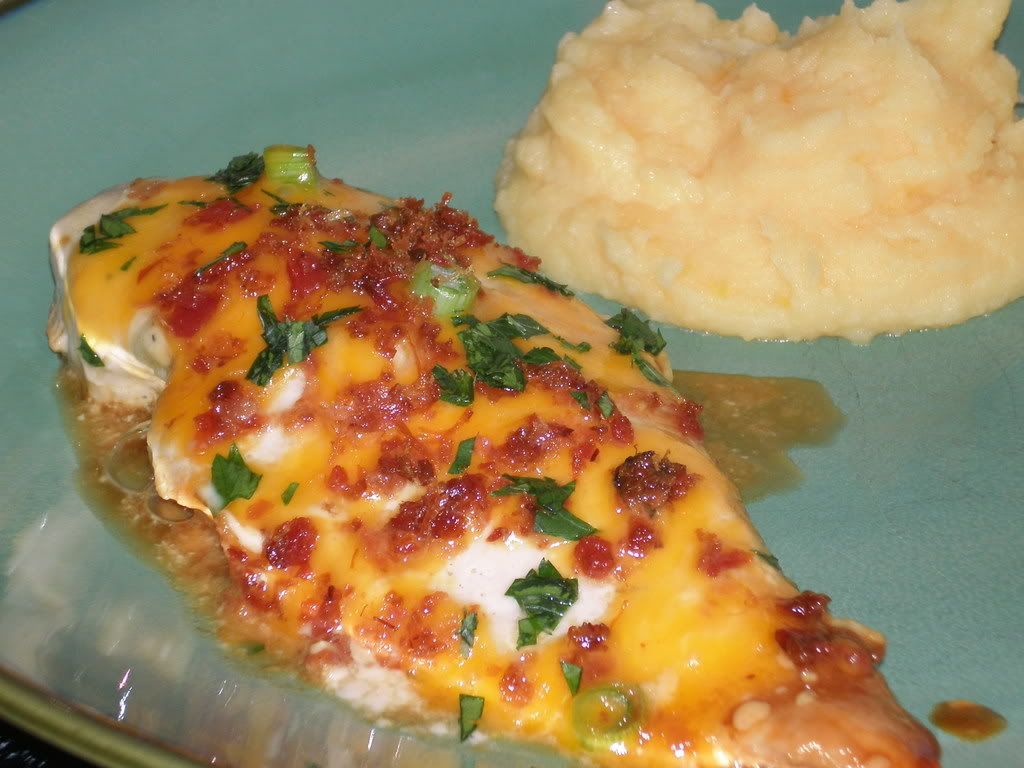 Man I was struggling to find something new to make for this week. Yes I know it's only Monday, but I figured I'd go ahead and get a jump on it. So after perusing
Allrecipes.com
(again), I found a recipe for Anniversary Chicken which had a pretty high rating. (I'm not really sure how it got its name, but you know, somethings we just aren't meant to know.)
Anyhoo, so I made it, didn't quite follow the recipe like I normally do -- I pretty much just eyeballed all the ingredients rather than measuring them out, and maybe that's why I wasn't overly impressed with the dish. I will admit that I might have overcooked the chicken a tidge, but it wasn't enough to ruin it by any means. So here's the recipe, and feel free to correct me if I'm wrong, but the flavors to me just didn't fit overly well together.
Anniversary Chicken
1 tablespoon and 1 teaspoon vegetable oil
4 skinless, boneless chicken breast halves
1/3 cup teriyaki basting sauce
1/3 cup Ranch-style salad dressing
2/3 cup shredded Cheddar cheese
2 green onions, chopped
1 (3 oz.) can of bacon bits
2 teaspoons fresh parsley, for garnish
Preheat oven to 350 degrees.
In a large skillet, heat oil over medium-high heat. Add chicken breasts, and saute 4-5 minutes each side, until lightly browned.
Place browned chicken breasts in a 9x13-inch baking dish. Brush with teriyaki sauce, then spoon on salad dressing. Sprinkle with cheese, green onions, and bacon bits.
Bake for 25 to 35 minutes, or until chicken is no longer pink and juices run clear. Garnish with parsley and serve.
Like I said, I did tweak the recipe a bit, I didn't saute the chicken breasts to keep them from drying out (except overcooking them tends to do that too...). I only put on the teriyaki and ranch at first, and then added the cheese, bacon bits, and scallions for the last 10 minutes (as many reviews recommended).