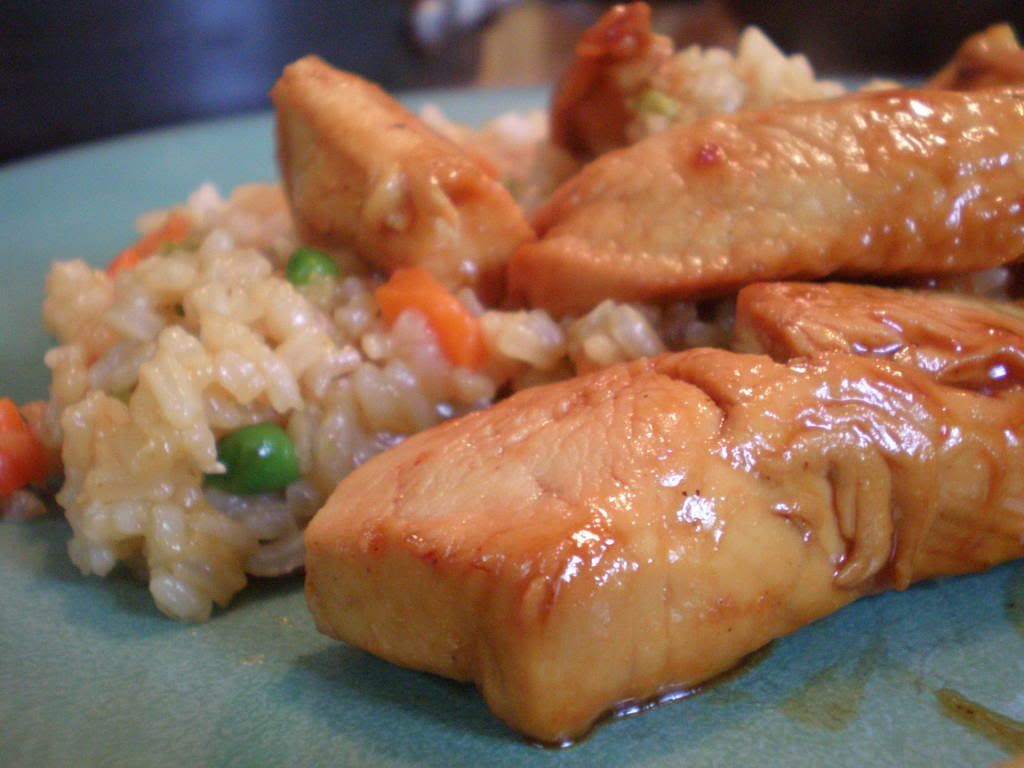 About a week ago, Jen mentioned that she was craving my
ginger rice
. Of course, as she was making the menu this week, she gives me the puppy dog eyes that are just begging for that rice. Actually, she really didn't have to twist my arm that much -- I wanted it again too. But what to put with it?
While the
Ginger Teriyaki Burgers
I made last time to go with it were pretty amazing -- I was not about ready to make them again. The grill pan never full recovered from that endeavor either. It may or may not still have burnt on carbon from them... It's a good thing I'm leaving on Sunday, I'm not sure my sister's appliances could handle me much longer. (The grill pan, the blender, who knows what's next.)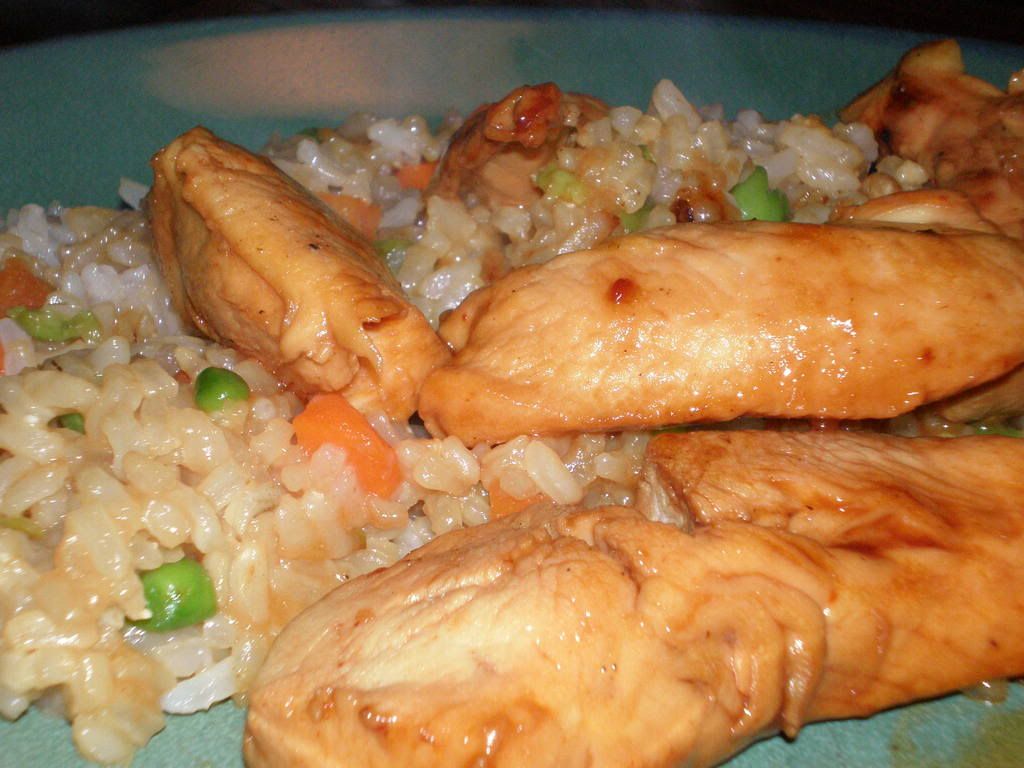 So of course, what do I do when I'm in search of a recipe? Turn to my handy-dandy magazines which I had so lovingly poured over on my flight to St. Louis, meticulously starring all the delicious-looking recipes. Or maybe I was just bored. I'm pretty sure it was the latter.
I remembered having an Asian-flavored chicken recipe, which after much searching, I eventually found in the May 2008 issue. I was a little nervous at first, seeing as I've never caramelized sugar before, but hey, there's a first for everything, right?
Overall, the recipe was fairly easy to make, maybe a 3.5 out of 5 (with 5 being the hardest). You definitely need to keep an eye on the sugar during the first step. I literally stepped away for 30 seconds and it went from white to on-its-way-to dark brown.
After a quick stir, the sugar congealed into a stiff sticky glob in the pan, which kind of freaked me out a bit. However, after throwing in the chicken and cooking a bit, it dissipated and was reabsorbed by the sauce and chicken. The recipe says that after removing the chicken from the pan (after cooking for 5 min) you need to let it reduce for another 10. Well, my chicken took about 7-8 minutes, and I definitely did not let it reduce another 7-8 minutes -- more like 3. I wouldn't have let it gone any further as I thought it might start to burn.
In the end, every turned out pretty good and I would probably make it again.
Just don't serve it mixed into the ginger rice, as the rice overpowers the chicken's more subtle and sweeter flavor.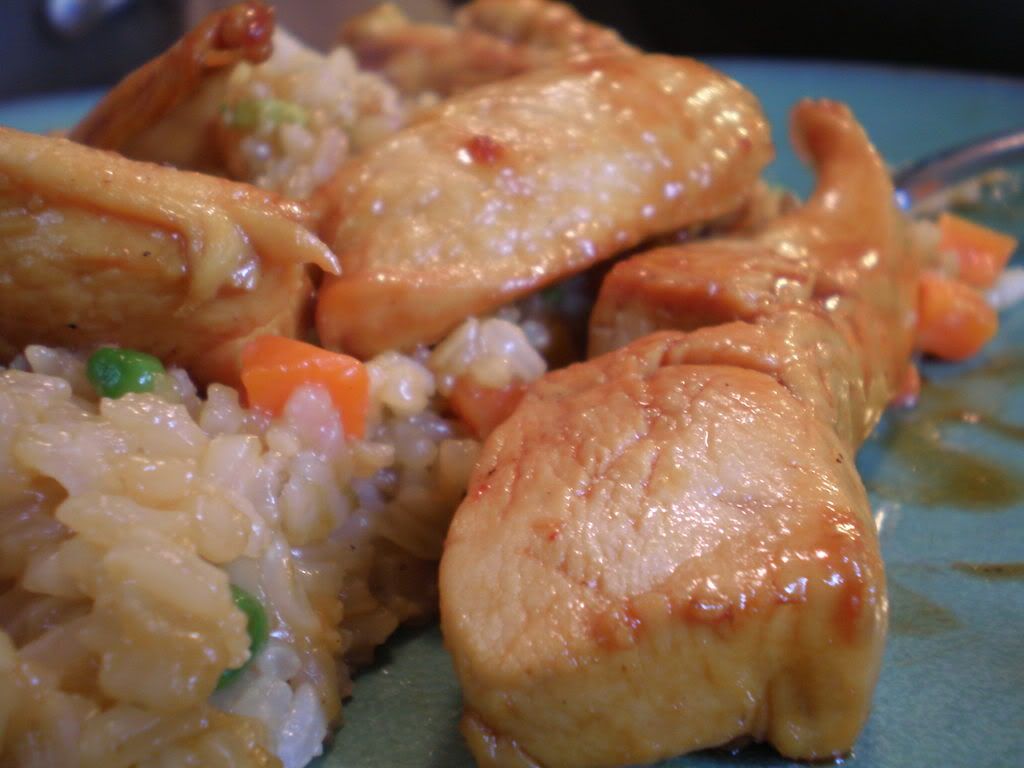 Chicken Saute with Caramelized Ginger Sauce
From:
Cooking Light
, May 2008
1 tbsp. canola oil (I used vegetable)
2 tbsp. sugar
1 1/2 tbsp. low-sodium soy sauce (I used regular, can't stand the low-sodium)
1 tsp. chile paste with garlic
1 tsp. grated fresh ginger
3/4 c. fat-free, less-sodium chicken broth
1 tsp. sesame oil
4 (6 0z) skinless, boneless chicken breasts, thinly sliced
1/4 tsp. freshly ground black pepper
1/8 tsp. salt

Heat canola oil in a large nonstick skillet over medium heat. Add sugar to pan; cook 1 minute or until sugar dissolves and is lightly browned. Combine soy sauce, chile paste, and ginger in a small bowl; add to pan. Add chicken broth, sesame oil, and chicken to pan; cook 5 minutes or until chicken is done, stirring occasionally. Remove chicken from pan with a slotted spoon. Simmer sauce 10 minutes or until slightly thickened. Return chicken to pan; toss to coat. Sprinkle evenly with salt and pepper.

Yields: 4 servings



And of course...

Baby picture time!

I finally caught him smiling!
Nutrition Facts
Amount per serving
Calories 237
Calories from fat 76
% Daily Value


Total Fat 8.5g
13%


Saturated Fat 1.2g
6%


Trans Fat 0.0g


Cholesterol 99mg
33%


Sodium 770mg
32%


Total Carbs 7.1g
2%


Sugars 6.7g


Protein 35.6g


Vitamin A 0%
Vitamin C 1%


Calcium 0%
Iron 1%