If you had asked me 6 months ago what "risotto" was, I probably would have given you a blank stare. Then asked why you expected me to know what it was. After finding out what risotto was, and how you made it, I would have rolled my eyes and told you to make it for me sometime.
That was 6 months ago. Now here I am, in love with the Food Network, Top Chef, and Hell's Kitchen. My, how things change.
Oh, and risotto is a rich and creamy, traditional Italian dish made with a high-starch such as arborio, carnaroli or vialone nano. At least according to
Wikipedia
anyways. And delicous. Did I mention that part yet?
I was a little worried after searching through different recipes, risotto is creamy rice -- one that could be, and often is, used for a first dish, or a side dish. But here I am trying to make it a main dish. For a guy.
I finally settled on a tasty version from
epicurious
, which came from
Bon Appetit
. "Risotto Con Parmigiano-Reggiano." I love cheese. Sounded good to me. Thinking about Adam though, I knew I had to incorporate some sort of meat into the dish. And we had just had chicken last night. What to do?
Bacon!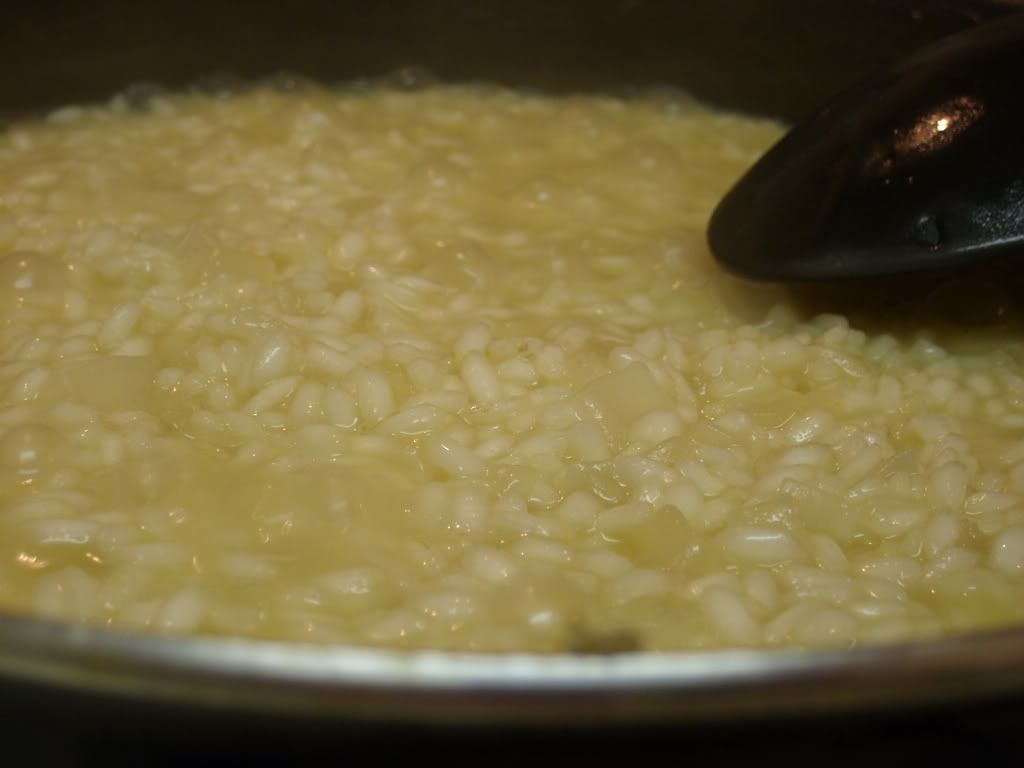 I decided to throw a little bit of bacon and some sun-dried tomatoes into the mix to see what would happen. And surprisingly, it worked. The bacon and tomatoes didn't have an overpowering presence in the dish, mostly just when you had a bite of one. Which was alright with me -- the Parmesan-flavored rice was simply great on its own.
It was actually much easier to make than I had anticipated. It was just a little tricky trying to cook bacon, grate some cheese, and stir risotto all at once. That's what Adam's for though... :)
I would definitely make this again, or at least another variation of it.
Risotto Con Parmigiano-Reggiano
From: Bon Appetit, May 1997
5 c. (about) canned low-salt chicken broth
4 tbsp. (1/2 stick) butter
1 1/2 c. finely chopped onion
1 1/2 c. arborio rice
1 c. grated Parmesan cheese
2 tbsp. chopped fresh Italian parsley
Shaved Parmesan cheese
Bring broth to boil in medium saucepan. Reduce heat to low; cover saucepan.
Melt 2 tbsp. butter in heavy medium saucepan over medium-low heat. Add onion; saute until very tender but not brown, about 15 minutes. Increase heat to medium. Add rice and stir 1 minute. Add 1 1/2 c. warm broth. Boil gently until broth is absorbed, stirring frequently. Add another 1 c. broth; stir until broth is absorbed. Add remaining 2 1/2 c. broth, 1/2 c. at a time, allowing broth to be absorbed before adding more and stirring frequently until rice is tender and amixture is creamy, about 25 minutes. Stir in 2 tbsp. butter and 1 c. grated cheese. Season with salt and pepper. Transfer to bowl. Sprinkle with parsley and shaved Parmesan.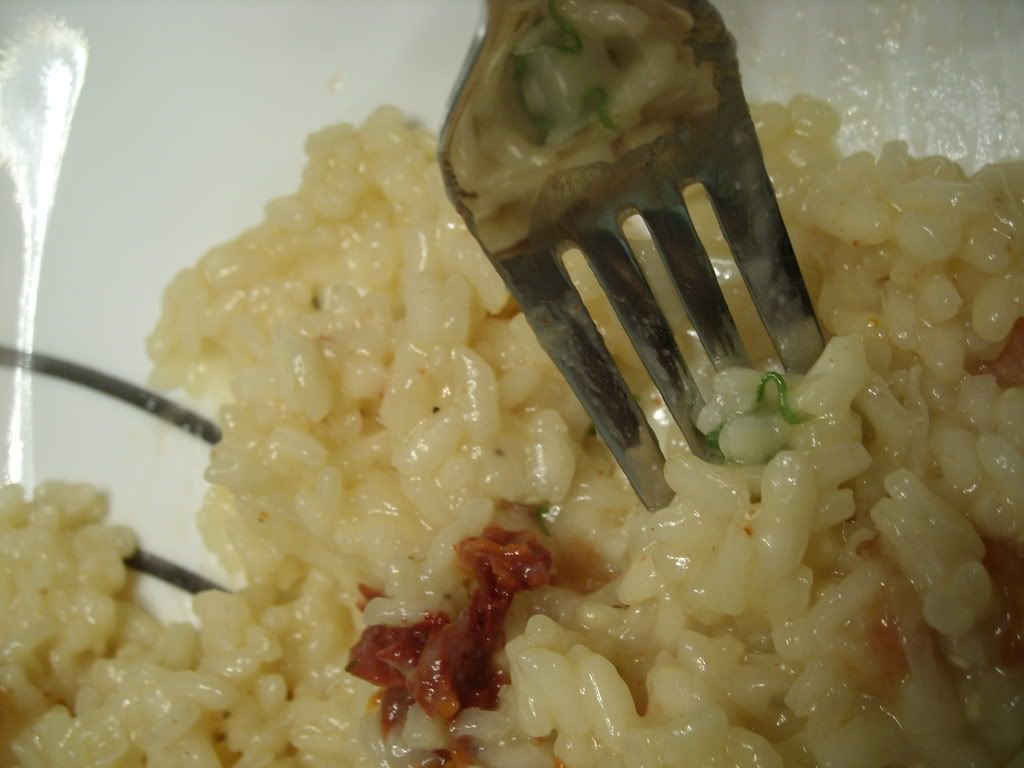 There are so many variations you can use with this recipe, or just simply make it as is. Either way, it's so good (as shown by Adam's plate below)!
Nutrition Facts - Entrée Portion
Amount per serving
Calories 503
Calories from fat 172
% Daily Value


Total Fat 19.1g
29%


Saturated Fat 11.7g
59%


Cholesterol 53mg
18%


Sodium 559mg
23%


Total Carbs 63.1g
21%


Dietary Fiber 2.7g
11%


Sugars 2.1g


Protein 17.5g


Vitamin A 13%
Vitamin C 10%


Calcium 30%
Iron 11%