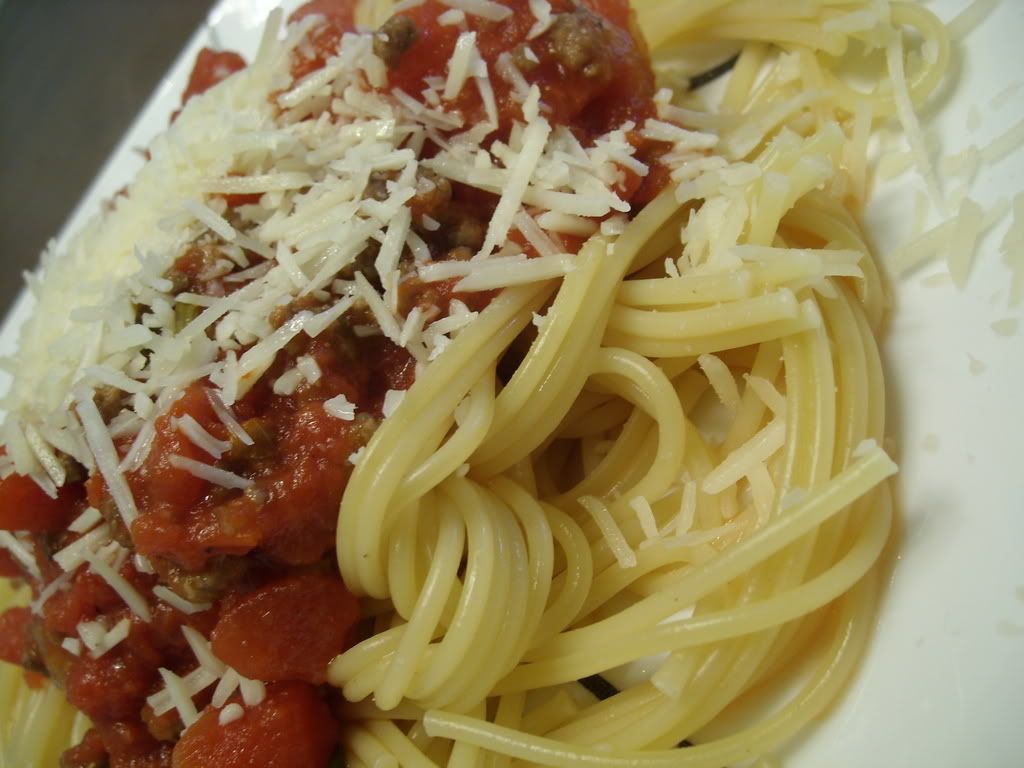 On top of spaghetti,
All covered in cheese,
I lost my poor meatball,
When somebody sneezed.
It rolled off the table,
And onto the floor,
And then my poor meatball,
Rolled right out the door...
I can't help it. Everytime I make spaghetti, I think of that song. Did we even have meatballs? No.
Anyway, so it was Adam's birthday yesterday, and I asked him what he wanted me to make. "Spaghetti."
Spaghetti, you're serious?
"My mom always makes me spaghetti for my birthday."
If you say spaghetti, I'm going to make you something else.
"No, it's a tradition! I always have spaghetti on my birthday!"
You're serious?
So I made him spaghetti -- for his birthday. However, I felt bad enough making him spaghetti, that I didn't want to add to that by throwing some noodles and Prego together. So I made my first homemade marinara sauce.
I slightly altered the recipe, using 1 can whole tomatoes, 1 can diced, and 1 can crushed -- and I think it made the consistency much better than had I used 3 cans of whole tomatoes. It was definitely much chunkier than Prego, and it was definitely better (more tomatoey, but better). :)
It's a good thing that marinara is designed to simmer for a while to capture all the flavors... I was just about to start making the spaghetti noodles when I realized I forgot to add the ground beef -- and it was still in the freezer. Like I said, I'm glad marinara is supposed to simmer for a while, because it definitely took almost another 1/2 hour longer than supposed to, to finish the meal. Oops. It still tasted good.
Quick Marinara Sauce
1/4 c. extra-virgin olive oil
1/4 medium onion, diced (about 3 tbsp.)
4 cloves garlic, sliced
3 (28 oz.) cans whole, peeled, tomatoes, roughly chopped
3 sprigs fresh thyme
1 small bunch fresh basil, leaves chopped
2 tsp. kosher salt
Freshly ground black pepper
Heat the oil in a medium (no, make that large) saucepan over medium-high heat. Saute the onion and garlic, stirring, until lightly browned, about 5 minutes. Add the tomatoes with about half of their juices (discarding the rest), the herb sprigs and basil and bring to a boil. Reduce heat and simmer, uncovered for about 25-30 minutes or until thickened.
Remove and discard the herb sprigs. Stir in the salt and season with pepper, to taste. Serve or store covered in the refrigerator for up to 3 days, or freeze up to 2 months.

Serves: 12 (about 1/2 cup each)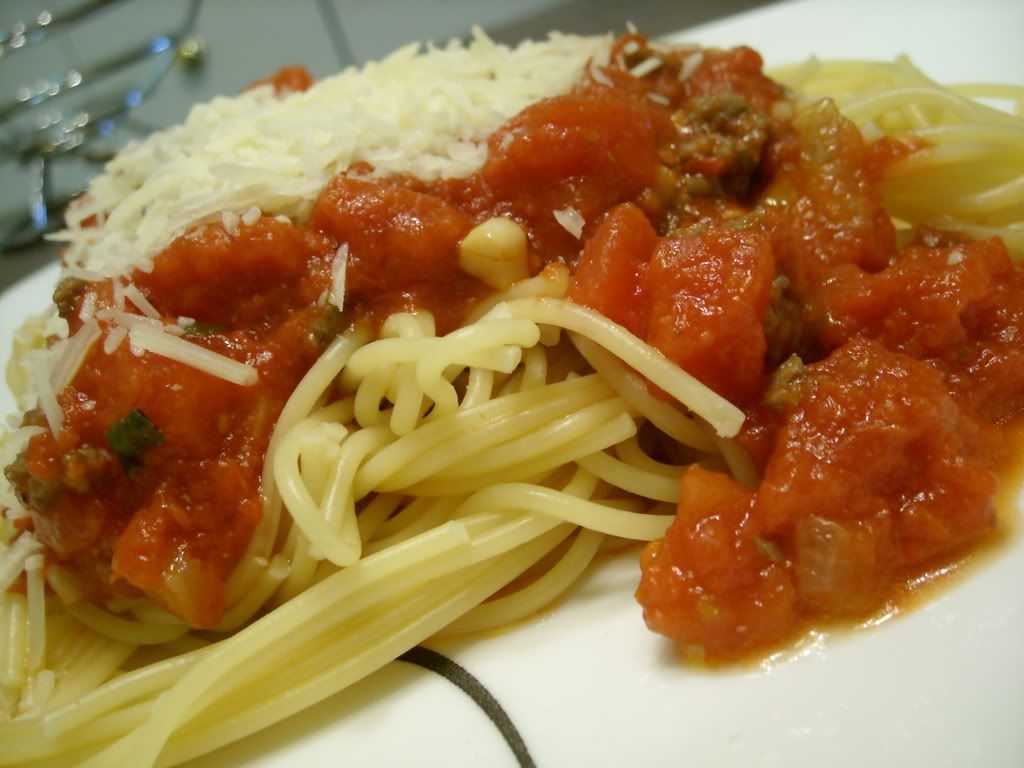 Nutrition Facts - Marinara Sauce ONLY
Amount per serving
Calories 79
Calories from fat 44
% Daily Value


Total Fat 4.9g
8%


Saturated Fat 0.7g
3%


Cholesterol 0mg
0%


Sodium 398mg
17%


Total Carbs 8.5g
3%


Dietary Fiber 2.5g
10%


Sugars 5.3g


Protein 1.9g


Vitamin A 34%
Vitamin C 43%


Calcium 3%
Iron 5%