I can't believe that baby Michael has only been around for just over 2 weeks. He's still so super cute, although starting to get rather fussy. I feel bad for my sister -- I don't think she's getting much sleep at all, the poor thing. So I decided that I'd make dinner again, since I was home anyways.
A couple weekends ago, my mom was in town visiting to see Michael and wanted to make twice baked potatoes for dinner. Well, I jumped right in all eager to show off my new cooking skills, and said I had a recipe for potatoes that I wanted to try. However, Patatas Bravas (or "fierce potatoes")
really
don't go so well with Bourbon Pork. So I waited.
A couple days later, I tried making them again. And once more, it didn't really fit with the entree, so I waited. Finally, I just hunted for a recipe that would go with the dang potatoes so I could actually try them out. No waiting this time -- I busted out the
Chicken with Cream Cheese Sauce
I had made up in Pittsburgh for Adam a couple months ago.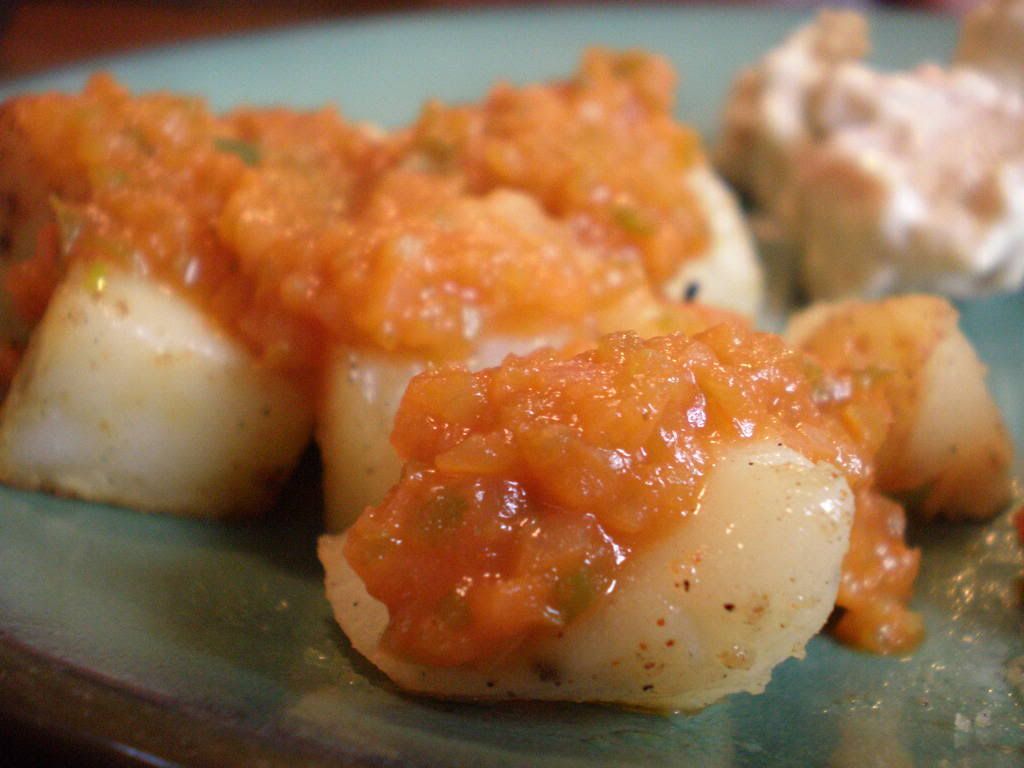 It went nicely together, as they were both a little spicey, although the potatoes may have overwhelmed the cream cheese sauce just a tidge.
But it doesn't matter. I made my potatoes. And my sister and brother-in-law just laughed at me.
Potatoes:
4 cups (1-inch) cubed peeled baking potato (about 1 1/2 lbs)
1 tbsp butter
2 teaspoons olive oil
1/4 tsp salt
1/8 tsp ground red pepper
2 garlic cloves, minced
Sauce:
1 tsp olive oil
1 c. diced onion
1 c. diced green bell pepper
1/4 tsp. salt
1/8 tsp. ground red pepper
1 (8-ounce) can tomato sauce
Parsley sprigs (optional)
To prepare potatoes, place potato in a medium saucepan; cover with water. Bring to a boil. Cook 1 minute or until crisp-tender; drain well.
Heat a large nonstick skillet over medium-high heat. Add butter and 2 tsp. oil to pan, swirling to coat bottom of pan; heat 30 seconds or until foam subsides. Add potato to pan; saute 8 minutes or until browned, stirring twice. Stir in 1/4 tsp. salt, 1/8 tsp. red pepper, and garlic; saute 1 minute. Remove potato mixture from pan; keep warm.
To prepare sauce, heat pan over medium-high heat. Add 1 tsp. oil to pan, swirling to coat; heat 15 seconds. Add onion and bell pepper; saute 5 minutes or until tender, stirring frequently. Add 1/4 tsp salt, 1/8 tsp red pepper, and tomato sauce; bring to a simmer. Cook 1 minute. Pour onion mixture into a blender. Remove center piece of blender lid (to allow steam to escape); secure blender lid on blender. Place a clean towel over opening in blender lid (to avoid splatters). Blend until smooth. Serve sauce with potato mixture. Garnish with parsley sprigs, if desired.
Okay, so everything worked out pretty well. I just really need to work on timing the entree to finish the same time as the side dish -- they were WAY off tonight.
But I am happy -- I got my sister to eat both onions AND green pepper, something she never does. :)
And I forgot to mention last night, that my sister was craving cookies... and me being the nice person I am, made them for her.
I am such a sucker for the plain ol' TollHouse Chocolate Chip cookies. I can remember making these and eating the dough when I was so young. Usually, if we make these with my mom, sister, and I all around... we're lucky if we get two pans to the oven. I was lucky and got 3 in there last night, but not without a valiant dough-eating effort by Jen and I.
Nestle Toll House Chocolate Chip Cookies
From: The back of the bag
2 1/4 c. all-purpose flour
1 tsp. baking soda
1 tsp. salt
1 cup (2 sticks) butter, softened
3/4 c. granulated sugar
3/4 c. packed brown sugar
1 tsp. vanilla extract
2 large eggs
2 c. Chocolate Chips
Preheat oven to 375.
Combine flour, baking soda, and salt in small bowl. Beat butter, granulated sugar, brown sugar, and vanilla extract in large mixer bowl until creamy. Add eggs, one at a time, beating well after each addition. Gradually beat in flour mixture. Stir in chocolate chips. Drop rounded tablespoons onto ungreased baking sheets.
Bake for 9-11 minutes or until golden brown. Cool on baking sheets for 2 minutes; remove to wire racks to cool completely.
Makes: 60
I heart cookies. I really do.
And of course, time for...
Baby picture!
Mommy and Michael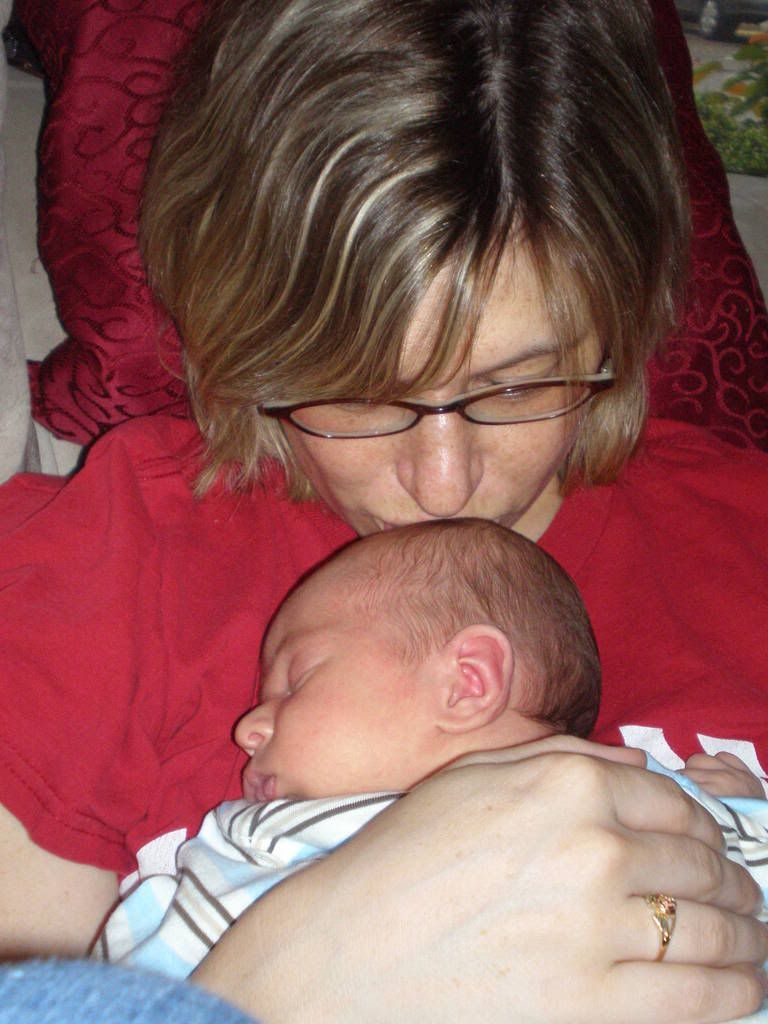 Nutrition Facts - Patatas Bravas
Amount per serving
Calories 221
Calories from fat 60
% Daily Value
Total Fat 6.6g
10%
Saturated Fat 2.4g
12%
Cholesterol 8mg
3%
Sodium 625mg
26%
Total Carbs 37.4g
12%
Dietary Fiber 5.6g
23%
Sugars 6.0g
Protein 4.9g
Vitamin A 21%
Vitamin C 116%
Calcium 4%
Iron 12%
Nutrition Facts - Chocolate Chip Cookies
Amount per serving
Calories 93
Calories from fat 45
% Daily Value
Total Fat 4.9g
8%
Saturated Fat 3.2g
16%
Cholesterol 16mg
5%
Sodium 90mg
4%
Total Carbs 11.2g
4%
Sugars 7.2g
Protein 1.1g
Vitamin A 2%
Vitamin C 0%
Calcium 1%
Iron 2%