I'm not going to lie. I've made this recipe before. And didn't post it. Honestly, I couldn't really remember how it tasted. I knew it wasn't bad, but apparently it wasn't amazing either.
So I decided to remake it and essentially rediscover it.
Chicken with Sun-Dried Tomato Sauce
3 tablespoons unsalted butter
1 tablespoon olive oil
4 skinless boneless chicken breast halves, cut crosswise into 1/2-inch strips
All purpose flour
2 shallots, minced (about 1/4 cup)
2/3 cup whipping cream
1/2 cup dry white wine
1/3 cup (generous) chopped drained oil-packed sun-dried tomatoes
3 tablespoons chopped fresh basil or 2 teaspoons dried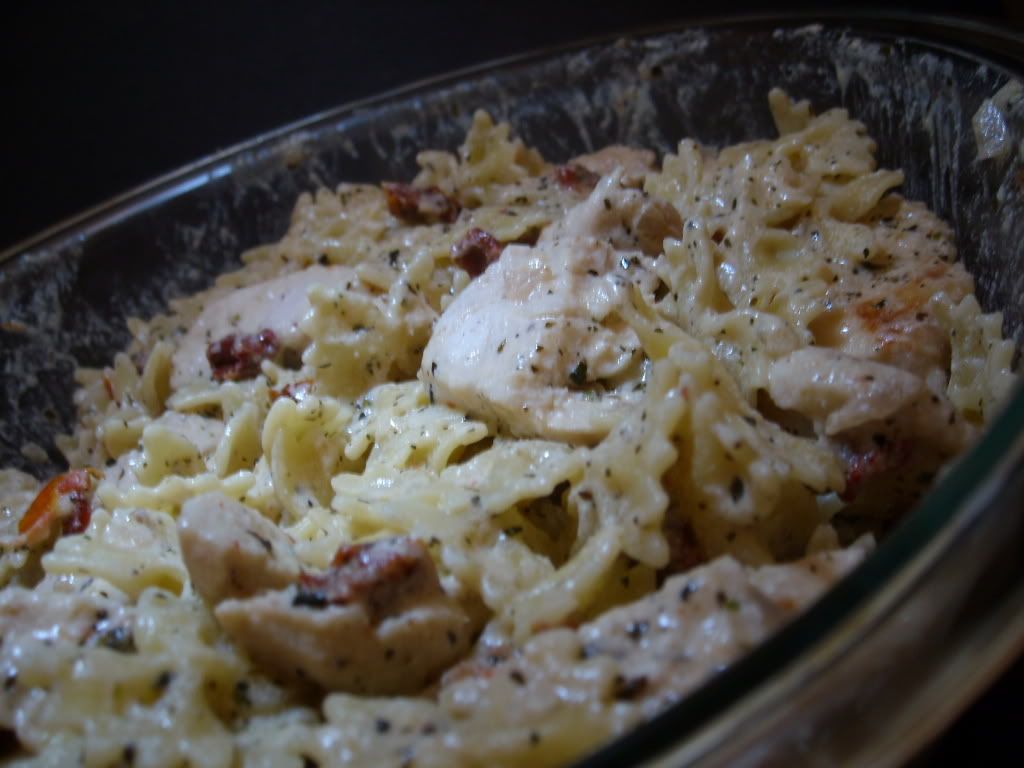 Melt butter with olive oil in heavy large skillet over medium-high heat. Season chicken with salt and pepper. Dust chicken with flour; shake off excess. Add chicken to skillet and sauté until light brown and just cooked through, about 3 minutes. Using slotted spoon, transfer chicken to plate.

Add minced shallots to skillet; sauté 1 minute. Add whipping cream, white wine, chopped sun-dried tomatoes and basil. Bring to boil; cook until sauce thickens, stirring occasionally, about 4 minutes. Return chicken to pan; cook until just heated through, about 2 minutes. Season to taste with salt and pepper and serve over cooked pasta, if desired.

Serves: 4

As I guessed, this dish was pretty good while we were eating it, but it didn't really leave a lasting impression. The sun-dried tomatoes pretty much carried the brunt of the flavoring in this dish, which wasn't necessarily a bad thing.
Overall, we gave it:


Nutrition Facts - Pasta Not Included
Amount per serving
Calories 436
Calories from fat 240
% Daily Value


Total Fat 26.7g
41%


Saturated Fat 12.1g
61%


Cholesterol 146mg
49%


Sodium 169mg
7%


Total Carbs 8.1g
3%


Sugars 0.6g


Protein 34.4g


Vitamin A 17%
Vitamin C 5%


Calcium 5%
Iron 11%