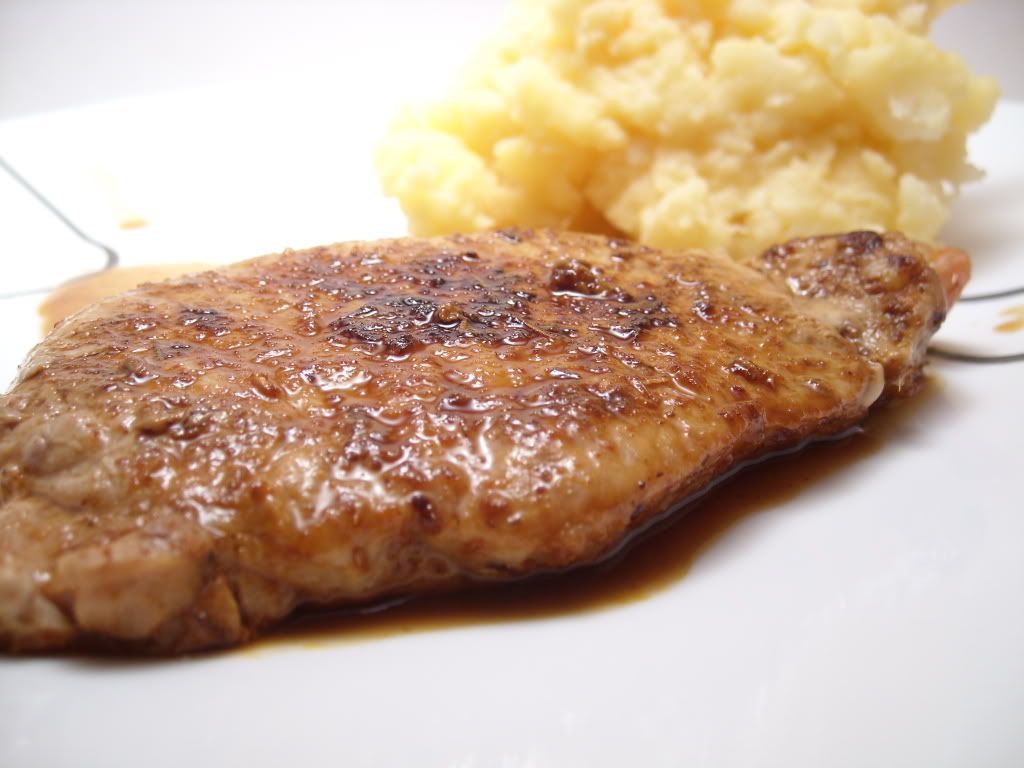 Back on the 4th, I decided to make an extra special dinner for Adam and I. After all, we had just cross the 4 year mark for being together. :)
As you can tell by most of my posts, we eat a lot of chicken. A lot. I figured it was time to switch things up a little bit and try making some pork instead. I'm usually not a fan of pork chops. It usually brings up memories of pork soaking in some form of gravy in the crockpot all day. Not my favorite.
So pan-frying the pork rather than slow-cooking it was a definite improvement for me. However, I was a bit wary, and I knew it was super easy to dry pork out when cooking it.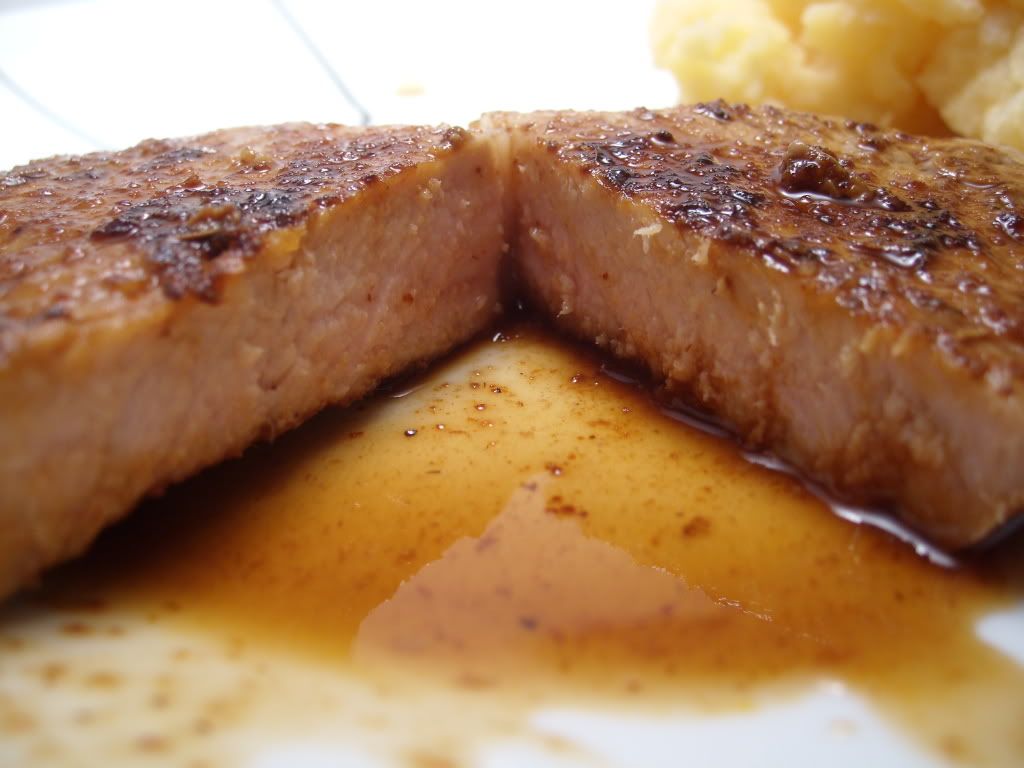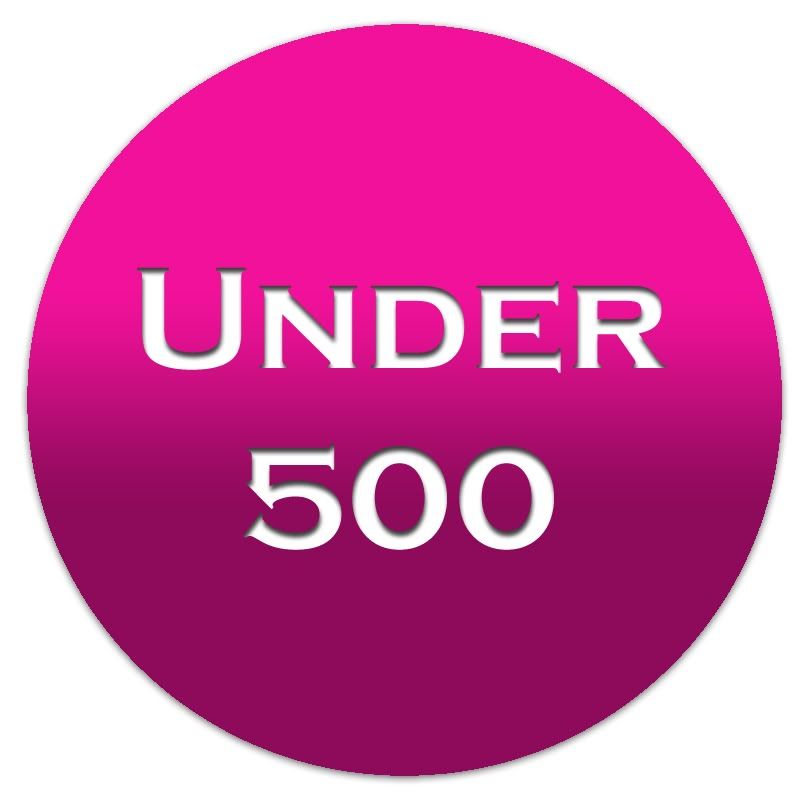 Pork with Ancho Chile Rub and Raspberry Glaze
From: Cooking Light, August 2007
2 teaspoons ancho chile powder
1/2 teaspoon salt
1/4 teaspoon dried thyme
4 (6-ounce) bone-in center-cut pork chops (about 1/2 inch thick)
Cooking spray
1/4 cup fat-free, less-sodium beef broth
2 tablespoons seedless raspberry preserves
Combine first 3 ingredients in a small bowl, stirring well. Rub spice mixture evenly over pork. Heat a large nonstick skillet over medium heat. Coat pan with cooking spray. Add pork to pan, and cook 3 minutes on each side or until desired degree of doneness. Remove from pan, and keep warm.

Add broth to pan, and cook for 30 seconds, scraping pan to loosen browned bits. Increase heat to medium-high. Add preserves to pan; cook 1 minute or until slightly thick, stirring constantly with a whisk. Brush pork with glaze.

Serves: 4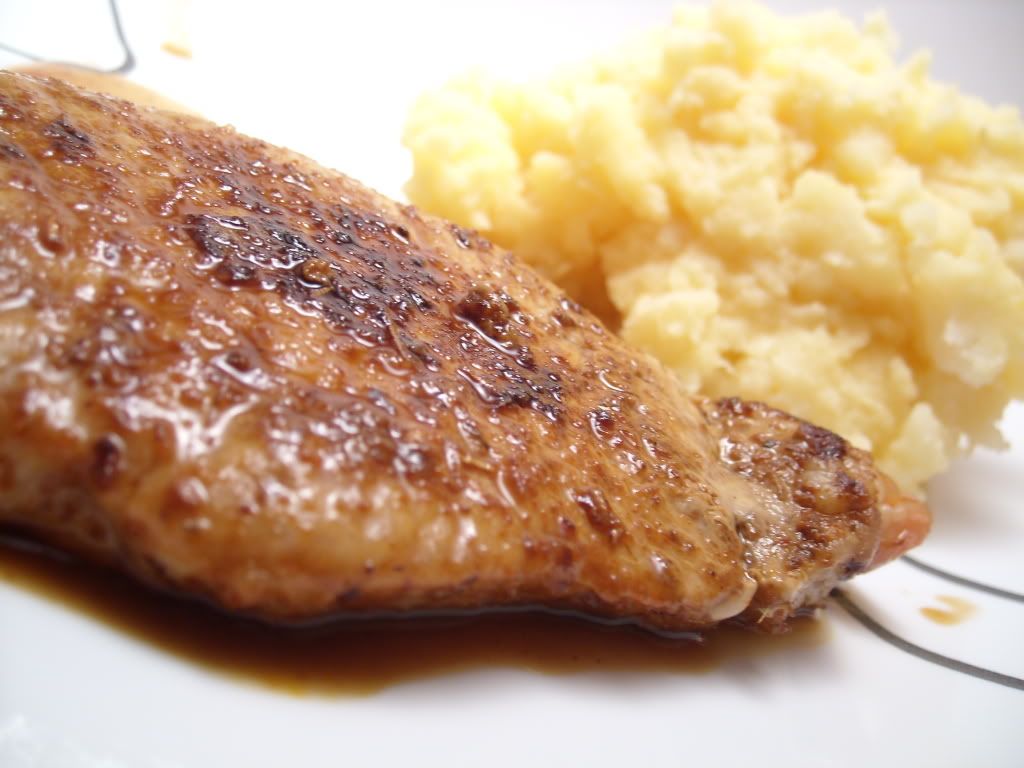 This recipe was listed in the quick and easy section on
myrecipes.com
, and it was definitely was that. For my first time making pork chops, they turned out halfway decent and not overly dry. I just wish I would have reduced the raspberry glaze a little more to give it a stronger flavor.
I would say this recipe was:


Nutrition Facts
Amount per serving
Calories 394
Calories from fat 257
% Daily Value


Total Fat 28.5g
44%


Saturated Fat 10.6g
53%


Trans Fat 0.1g


Cholesterol 98mg
33%


Sodium 411mg
17%


Total Carbs 7.2g
2%


Protein 25.7g


Vitamin A 8%
Vitamin C 3%


Calcium 4%
Iron 7%