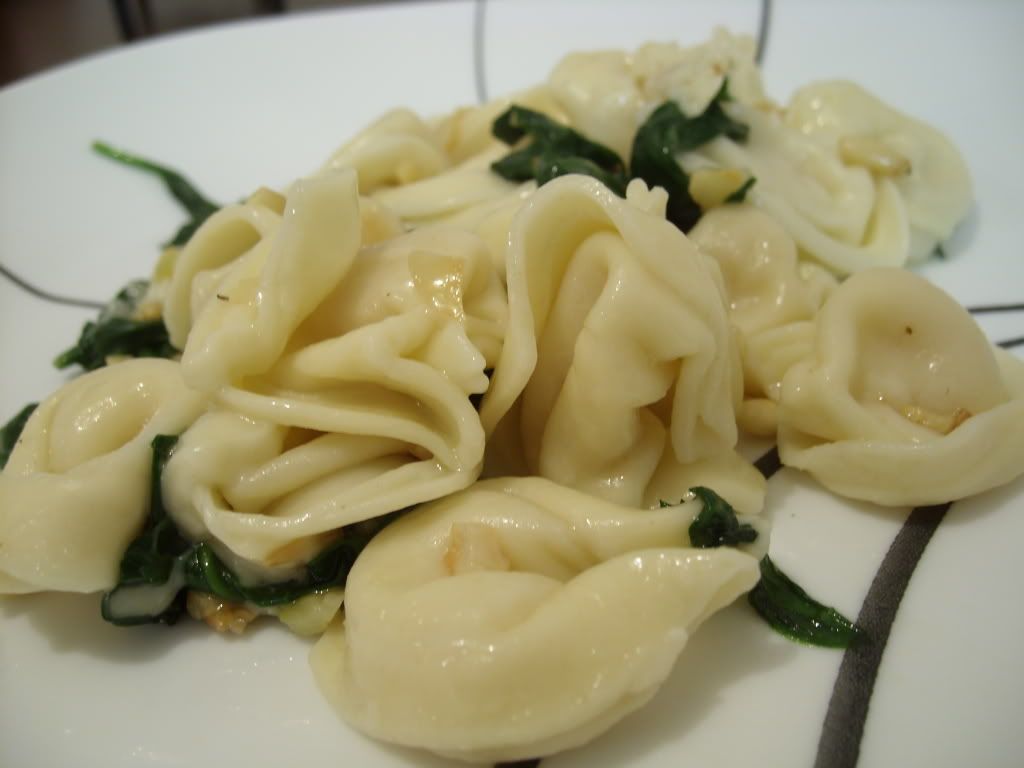 I love tortellini. Any recipe that calls for it usually catches my eye. Something about the curled up shape stuffed with cheese just says "delicious" to me.
And it didn't hurt that this recipe was also placed in the "Under 20 mintues" category in the October issue of Cooking Light. Now that's my kind of meal.
Pasta with Prosciutto and Spinach

1 (9-ounce) package fresh cheese tortellini (such as DiGiorno)
1 tablespoon pine nuts
1 teaspoon olive oil
6 large garlic cloves, finely chopped
1 (6-ounce) package fresh baby spinach
1/4 cup (1 ounce) preshredded Parmesan cheese
1/4 teaspoon black pepper
2 ounces prosciutto, thinly sliced

Cook pasta according to the package directions, omitting salt and fat; drain. Transfer pasta to a large bowl.

Heat a large nonstick skillet over medium heat. Add nuts to pan; cook 1 1/2 minutes or until toasted, stirring occasionally. Add nuts to bowl.

Heat oil in pan over medium heat. Add garlic to pan; cook 2 minutes, stirring occasionally. Add spinach to pan; cook 2 minutes or until spinach wilts, stirring constantly. Add spinach mixture, cheese, and remaining ingredients to bowl; toss well.

Serves: 4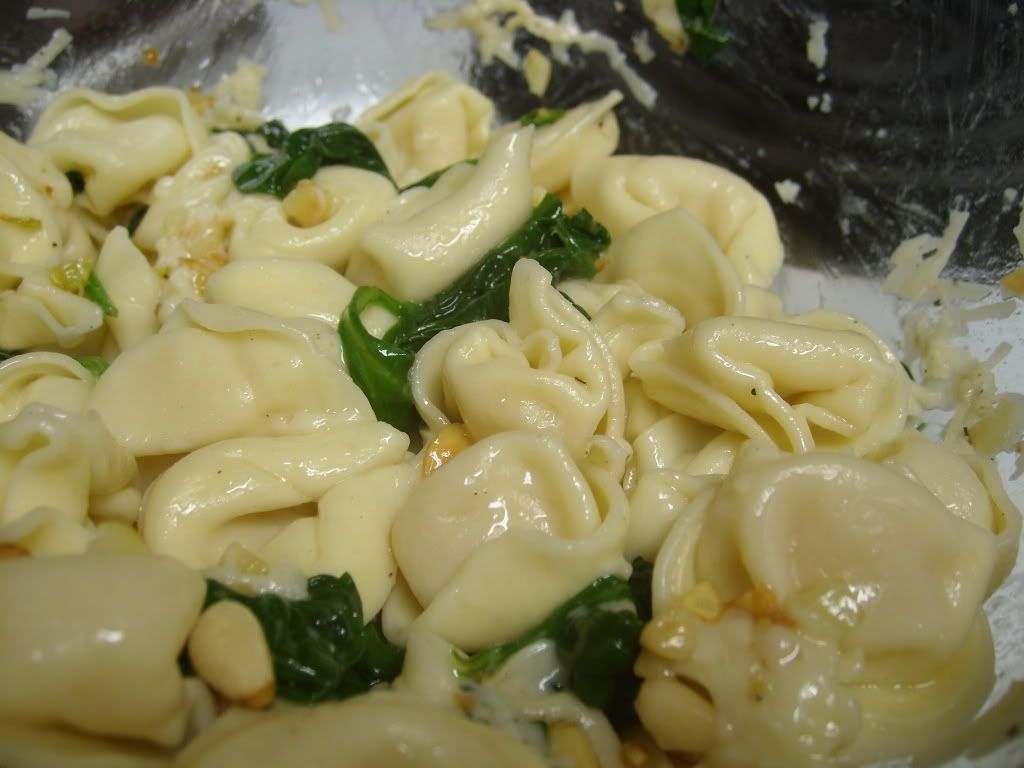 This was fairly easy to make, and with Adam not feeling the best the night I made it, it worked out really well. The flavors in this dish aren't overpowering or even really all that strong, but they do blend well together to make a good dish.
Simple and fast, we gave it:
Nutrition Facts
Amount per serving
Calories 287
Calories from fat 83
% Daily Value


Total Fat 9.2g
14%


Saturated Fat 1.6g
8%


Cholesterol 26mg
9%


Sodium 498mg
21%


Total Carbs 37.0g
12%


Dietary Fiber 1.1g
5%


Protein 14.8g


Vitamin A 80%
Vitamin C 22%


Calcium 12%
Iron 9%