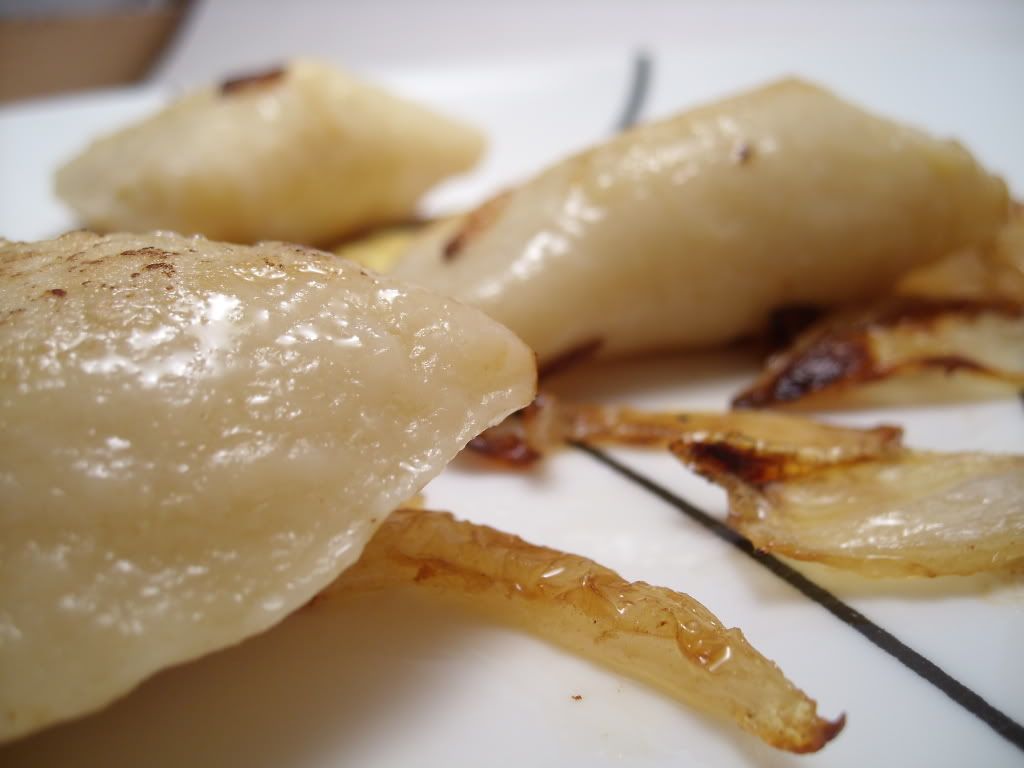 Pierogies. What the heck are those? That was definitely my first thought when I heard of these things. I remember walking through the grocery store and seeing a sign in the frozen food section labeled "Pierogies."
Back in August, we had both Adam and my parents out to visit us during the same weekend. While we were out eating, I saw pierogies on the appetizer menu, and suggested trying them since "apparently" they're a big thing in Pittsburgh. And they weren't bad.
Then in October, I ran across a homemade recipe for pierogies from
Brown-Eyed Baker
on my Reader. A couple weeks later I decided to give it the good ol' college try.
They're actually fairly time consuming (well at the least the dough is), but not overly difficult to make.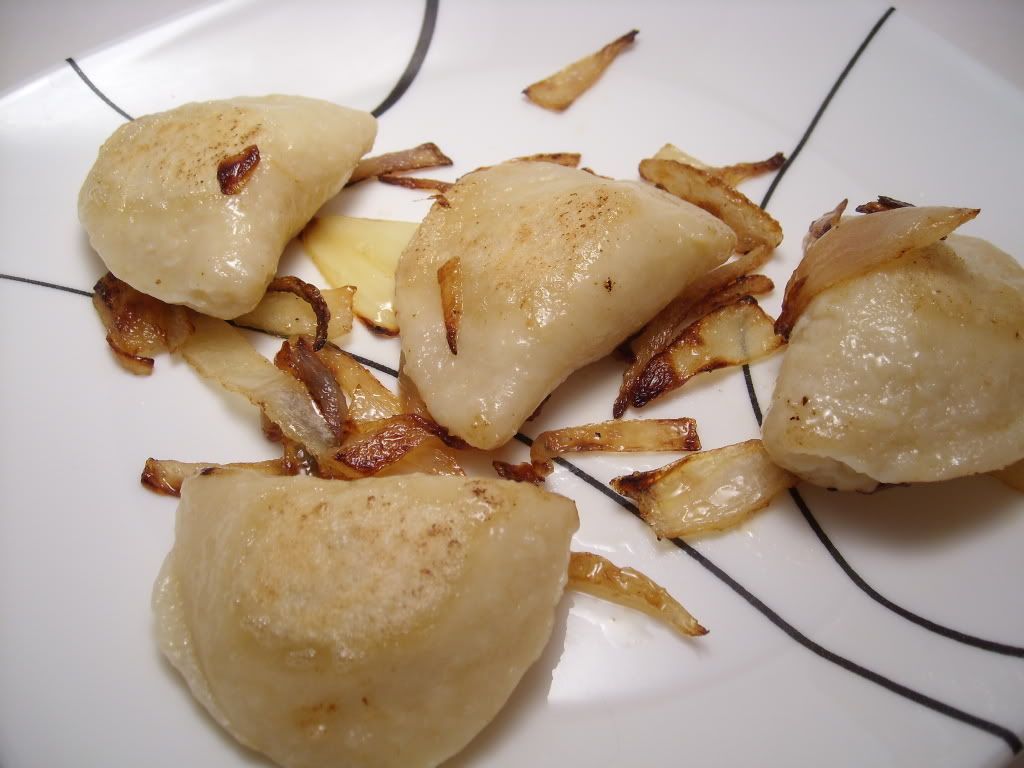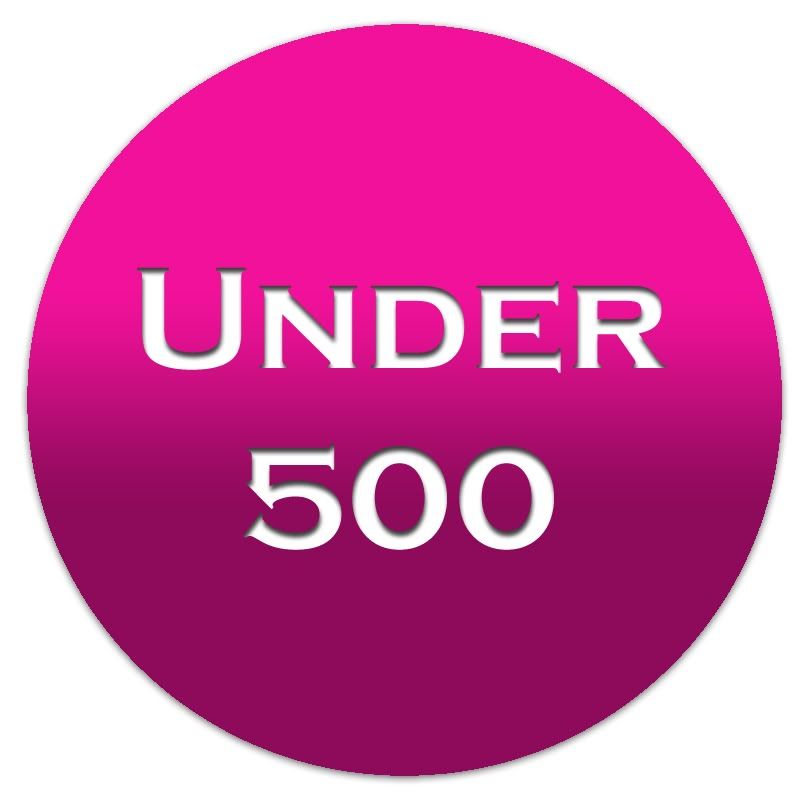 Homemade Pittsburgh Pierogies
Yield: About 2 dozen large pierogi

2 cups flour, plus extra for kneading and rolling dough
½ teaspoon salt
1 large egg
½ cup sour cream
¼ cup butter, softened and cut into small pieces
Butter and onions for sauteing (lots of onions)
Ingredients for filling of your choice (Potato & Cheese filling recipe below)

Pierogi Dough
To prepare the pierogi dough, mix together the flour and salt. Beat the egg, then add all at once to the flour mixture. Add the ½ cup sour cream and the softened butter pieces and work until the dough loses most of its stickiness (about 5-7 minutes). You can use a food processor with a dough hook for this, but be careful not to overbeat. Wrap the dough in plastic and refrigerate for 20-30 minutes or overnight; the dough can be kept in the refrigerator for up to 2 days.

Prepare the Pierogies
Roll the pierogi dough on a floured board or countertop until 1/16″ thick. Cut circles of dough (2″ for small pierogies and 3-3½″ for large pierogies) with a cookie cutter or drinking glass. Place a small ball of filling (about a tablespoon) on each dough round and fold the dough over, forming a semi-circle. Press the edges together with the tines of a fork.

Boil the pierogies a few at a time in a large pot of water. They are done when they float to the top (about 8-10 minutes). Rinse in cool water and let dry.

Saute sliced onions in butter in a large pan until onions are soft. Then add pierogies and pan fry until lightly crispy.

Potato, Cheese & Onion Filling

1 lb red potatoes
¼ of a large onion, finely chopped
2 oz. cheddar cheese, finely grated
Salt & pepper

Peel and boil potatoes until soft. While the potatoes are boiling, saute onion in butter until soft and translucent. Mash the potatoes with the sauted onions and grated cheddar cheese, adding salt and pepper to taste. You can also add some fresh parsley, bacon bits, or other enhancements if you desire. Let the potato mixture cool and then form into 1″ balls.

Homemade Pierogi Tips (according to Brown-Eyed Baker):
If you are having a hard time getting the edges to stick together, you may have too much flour in the dough. Add a little water to help get a good seal.

If you don't want to cook all of the pierogies right away, you can refrigerate them (uncooked) for several days or freeze them for up to several months.

Serves: 6 (4 pierogies each)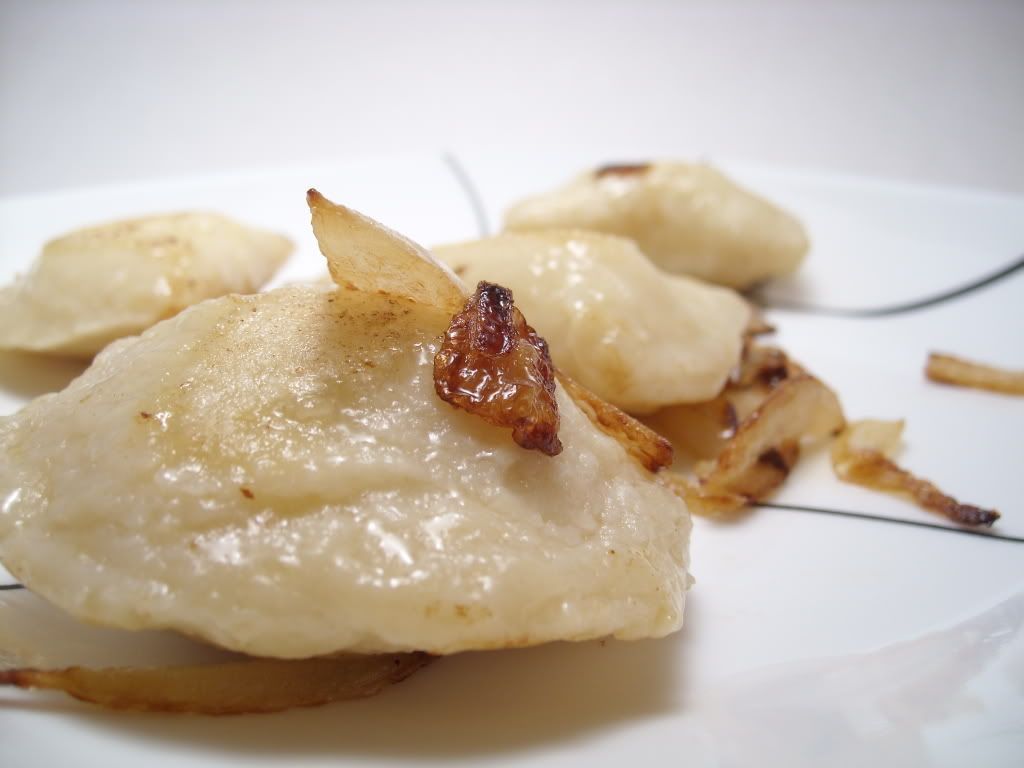 So I didn't make enough onions to saute with the pierogies at the end, and they're actually a really crucial part of the flavor, so I would suggest making
lots
of onions.
While the pierogies "as-is" were really good, I think adding crumbled bacon would just put these over the top.
Nutrition Facts
Amount per serving
Calories 408
Calories from fat 180
% Daily Value


Total Fat 20.0g
31%


Saturated Fat 12.1g
61%


Cholesterol 84mg
28%


Sodium 390mg
16%


Total Carbs 47.2g
16%


Dietary Fiber 2.9g
11%


Sugars 2.1g


Protein 10.1g


Vitamin A 12%
Vitamin C 14%


Calcium 12%
Iron 15%