Happy Cinco de Mayo! I don't normally celebrate Cinco de Mayo for two reasons: 1) It's a glorified Mexican "holiday" that only Americans celebrate, and 2) there just aren't awesome Mexican places here in Pittsburgh. (Trust me, they don't exist.) This isn't to say that enjoying a nice cold margarita is beyond me.
I actually had no intention of making anything special for Cinco de Mayo, my posting schedule just happened to line up so my chicken tacos fell on the 5th. How lucky is that? Well, that's about as lucky as I get, so I'm going to roll with it. :)
I suppose I could have renamed these Ancho Chicken Tacos with Sweet Slaw and Cilantro Lime Sour Cream, but let's face it, that's a mouthful. So for the sake of brevity, we're just going to go with Ancho Chicken Tacos, and have a mouthful of chicken taco instead.
The original recipe called for some kind of slaw with avocados in it, which neither Adam or I are big fans of, so I decided to go off and do my own thing. Like make my own version of
Primanti's
coleslaw (since I'm not a fan of mayo-based coleslaw either) and top it all off with some flavored sour cream. Hmm, maybe I just need to start liking more things. :) Well, I liked these, does that count?
Ancho Chicken Tacos
Inspired by: , May 2011
3/4 teaspoon
ancho chile powder
1/2 teaspoon
garlic salt
1/4 teaspoon
ground cumin
1 pound

boneless, skinless chicken breasts

, cut into 1/4-inch wide strips
Cooking spray
1/2 cup
light sour cream
2 teaspoons
lime zest
1 tablespoon
lime juice
1 tablespoon
chopped cilantro
8
(6-inch) corn tortillas
1 cup

Amish coleslaw

, recipe follows
Prepare coleslaw and allow to sit overnight.

In a small bowl, combine chile powder, garlic salt, and cumin. Sprinkle chicken strips evenly with spice mixture.

Heat a large skillet over high heat. Coat liberally with cooking spray. Once hot, add chicken to pan. Cook for 4 minutes, stirring frequently, until done. Remove chicken from pan.

Heat the corn tortillas in the microwave according to package instructions.

In another small bowl, stir together the sour cream, lime zest, lime juice, and cilantro.

Divide chicken strips evenly between the 8 tortillas, top each with 2 tablespoons coleslaw and 1 tablespoon cilantro lime sour cream.
Serves:
4
(2 tacos each)
1 medium head

cabbage

, cored and shredded
1 cup

onion

, finely diced
1 cup
granulated sugar
1 cup
distilled white vinegar
1 teaspoon
salt
1 teaspoon
celery seed
1 teaspoon
granulated sugar
1 teaspoon
coarse ground mustard
3/4 cup
vegetable oil
In a large bowl, combine the shredded cabbage, onion, and 1 cup sugar. Toss well.

In a small saucepan over high heat, combine the vinegar, salt, celery seed, 1 teaspoon sugar, mustard, and oil. Bring mixture to a boil, and cook for 3 minutes. Remove from heat and cool completely in the pan. Drizzle over cabbage mixture, tossing to coat. Refrigerate overnight.
Serves:
8
(205g servings)
Note:
This is not the serving size needed for the taco recipe. You will have
lots
of slaw left over.
Both Adam and I enjoyed these tacos, and aside from having to prep the coleslaw the night before, they were pretty easy to make. However, the sour cream and the coleslaw both have fairly strong flavors which I felt kind of hid the ancho chicken a bit. Maybe next time I'll add a bit of ancho chile powder to the sour cream as well to bring up the heat a bit.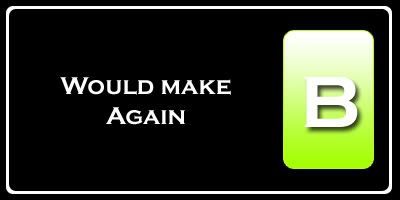 Nutrition Facts - Ancho Chicken Tacos
Amount per serving
Calories

391

Calories from fat 173
% Daily Value
Total Fat

19.3g

30%
Saturated Fat

6.9g

35%
Cholesterol

114mg

38%
Sodium 189mg
8%
Total Carbs

29.0g

10%
Fiber

3.9g

16%
Sugars 5.4g
Protein

37.0g

Vitamin A 8%
Vitamin C 16%
Calcium 10%
Iron 13%
Nutrition Facts - Amish Slaw
Amount per serving
Calories

321

Calories from fat 186
% Daily Value
Total Fat

20.6g

32%
Saturated Fat

4.1g

20%
Cholesterol

0mg

0%
Sodium 341mg
13%
Total Carbs

33.9g

11%
Fiber

3.1g

12%
Sugars 29.9g
Protein

1.7g

Vitamin A 2%
Vitamin C 71%
Calcium 6%
Iron 4%