Let's talk eggs. I've never been a big egg person. When I was younger, the most you could get me to eat was a hard-boiled egg. Not scrambled, or poached, or fried. And heaven forbid the yolk was runny. Then there was for sure no way I was going near it. Although if it was mixed into a cookie dough, all the better. (Yes, I eat raw cookie dough, judge all you want.)
Over the years I have slowly branched out with my egg eating and can now eat eggs cooked pretty much any way, though I still have a slight aversion to methods with a runny yolk. So why would I, with my so-so love of eggs, sign up for a Foodbuzz Tastemaker opportunity in which I have to create an original recipe featuring their eggs? I'm not sure what exactly I was thinking when I hit the "opt-in" button, but I did.
While waiting for my coupon for a free dozen, I had flashes of quiches and tarts dancing through my head. Then the coupon arrived and I really didn't feel like either of those. Been there, done that. What else could I make that would highlight the egg, without just being cooked and served all by its lonesome? I was in the mood for Mexican, so that's where we're going.
Huevos Rancheros are a simple Mexican/Native American/Southwestern breakfast food typically comprised of corn tortillas topped with a fried egg and a tomato-chile sauce served with refried beans, avacados, or guacamole on the side. As you can tell, these are no where close to authentic. I kept the corn tortilla, but topped that with some refried beans and pepper jack cheese, followed by an egg and drizzled with salsa verde with the optional ancho chile powder mixed in. All I can say is "yum", and I just might be changing my tune about this whole runny yolk business.
4 (6-inch)
corn tortillas
1/2 cup
refried beans
1/2 cup

Pepper Jack cheese

, shredded
4
eggs
1/2 cup

salsa verde

(tomatillo salsa)
1/2 tablespoon

ancho chile powder

(optional)
1/3 cup

fresh cilantro

, chopped
Heat a large non-stick skillet over medium heat. Once warm, cook 2 tortillas at a time until lightly browned on the bottom. Flip over. Spread 2 tablespoons refried beans on each tortilla, and top with 2 tablespoons cheese. Let the tortilla cook until the cheese has melted, then remove from heat.

Meanwhile, crack one egg into a small non-stick skillet coated with cooking spray. Fry the egg until the white have started to firm up, and the edges are just starting to brown. Flip, being careful not to break the yolk, and cook an additional few minutes until the whites have completely set. Transfer the egg to the top of a finished tortilla and repeat with the remaining 3 eggs.

In a small bowl, combine the salsa verde and ancho chile powder, stirring to mix well. Serve tortillas topped with 2 tablespoons salsa mixture and a sprinkle of cilantro.
Serves:
2
(2 tortillas each)
A different method of cooking, which I tried in the picture above, presents a very ugly looking, but equally tasty Huevos Rancheros. Follow the steps through melting the cheese on top of the tortilla. Then crack the egg on top of the cheese and continue cooking until the whites have partially set. Then flip the entire tortilla over and finish cooking.
The goal is to keep the yolks runny to help give the dish a little more moisture to the tortilla and beans. Not to mention how much fun it is to break the yolk and watch it run all over the place. :)
While you can use any egg you want for this recipe, Eggland's Best's eggs do contain less saturated fat and more vitamins and folic acid than regular eggs. You say healthier eggs, I say magic chickens. Adam says, delicious, may I have another?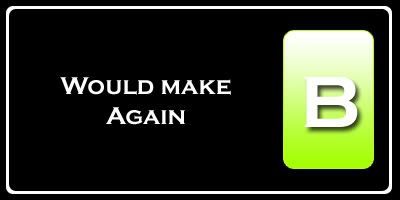 Note: As part of the Foodbuzz Tastemaker Program, I received one coupon for Eggland's Best eggs.
Nutrition Facts
Amount per serving
Calories

532

Calories from fat 265
% Daily Value
Total Fat

29.4g

45%
Saturated Fat

15.3g

77%
Cholesterol

437mg

146%
Sodium 1038mg
43%
Total Carbs

35.6g

12%
Fiber

7.3g

7%
Sugars 2.3g
Protein

32.3g

Vitamin A 41%
Vitamin C 23%
Calcium 52%
Iron 23%