Sometimes when I get issues of food magazines in the mail, my excitement for new recipes turns listless and unimpressed with each flip of the page. Nothing stands out, nothing screams "make me!". Other times, though, I have to quickly hunt down a pen to mark all the recipes that I just can't wait to try. This month's edition of
Cooking Light
happened to be one of those issues which left me scrambling for a pen.
I have never made nor had polenta before, so I figured it was about time I try it out. It seemed simple enough -- add instant polenta to a boiling water/broth mixture and stir. Didn't seem too hard. And it wasn't. Definitely quick and easy to whip up while the sauce merrily bubbled away. I won't say I'm completely sold on polenta after this dish, but it's definitely a nice change in pace in starchy accompaniments, such as a rice or pasta.
Parmesan Polenta and Spicy Sausage Sauce
Adapted from: , May 2011
1 tablespoon
olive oil
3 ounces

(2 links)

jalapeño chicken sausage

, sliced
1 cup

onion

, chopped
3 cloves

garlic

, minced
1 teaspoon
dried oregano
1/4 teaspoon
crushed red pepper
2 (14.5 ounce) cans
diced tomatoes
2 1/2 tablespoons
dried basil
2 cups
fat-free, reduced-sodium chicken broth
1 cup
water
3/4 cup
quick-cooking polenta
1/2 cup

Parmesan cheese

, grated and divided
Warm the oil in a large skillet over medium-high heat. Add sausage and cook for 3 minutes, or until browned. Add onion to pan, sautéing for 5 minutes, or until tender. Stir in garlic, cooking for an additional 30 seconds or until fragrant. Add oregano, pepper, and tomatoes with juice. Bring mixture to a boil. Reduce heat to medium-low, and simmer for 15 minutes, stirring occasionally. Stir in basil. Cook for another 5 minutes, or until sauce thickens.

Meanwhile, in a large saucepan over high heat, bring the broth and water to a boil. Reduce heat and stir in polenta. Simmer for 5 minutes, whisking frequently, until thick and smooth. Whisk in 1/4 cup of the Parmesan.

Serve 2/3 cup polenta topped with 3/4 cup sauce. Sprinkle with 1 tablespoon cheese.
Serves:
4
I wasn't sure what to expect with a tomato sauce mixed with polenta, but in the end, I think it worked for me. The polenta was thick and filling, which paired well with a bit thinner and lighter sauce. My favorite part of the dish, however, was actually the sausage. The original recipe called for a sun-dried tomato chicken sausage (which I couldn't find), but I think without a spicy sausage, the heat from the red pepper flakes just provide a very one dimensional level of flavor.
As a side note, the sauce heats up fairly well the next day. The polenta? Not so much, I'd pass on doing another re-heat of that part of the dish.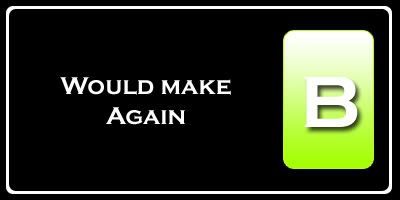 Nutrition Facts
Amount per serving
Calories

253

Calories from fat 72
% Daily Value
Total Fat

8.0g

12%
Saturated Fat

2.9g

15%
Cholesterol

14mg

5%
Sodium 467mg
19%
Total Carbs

36.3g

12%
Fiber

6.2g

25%
Sugars 6.8g
Protein

11.0g

Vitamin A 38%
Vitamin C 49%
Calcium 18%
Iron 6%