There are days when Adam and I are super compatible when it comes to food.
Coconut? Keep that out of our kitchen.
Raw tomatoes on the salad? Adam will gladly eat mine.
Water chestnuts in a dish? They magically find their way from Adam's plate to mine.
Then there are times we don't jive together so well. And it's almost always centered around seafood. He loves it. I can't stand it. Not a fan of the rubbery texture or smell. Therefore, seafood is rarely cooked in our home. (When it is, it's usually separate from the rest of the food and done by Adam.)
Enter the grill. Adam's new best friend. Now he can enjoy salmon while I have chicken, and I don't have to smell it for another 3 days. He is in love.
But you can't just have a slab of meat for dinner. Okay, well you can, but I prefer not to. I get overwhelmed and tired of the constant one flavor. And then you have to deal with the meat sweats later. Awkward.
While wandering around Trader Joe's for the first time in forever, I spotted a box of quinoa sitting on the shelf. Impulse buy. Weird, it didn't involve chocolate. Something funny's going on. Or maybe it's just my brain telling me I need a little bit healthier food after eating out constantly for the past month. Whatever the reason, that box ended up in the cart.
Turns out impulse buys can make for a great side dish. Unless they
do
involve chocolate, then no-so-much.
Quinoa and Black Beans
Adapted from:
1 teaspoon
vegetable oil
1 cup

onion

, diced
3 cloves

garlic

, minced
3/4 cup
uncooked quinoa
1 1/2 cups

fat-free, less-sodium chicken broth

(can also use vegetable broth)
1 teaspoon
ground cumin
1/4 teaspoon
cayenne pepper
1/2 teaspoon
kosher salt
1/4 teaspoon
ground black pepper
1 cup
frozen corn kernels
1 (15 ounce) can

black beans

, rinsed and drained
1/2 cup

fresh cilantro

, chopped
In a medium saucepan, warm the oil over medium heat. Add the onion and garlic, and cook until lightly browned, about 7 minutes.

Stir in quinoa, then pour in broth. Add cumin, cayenne pepper, salt, and pepper, stirring well. Bring the mixture to a boil, then cover, and reduce heat to medium-low. Simmer for 20 minutes.

Add frozen corn to saucepan and simmer for an additional 5 minutes, or until corn in heated through. Stir in black beans and cilantro, and cook for another 1-2 minutes.
Serves:
10
(as a side)
Usually I have a hard time getting behind all these new healthy grains and seeds and whatnot that seem to keep popping up. Sometimes the texture's off, or the taste is weird, or I just don't see the point. But I'm glad I decided to take the plunge on this one. And it's a good one to start with -- it cooks up much like rice, is packed with fiber, and is one of the few plant sources containing complete proteins.
Despite being leery in the beginning about the texture, both Adam and I really enjoyed this dish. It's fairly simple to throw together, and doesn't seem quite as temperamental as rice can be. Maybe I'll keep it around a while longer and see what else I can stir up with it.
What's your favorite quinoa dish?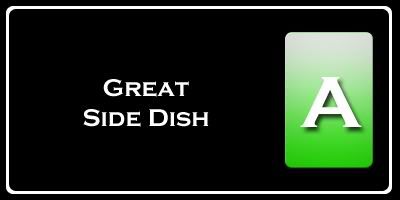 Nutrition Facts
Amount per serving
Calories

216

Calories from fat 18
% Daily Value
Total Fat

2.0g

3%
Saturated Fat

0.0g

0%
Cholesterol

0mg

0%
Sodium 322mg
13%
Total Carbs

39.1g

13%
Fiber

8.0g

32%
Sugars 2.1g
Protein

12.0g

Vitamin A 2%
Vitamin C 3%
Calcium 7%
Iron 16%