As promised, here is the delicious Peanut Butter Torte that went with the virtual "Date Night In" bridal shower we threw for Steph over at
Steph's Bite by Bite
last Friday. I figured if you were going to go for the gusto on the meal, you might as well have an outrageously good dessert to accompany it.
You know, because that feeling of stuffing your face until you can't eat any more feels just so good? Or not. But it doesn't matter, either you will save room for this knowing it's hanging out in the fridge, or you will find room for it somewhere. Maybe your leg?
Peanut Butter Torte
Adapted from: , by Dorie Greenspan
1 1/4 cups
finely chopped lightly salted peanuts
2 teaspoons
sugar
1/4 teaspoon
ground cinnamon
1/8 teaspoon
ground nutmeg
1/2 cup
mini semi-sweet chocolate chips
36

Oreo cookies

, finely ground
6 tablespoons

unsalted butter

, melted and cooled to lukewarm
2 1/2 cups
heavy cream
1 1/4 cups
powdered sugar
12 ounces

reduced-fat cream cheese

, at room temperature
1 1/2 cups
creamy peanut butter
2 tablespoons
1% milk
4 ounces

bittersweet chocolate

, chopped
Preheat oven to 350 degrees F. Line a baking sheet with parchment paper. Coat a 9-inch spring form pan with cooking spray and set it on the baking sheet; set aside.

In a medium bowl, combine the Oreo crumbs and melted butter, stirring with a fork until all the crumbs are moistened. Transfer crumb mixture to the spring form pan, pressing the crumbs evenly across the bottom and up the sides about 2 inches. Freeze crust for 10 minutes, then bake for an additional 10 minutes. Transfer crust to a wire rack and let cool completely before filling.

In a small bowl, combine 1/2 cup chopped peanuts, sugar, cinnamon, nutmeg, and chocolate chips. Set aside.

In the large work bowl of a mixer fitted with the whisk attachment, whip 2 cups of heavy cream on medium-high until it holds medium peaks. Add 1/4 cup powdered sugar and continue to beat until the cream holds medium-firm peaks. Transfer the cream to a medium bowl and place in the refrigerator until needed.

Wipe the mixing bowl out well with a dry paper towel (do no wash). Switch to the paddle attachment (or regular beaters for a hand mixer). Beat together on medium speed the cream cheese with 1 cup powdered sugar until satiny and smooth. Add the peanut butter, 1/4 chopped peanuts, and milk. Beat until well incorporated.

With a rubber spatula, gently fold in 1/4 of the prepared whipped cream. Fold in the chopped peanut and spice mixture followed by the remaining whipped cream. Pour the filling into the prepared and cooled crust, smoothing the top. Refrigerate for at least 4 hours, or overnight. Cover with plastic wrap as soon as the filling sets.

Once the filling is properly chilled, prepare the ganache topping. Place the chopped bittersweet chocolate in a medium bowl. In a small saucepan, bring 1/2 cup heavy cream to a boil. Pour the cream over the chocolate and gently stir until the chocolate is fully melted and the ganache becomes fully blended and glossy. Pour ganache over the top of the torte, smoothing the chocolate to the edges with a offset spatula. Sprinkle the remaining 1/2 cup chopped peanuts over the top of the torte. Place the torte back in the refrigerator until the topping sets, about 20 minutes.

To remove the spring form pan, warm the sides of the pan with a hairdryer, then remove the sides. Refrigerate torte until ready to serve.
Serves:
16
While this torte is definitely rich and full of peanut butter flavor, it isn't quite as heavy as some I've had in the past. I wasn't a huge fan of the added cinnamon and nutmeg flavors, but others loved it -- so, do what you will with them. If you're a peanut butter and chocolate purist, such as myself, leave them out, otherwise, include them for added layers of flavor.
Now, don't get me wrong when I say this isn't as heavy as other pies. It is definitely filling and for sure calls for a large glass of milk to accompany it. So for those of you scratching your head on the 16 servings... just trust me on this. I was not able to take down a normal 8-serving-size piece in one sitting. Which is truly saying something.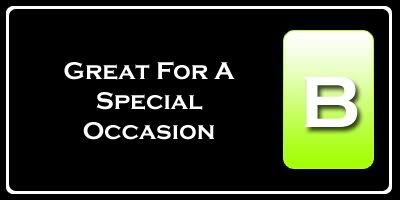 Nutrition Facts
Serving Size 136g
Amount per serving
Calories

615

Calories from fat 407
% Daily Value
Total Fat

45.2g

70%
Saturated Fat

17.4g

87%
Trans Fat 1.2g
Cholesterol

54mg

18%
Sodium 415mg
17%
Total Carbs

43.5g

15%
Fiber

4.1g

16%
Sugars 29.3g
Protein

15.0g

Vitamin A 13%
Vitamin C 0%
Calcium 7%
Iron 14%