Fact: It is 58 degrees in my house right now. And yes, my fingers and toes are super chilly. Everything else though, is buried beneath blankets, sweatpants, and a hoodie. It's one of the only times I'm glad my laptop runs on the hot side -- makes for a nice leg warmer.
The weather this past week and weekend has been absolutely dismal -- rainy with temps dropping down into the 40s, and it has insisted on carrying on in this fashion into this week. Need I say I'm not a fan? Especially when we
thought
we had our furnace fixed, only to find out that no, it is in fact, not. We may or may not have made a last minute space heater purchase late last night after discovering the bedroom was a mere 55 degrees.
Sometimes, there's only one way to combat such crap-tastic weather. Eating a nice warm rib-sticking meal. Which this soup totally is. Hot. Filling. Tasty. Sign me up. Then send over the contractor that was supposed to show up to fix the furnace at 8am and still hasn't arrived.
Creamy Potato and Leek Soup
Adapted from:
8

potatoes

, peeled and cubed
4 cups
fat-free, reduced-sodium chicken broth
1 pound

bacon

, cut into 1-inch pieces
2

large

leeks

, sliced
1 cup
1% milk
1/2 teaspoon
ground white pepper
Add potatoes and chicken broth to a large saucepan over medium-high heat. Bring to a boil. Cook until potatoes are tender, about 15 minutes.

Meanwhile, add bacon to a large skillet. Cook over medium high heat until cooked through, but not crispy. Remove the bacon to a paper towel-lined plate. Drain, reserving 3 tablespoons of drippings in the pan. Add leeks to the same pan, and saute for 8-10 minutes.

When potatoes are done, reduce heat to low and stir in 3/4 of the leeks and the milk. Using an immersion blender (or transfer in batches to a regular blender), puree the mixture until soup reaches desired consistency. (Can leave as many or as few potato chunks as desired.) Stir in bacon, remaining leeks, and pepper. If soup becomes too thick, add more milk. Serve hot.
Serves:
8
My soup ended up a tad thicker than what I was originally aiming for, but it still hit the spot. Which is great, considering how few ingredients this soup has. Of course, you could always cut down on the amount of bacon this recipe calls for to help lighten things up a bit in the calorie department, but honestly, it carries a lot of the flavor in this dish, so don't go hog wild if that's what you decide to do.
Overall the soup was good, but I think I might prefer the cheesy goodness of my
Potato Bacon Soup
over this.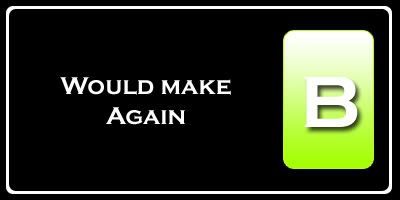 Nutrition Facts
Serving Size 443g
Amount per serving
Calories

483

Calories from fat 218
% Daily Value
Total Fat

24.3g

37%
Saturated Fat

8.0g

40%
Cholesterol

64mg

21%
Sodium 1565mg
65%
Total Carbs

39.0g

13%
Fiber

5.5g

22%
Sugars 4.9g
Protein

26.4g

Vitamin A 9%
Vitamin C 74%
Calcium 8%
Iron 14%