Even though the past week has been full of sun and slightly (oh-so-slightly) warmer temperatures, I still get that craving for soup. For some reason, there's nothing more satisfying after a semi-long run in chilly weather than a bowl full of warm soup. Especially when potatoes and bacon are involved.
I do have
another recipe
for potato soup on my site, but let's consider that a "light" version. As for this one? Yeah, not so much on the light side. This is the soul-satisfying, no-excuses, cheesy potato bacon soup goodness. I mean, let's face it, we're putting a POUND of cheese into this soup, then topping it with more. And adding bacon. As for veggies? They're in there, just hidden by the end (perfect for those fickle kids or hubbies who insist they will not eat them).
With all its richness, this may not be a soup to put on the menu every week, but every once in a while it is oh-so-nice to splurge and have "the real thing".
10 strips bacon, divided
1 cup onion, diced
2 carrots, diced
2 stalks celery, diced
5 cups potatoes, peeled and diced
6 cups reduced-sodium fat-free chicken broth
1/4 teaspoon ground black pepper
1/2 teaspoon seasoning salt
1/4 teaspoon cayenne pepper
8 ounces reduced-fat cream cheese, cut into 1-inch cubes
8 ounces Velveeta, cut into 1-inch cubes
4 cups potatoes, cubed (peeled or unpeeled)
1 cup shredded sharp cheddar cheese
2 tablespoons + 2 teaspoons dried chives
In a large stock pot, cook the bacon over medium heat (may take multiple batches). Once bacon has finished cooking, remove from the pot and set aside on a paper towel-lined plate. Leave the drippings in the pot. Add in the onions, carrots, and celery and sauté until soft, about 10 minutes. Add 5 cups diced potatoes, broth, pepper, salt, and cayenne pepper and bring to a boil. Reduce heat and simmer, 15-20 minutes, or until the potatoes are fork tender.
Using an immersion blender, puree the soup base until it is completely smooth. (If you don't have an immersion blender, you can transfer the soup in batches to a regular blender and puree, then return to the pot.) If the base is too thick, you can add more broth to thin it out.
Add the remaining 4 cups potatoes, cream cheese, and Velveeta. Let simmer, stirring frequently, for 25-30 minutes, or until the potatoes are fork tender and the cheeses have melted. Crumble 6 strips of bacon and stir in.
Serve topped with 2 tablespoons of shredded cheddar and 1/2 crumbled strip of bacon.
Serves: 8
I finally got an immersion blender for Christmas, after months of insisting and thinking that it really wasn't a necessary tool to have in the kitchen. Which, honestly, it isn't
necessary
-- but it most definitely is handy. I took my new and unused present to my sister's back in January to make this soup among other things for her to freeze while she was in the hospital. And then I promptly forgot it when we left. Of course.
Well, I am happy to report that it is back in my possession. Right off the bat Adam asks for spaghetti and meatballs. Now that I have my immersion blender back, wouldn't it be just so easy to make marinara (it is after all, his favorite meal)? Followed by puppy dog eyes... So I did. And didn't take pictures. Such is life.
But I wasn't done playing with my new toy yet, and decided to put this on the menu so I could. Ha, I love excuses to make things. :) Let me just say, I leave the kitchen about 50 times cleaner with about half as many dishes when I use the immersion blender versus the regular one. And that, my friends, is a feat all in itself.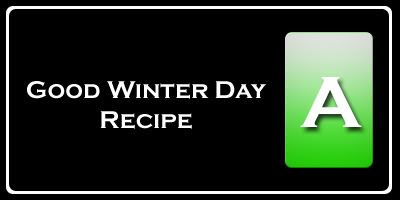 Nutrition Facts
Amount per serving
Calories 511
Calories from fat 279
% Daily Value
Total Fat 31.0g
48%
Saturated Fat 16.6g
83%
Trans Fat 0.0g
Cholesterol 95mg
32%
Sodium 1370mg
57%
Total Carbs 34.4g
11%
Dietary Fiber 4.9g
19%
Sugars 5.8g
Protein 23.8g
Vitamin A 70%
Vitamin C 60%
Calcium 29%
Iron 12%