Dear Cooking Light,

I am glad you published a fast and easy cookbook, but let's be honest -- this meal didn't take 8 minutes to make. Just because you write up in the ingredient list for chopped onions and quartered mushrooms, does not make that actual prep work time go away. Let's not forget that you have to clean the mushrooms first... which adds another, oh 10 minutes or so? While we're at it, what's with this prechopped onion mix you keep talking about? I'm pretty sure that doesn't exist. At least not in my grocery store. How about we stick to things that are readily available (and practical)?

I like that you're trying, I really do. But please, for future reference, be realistic. Factor in the prep time, especially when you have ingredients that aren't quite as good when prepped far ahead of time.

K thanks,
The one who is glad they weren't really going for a super quick meal on this one
20 ounces cheese ravioli
2 teaspoons olive oil
1 (8-ounce) package baby portobello mushrooms, quartered
1/2 cup onion, diced
1/2 teaspoon all-purpose flour
1/2 cup plus 2 tablespoons half-and-half
2 tablespoons sun-dried tomato pesto
1/4 teaspoon kosher salt
1/4 teaspoon black pepper
1/4 cup Asiago cheese, grated
Bring a large pot of water to boil over high heat. Add pasta and cook to al dente according to package instructions. Drain.
Meanwhile, in a large non-stick skillet, heat the oil over medium-high heat. Add mushrooms and onion, sautéing 5 minutes, or until onions are tender and the mushrooms have browned.
In a small bowl, whisk together flour, half-and-half, pesto, salt, and pepper until smooth. Add to the mushroom mixture. Reduce heat to medium-low, and cook for 5 minutes or until mixture thickens slightly. Add the pasta to the skillet and gently toss until all the ravioli is coated. Serve sprinkled with cheese.
Serves: 4
For the record, this probably took me closer to 30 minutes to pull together rather than the 8 claimed by the recipe. But I have to admit, it was definitely worth those extra few minutes. Adam really really enjoyed this dish, although I felt it could have used just a teeny bit of a flavor boost. Or maybe I should have let the sauce thicken just a bit more to stick to the pasta better.
I was surprised though that we were both satisfied with the actual serving amount rather than going back for seconds like we normally do. I think the heaviness of the ravioli and the extra "meatiness" from the mushrooms really helped on that account. For as much as I roll my eyes on the cooking times laid out in
Fresh Food Fast
, I have to admit, they do have some wonderful, yet simple meals.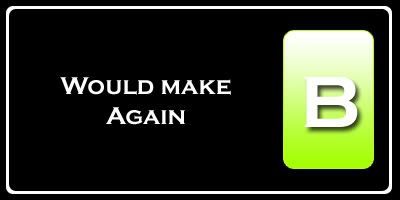 Nutrition Facts
Amount per serving
Calories 384
Calories from fat 145
% Daily Value
Total Fat 16.2g
25%
Saturated Fat 6.9g
35%
Trans Fat 0.0g
Cholesterol 38mg
13%
Sodium 610mg
25%
Total Carbs 43.9g
15%
Dietary Fiber 3.4g
32%
Sugars 4.2g
Protein 15.4g
Vitamin A 12%
Vitamin C 3%
Calcium 22%
Iron 19%