This is what I get for letting Adam pick what's for dinner. I was struggling trying to come up dinner for the week, again, so I tossed my recipe binder to Adam and told him to pick something. Of course, he finds a recipe not marked but has both beer and beef in the title. Why am I not surprised?
If you haven't noticed by now, I don't really do a lot of beef. I very rarely, if ever, have steak-craving, and surprisingly, Adam never really asks for just a big chunk of red meat. If and when red meat shows up here, it's usually in the form of ground beef/round/sirloin. That I can handle. When I was still in high school, trimming meat, especially chicken, grossed me out. I literally could not do it. After having to actually feed myself, I finally got past my trimming chicken aversion, but not so much for other meat (i.e. beef).
So there I was last night. Standing in the kitchen looking at a huge slab of chuck roast wondering what in the heck I was supposed to trim, and what was I supposed to leave, and oh gross why is that
hard
? I'm sure my face was priceless at times. But I somehow managed to slice and dice my beef and get it in the pot. I had such reservations about it though. I just couldn't imagine that cut of beef becoming tender in just two hours. I was oh-so-wrong, and glad of it. Instead of being tough and chewy, the beef was tender -- almost to the falling apart stage. Win. Now go throw some
Irish Car Bomb Cupcakes
in the oven. Surely you'll want the beer-laced food festivities to continue after you finish this stew, right?
Irish Beef & Beer Stew
Adapted from:
Cooking Light
, December 2009
3 bacon slices
2 1/2 pounds boneless chuck roast, trimmed and cut into 1 1/2-inch cubes
2 cups onion, diced
8 ounces sliced cremini mushrooms
2 garlic cloves, minced
4 tablespoons all-purpose flour
1 (11.2-ounce) bottle Guinness beer
2 cups carrot, sliced in 1/2-inch thickness
1 3/4 cups parsnip, sliced in 1/2-inch thickness
1 cup fat-free, less-sodium beef broth
2 tablespoons stone-ground Dijon mustard
1 teaspoon kosher salt
1 teaspoon dried thyme
1/2 teaspoon caraway seeds
1/2 teaspoon ground black pepper
1 dried bay leaf
In a dutch oven over medium heat, cook bacon until done. Transfer bacon to a paper towel-lined plate and set aside. Add half of beef to drippings in pan, cook 5 minutes, or until brown on all sides. Remove beef from pan and set aside. Repeat with remaining beef.
Add onion to dutch oven; sauté 4 minutes. Add mushrooms and garlic; sauté an additional 4 minutes or until starting to turn tender. Whisk in flour and cook for 2 minutes, stirring occasionally. Pour in beer, scraping pan to loosen browned bits. Add bacon, beef, carrots, parsnips, broth, mustard and seasonings to pan; bring to a boil. Cover, reduce heat to medium-low, and simmer 2 hours or until beef is tender. Discard bay leaf before serving.
Serves: 8
Not being a huge beef stew lover, I have to admit this was pretty good. The caraway seeds are fairly potent, however, so if you're a typical eyeballer when it comes to measuring things out, I'd err on the side of caution with those. The only thing that I didn't really care for in this dish was the mushrooms. Wait, mushrooms? I though I had changed my mind on those. For the most part yes, but for some reason, the way they are treated in this recipe reminds me of why I didn't like them in the first place. Although Adam was more than happy to take them off my hands.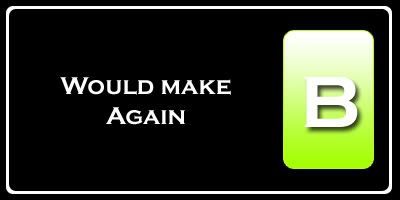 Nutrition Facts
Amount per serving
Calories 598
Calories from fat 335
% Daily Value
Total Fat 37.2g
57%
Saturated Fat 14.3g
72%
Trans Fat 0.0g
Cholesterol 148mg
49%
Sodium 668mg
28%
Total Carbs 16.9g
6%
Dietary Fiber 3.2g
13%
Sugars 4.5g
Protein 44.1g
Vitamin A 92%
Vitamin C 15%
Calcium 6%
Iron 30%