Back in September I re-made my very first food post,
Dark Chocolate Cupcakes with Oreo Raspberry Glaze
, into
Chocolate Dipped Chocolate Raspberry Cupcakes
for the first challenge of Project Food Blog.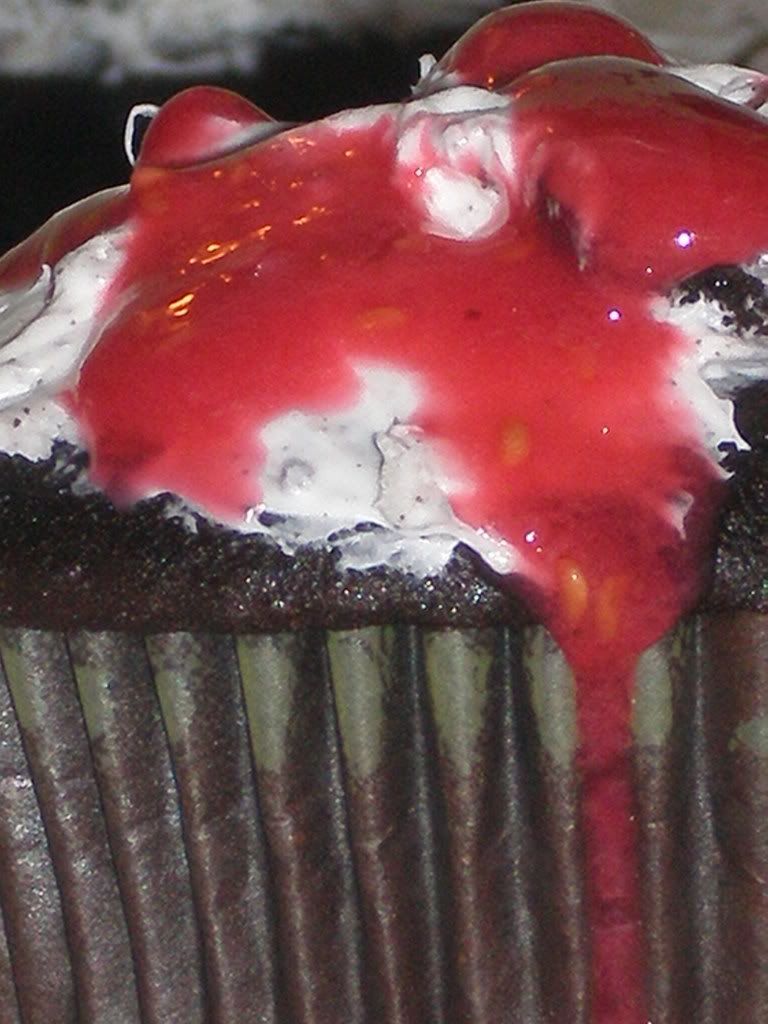 I had so much fun with it I decided to try again in November by remaking my second-ever food post,
Penne Alla Vodka
into a
Creamy Penne Alla Vodka
.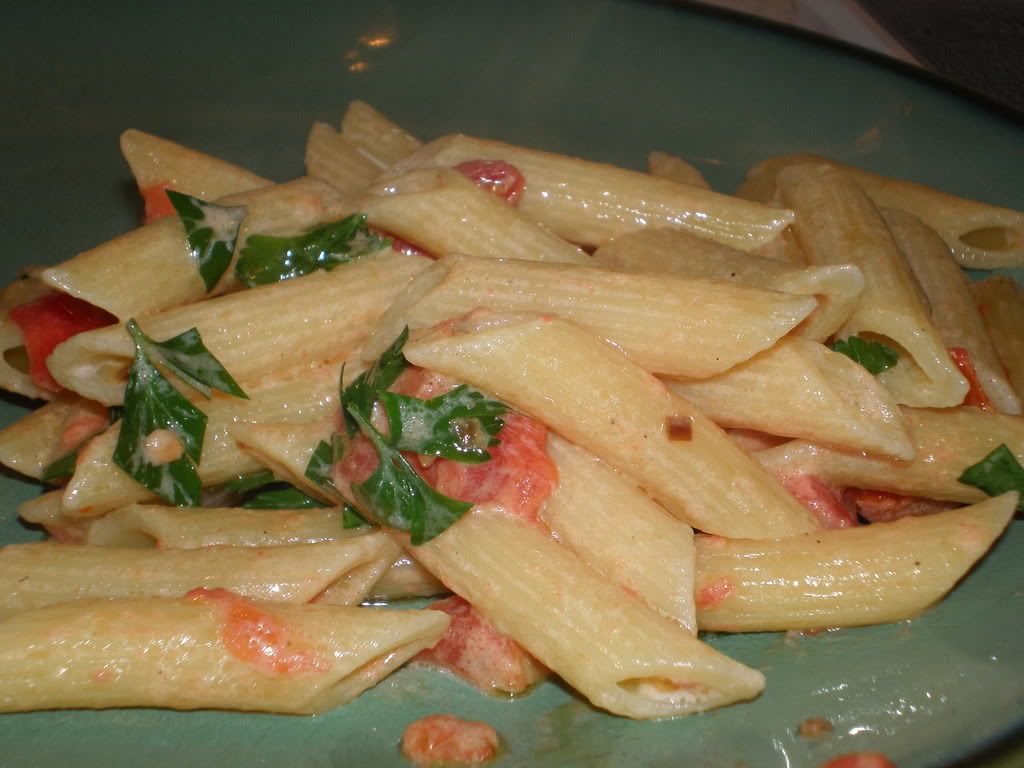 Now here I am again, going after my third-ever food post:
Spicy Garlic Lime Chicken
. This post is so old, it doesn't even have a picture. Just imagine some lonely looking chicken breasts sprinkled with spices and you've got it. :)
I actually wanted to do this recipe re-do much sooner than now, but to be honest, I was quite stumped when it came to this dish. What to do different? The chicken itself is really quite tasty, and I wasn't sure how much I wanted to change that aspect. After thinking and thinking, then thinking some more, I decided to simply dice the chicken and serve it mixed in with other complementary items - such as rice, beans, and cheese. Then at the last minute, while perusing through my Foodbuzz inbox, I came across a post for empanadas. Lightbulb.
I kept my original idea for the mix-ins the same, but instead of serving as-is, they would all be tucked away nicely inside little pouches of dough you could pick up and eat. It didn't feel right calling them empanadas, as they're baked, not fried, so we're going to go with hand-pies on this one.
Spicy Garlic Lime Chicken Handpies
Original Recipe
1 cup long-grain white rice, uncooked
2 cups water
zest from 1/2 lime
1/2 cup cilantro, chopped
1 tablespoon olive oil
3/4 teaspoon salt
1/4 teaspoon black pepper
1/4 teaspoon cayenne pepper
1/8 teaspoon paprika
1/4 teaspoon garlic powder
1/8 teaspoon onion powder
1/4 teaspoon dried thyme
1/4 teaspoon dried parsley
2 (4 ounce) boneless, skinless chicken breasts cut into 1-inch cubes
2 tablespoons lime juice
3 cups all-purpose flour
1 1/2 teaspoon salt
9 tablespoons shortening
9 tablespoons butter
6-9 tablespoons cold water
1 (15 ounce) can pinto beans, drained and rinsed
4 ounces pepper jack cheese, shredded
1 egg, lightly beaten
1 tablespoon water
Preheat oven to 350 degrees F. Line a baking sheet with parchment paper and set aside.
In a small saucepan, bring the rice and 2 cups water to a boil. Cover and reduce heat to a simmer (medium-low); cook for 20 minutes or until water is absorbed. Remove from heat, fluff rice with a fork, recover, and let sit for another 5 minutes. Stir in lime zest and cilantro.
Meanwhile, in a medium skillet over medium heat, warm the olive oil. In a small bowl, combine the salt and next 7 ingredients (through parsley), mixing well. Sprinkle the seasoning mix over the cubed chicken. Cook the chicken in the skillet about 5 minutes, or until almost cooked through. Drizzle with the lime juice, then cook until done, about 1 minute more.
In a large bowl, mix together the flour and salt. Using a pastry blender, cut in the shortening and butter until the mixture turns into a fine crumb. Add 4 tablespoons of cold water, mixing until all the dry ingredients are hydrated. If the dough is still too dry, add cold water, 1 tablespoon at a time, until the dough is able to fully come together.
Transfer dough to a lightly floured work surface and roll out with a lightly floured rolling pin to a thickness of about 1/4-inch. Using a large biscuit cutter (or anything that will give you a 4-inch circle), cut a round from the dough and transfer to the baking sheet. Top with 1 1/2 tablespoons cilantro-lime rice, 1/2 tablespoon pinto beans, 1 tablespoon (about 3 cubes) of chicken, and 1 tablespoon cheese, leaving about 1/4-inch from the edge on all sides.
In a small bowl, whisk together the egg and water. This will serve as your egg wash. Using a pastry brush (or your finger), brush egg wash along the outside edge of the pastry. Cut another round from the dough (I made mine about 4 1/2-inches) and lay on top of the filling. Press the edges down into the bottom round, then seal together with the tines of a fork. Brush with the egg wash. Repeat with remaining dough and filling ingredients. Bake at 350 degrees for 15 minutes, or until the hand-pies become golden brown. Let cool for 5 minutes before serving.
Makes: 10 hand-pies (plus leftover filling)
Lucky for me, these turned out much the way I envisioned them - light flaky dough surrounded rice with oozy cheese and chicken. Kind of like a Chipotle burrito, but pie-style.
While the concept behind these and actually eating them is fun and cute, making them is a different story. Or maybe that's just because I have almost zero counter space. They actually come together pretty easily once you have everything lined up ready to go, it's just getting there that takes a bit (*ahem*rolling out dough). Which is why there is no egg wash on these -- I didn't have any more room or energy to get one more bowl out. But I highly recommend you add it for that nice golden color. Sigh, I desperately need a bigger kitchen.
And, if you get tired of rolling out dough, or simply run out of dough before filling ingredients (which I may or may not have done), this is also fantastic without it. Just mix everything together and pop in the microwave to melt the cheese for a few seconds. Either way, delicious.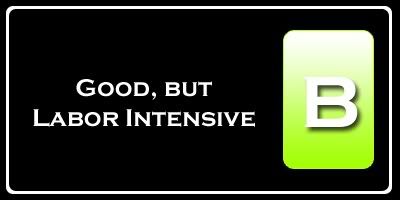 Nutrition Facts - there are no nutrition facts for this dish, as the entire quantity of certain ingredients may not be used (i.e. there will most likely be leftover beans and rice).