I have kitchen issues. And no, this time it
doesn't involve my fridge
(although I did get that business cleaned out). I have a small tendency to buy things (or ask for them as presents) I don't have room for in my kitchen. Such as a second bowl for my stand mixer, or a dutch oven, or... well, you get the idea. It's not that I don't use these items, I just don't really have a place to put them. It's so bad that we don't have any actual food in our kitchen cabinets. Only dishes. That's what our little stand-alone pantry is for.
Except then I did this:
And that doesn't even include the little turn-style-thing-a-ma-jig I have on the counter. I counted them this morning... 63 different spices. This doesn't even include extracts and doubles of spices I have. Who on earth needs that many spices? Apparently I think I do.
Send help.
Or better yet, you can follow in my footsteps and buy some spices you normally wouldn't use and put them to work in this fantastic popular
Indian
British dish. (What, don't believe me?
Wikipedia it
.)
1/2 teaspoon cumin seeds
1/2 teaspoon coriander seeds
1 cup plain yogurt
2 cloves garlic, smashed
1 tablespoon canola oil
2 tablespoons lime juice
3/4 teaspoon kosher salt
1/4 teaspoon ground black pepper
1/4 teaspoon cayenne pepper
1/4 teaspoon garam masala
1/2 teaspoon turmeric
1 teaspoon ground ginger
1 1/2 pounds boneless, skinless chicken breast, diced into one inch cubes
wooden skewers
1 tablespoon canola oil
1 cup onion, diced
2 cloves garlic, minced
1 teaspoon ground ginger, minced
1 tablespoon garam masala
1/2 teaspoon cayenne pepper
1 1/4 teaspoon kosher salt
1/4 teaspoon ground black pepper
1 (28 ounce) can diced tomatoes, drained
3/4 cup cream (heavy or whipping cream will work)
2 tablespoons lime juice
Heat a small skillet over medium heat. Once it is hot, add coriander and cumin seeds and toast for 3-4 minutes.
Transfer seeds to a blender and pulse for 30 seconds or until mostly ground. Add yogurt and next 9 ingredients (through ginger) to the blender. Blend for 30 seconds, or until the mixture is smooth.
Place the chicken in a medium bowl, and cover with the marinade. Stir until all the chicken is coated. Cover the bowl with plastic wrap and refrigerate for at least 3 hours (up to overnight).
Preheat broiler. In a large bowl or pan, immerse wooden skewers in cold water for at least 30 minutes. This is to prevent burning while the chicken is cooking. Line a pan large enough to accommodate the skewers with foil and set aside.
Once skewers have be soaked thoroughly, slide on 3-4 pieces of chicken onto each, then place in the foil-lined pan. Broil the chicken for about 6 minutes on each side, or until cooked through.
Meanwhile, in a large saucepan, warm 1 tablespoon of canola oil over medium heat. Add the onion and sauté about 5 minutes, or until starting to soften. Add the garlic and cook until fragrant, about 30 seconds. Add 1 teaspoon ginger, 1 tablespoon garam masala, 1 1/4 teaspoon salt, 1/4 teaspoon pepper, 1/2 teaspoon cayenne and sauté another 30 seconds. Stir in the tomatoes and cream. Reduce heat slightly, and simmer for 10 minutes. Stir the cooked chicken and lime juice into the sauce. Serve over hot rice.
Serves: 6
Indian-inspired food is not typically something Adam and I eat, so this dish really kind of came out of the blue. I still don't know why I decided to put it on the menu for the week, but am I ever so glad I did. We typically tend to shy away from Indian and Thai foods as many of the recipes call for coconut or coconut milk. Lucky for us, this recipe didn't (although I'm sure you could easily sub out the cream for coconut milk if you wanted to).
Both Adam and I really enjoyed this random change of pace, not to mention the dish itself! The flavors are very warm, a little spicy with just a hint of almost sweetness and cinnamon. While I'm not sure this cuisine will be regularly making it to our table, it's definitely a good start.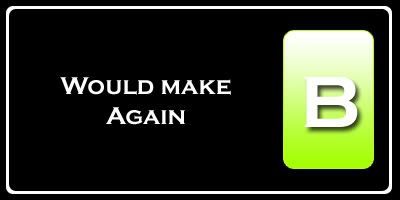 Nutrition Facts - does not include rice
Amount per serving
Calories 315
Calories from fat 103
% Daily Value
Total Fat 11.4g
18%
Saturated Fat 3.0g
15%
Trans Fat 0.0g
Cholesterol 105mg
35%
Sodium 908mg
38%
Total Carbs 13.2g
4%
Dietary Fiber 2.2g
9%
Sugars 8.0g
Protein 39.3g
Vitamin A 26%
Vitamin C 38%
Calcium 13%
Iron 11%