Apparently it has been deemed "mushroom week" here at casa de Runs With Spatulas. Good thing I finally decided
to start liking them
. Monday started out with these fantastic Portobello and Black Bean Quesadillas, followed by, surprise!, mushroom pierogies at our weekly pierogie night, which were then followed by a pasta dish containing them last night. It's a good thing dinner tonight does not contain mushrooms in any shape or form. I think I might be getting a little mushroomed out.
Recently, it had been a struggle to figure out what's going on my weekly menu. I've exhausted my usual suspects of places to look for recipes, and nothing really sounds all that good. While rummaging around looking for recipes, I spotted a cookbook I had purchased a while ago, marked tons of recipes, then promptly forgot about. After flipping through, I picked out two recipes which of course, were not any of the ones I had bookmarked. Go figure. Maybe because I did all my bookmarking before I realized I liked mushrooms? Sounds about right.
4 (8-inch) flour tortillas
2 (4 1/2-inch) portobello caps, chopped
2 tablespoons light balsamic vinaigrette
1 cup black beans, rinsed and drained
3 ounces pimiento, diced
1 cup (4 ounces) Mexican blend cheese, shredded
1/4 cup thinly sliced green onions
Stack tortillas and microwave on high 1 minute. Leave in microwave to keep warm while preparing filling.
Heat a large non-stick skillet over medium-high heat. Once at temperature, coat pan with cooking spray. Add mushrooms and sauté 5 minutes, or until tender. Add vinaigrette, beans, and pimiento. Sauté about 2 minutes, stirring constantly, or until the liquid is absorbed. Mash bean mixture slightly with the back of a fork.
Spoon 1/3 cup bean mixture onto each tortilla and spread even across half of tortilla. Sprinkle each with 1/4 cup cheese and 1 tablespoon onions. Fold tortillas in half.
Wipe the skillet clean with a damp paper towel, then bring to medium heat. Spray pan with cooking spray. Place 2 quesadillas in pan, cooking 2 to 3 minutes on each side or until golden and cheese melts. Repeat with remaining 2 quesadillas. Cut each quesadilla into 3 wedges. Serve immediately.
Serves: 4
Both of us really enjoyed the flavor of these quesadillas, and they were surprisingly very filling. I assumed going into this dish that we wouldn't have any leftovers, especially with the way Adam's been eating as of late. But I was wrong, and Adam was the lucky winner of the last quesadilla for lunch the next day. I just kind of wish there was just
a bit more
filling in each of these, though. Maybe use only 3 tortillas instead of 4? Regardless, these were still delicious and came together, as promised, quick and easy.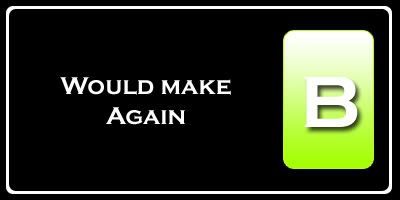 Nutrition Facts
Amount per serving
Calories 480
Calories from fat 135
% Daily Value
Total Fat 15.0g
23%
Saturated Fat 7.1g
35%
Cholesterol 35mg
12%
Sodium 498mg
21%
Total Carbs 67.0g
22%
Dietary Fiber 12.8g
51%
Sugars 4.9g
Protein 22.5g
Vitamin A 16%
Vitamin C 47%
Calcium 35%
Iron 21%