I
warned you
I was going for some more veggies in my diet. You know, those things I don't like to eat?
But, when they're smothered and covered in bacon drippings... they're tolerable. Even the green ones.
Honestly, I was a little scared when I was making this. Not because I thought I wouldn't like it, but I was a bit worried I may be scrounging around for something else for the hubby. That I would get
that look
. The "what the heck is this and why am I supposed to be eating it?" look.
Yet the look never came. I didn't have to go back into the kitchen to try and poke around for some leftovers or who knows what else. I think it was the bacon. It's excellent at hiding things. Or at least convincing you that there is most definitely meat present, and a lot of it. Even when it's not true.
Not that you have to worry about not being full from this meal. The chickpeas take care of that. Maybe, just maybe, I can get the hang of this whole eating veggies thing down. With a little help from my friend bacon.
Warm Chickpea Salad
Adapted from:
3 slices
bacon
1 cup
sliced mushrooms
7

Brussels sprouts

, thinly sliced
1 (15 ounce) can

chickpeas

, drained and rinsed
2 tablespoons
chopped pecans
1/4 teaspoon
ground black pepper
1/8 teaspoon
ground nutmeg
2 tablespoons
grated Parmesan cheese
Place bacon in a large skillet over medium heat. Cook until bacon is browned but not completely crisp. Transfer to a paper towel-lined plate. Remove all drippings from the pan except for 2 tablespoons.

Add mushrooms to the pan and cook for 5 minutes, or until they start to release their juices, stirring occasionally. Add the Brussels sprouts and cook an additional 5 minutes. Stir in the chickpeas, bacon, pecans, pepper, and nutmeg. Cook for another 5-6 minutes, or until mixture is heated through.

Divide the mixture evenly between three plates. Sprinkle each with 1/3 of the Parmesan.
Serves:
3
Despite the fact that this can be a high calorie meal, it's actually fairly healthy for you. (I'm pretty sure you'll be set on some fiber for a while.) Although you could always opt for having this as a side rather than as the entree. Which, I think is definitely doable -- coming from someone who is horrible at timing foods together and rarely makes sides. I guess that says something, right? (And the fact that the hubby actually commented on how much he liked it says something too, I should add.)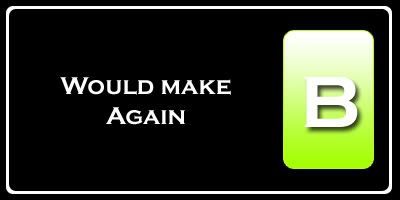 Nutrition Facts
Serving Size 232g
Amount per serving
Calories

697

Calories from fat 217
% Daily Value
Total Fat

23.6g

39%
Saturated Fat

6.7g

34%
Cholesterol

18mg

6%
Sodium 256mg
12%
Total Carbs

91.7g

31%

Fiber

27.1g
108%
Sugars 16.8g
Protein

33.6g

Vitamin A 9%
Vitamin C 73%
Calcium 21%
Iron 55%