As much as I hate to admit it, I'm totally a "rut" person when we go out to eat. Once I find something on the menu I really like, there's no turning back. I'm going to get it every.single.time we go to that restaurant.
And yet I refuse to make the same thing over and over for dinner in my kitchen? I'm an odd one, I know.
I think I'm the worst when it comes to Mexican restaurants. In my defense, we have very few authentic Mexican restaurants around and honestly, we rarely go to them. However, when we
do
decide to go, I want to make sure that the meal I have is going to be good. Hence, I order the same thing. Over and over and over.
And queso dip to go with the chips. Can't forget the queso dip. I'm such a sucker for gooey cheese.
The only way I know how to combat this little stuck-in-a-rut deal I've got going on is to try these new and untried menu items at home. Take these Chiles Rellenos for instance. Sure I knew what they were, but had I ever tried them in a restaurant? Of course not. But for some reason or another cheese-stuffed peppers were calling my name when I saw them. Okay, so it was a no-brainer. They're stuffed.with.cheese. Done.
Chiles Rellenos
Adapted from:
Cooking spray
1 1/4 cups

onion

, chopped
1 (15.5-ounce) can

diced tomatoes

, drained
1/2 cup
salsa verde
1/4 cup
cilantro
4
poblano chiles
2/3 cup

fresh cilantro

, chopped
1 cup

Monterey Jack cheese

, shredded
2 tablespoons
goat cheese
3 large
egg yolks
3 large
egg whites
1/4 cup
flour
1/4 teaspoon
ground black pepper
3 tablespoons
cornmeal
1/4 cup
canola oil
Preheat broiler to high.

Warm a large skillet over medium-high heat, coating with cooking spray. Add onion and sauté until tender, about 6 minutes. Add tomatoes and salsa verde. Cook for 12 minutes, stirring frequently, or until mixture has thickened. Place mixture in a food processor with cilantro. Process until smooth. Set aside.

Meanwhile, line a baking sheet with aluminum foil. Place poblanos on baking sheet and broil 3 inches from heat. Broil for 8 minutes, turn chiles, and broil for an additional 2-3 minutes or until skins are blackened. Transfer chiles to a ziploc bag and seal. Let stand 15 minutes, then peel and discard skins. Gently slice a lengthwise slit in each chile and remove seeds, leaving stems intact. Add 1/4 cup Monterey Jack cheese and 1 1/2 teaspoons goat cheese to the cavity of each chile.

Preheat oven to 350 degrees F.

In a small bowl, whisk together the egg yolks. Add the egg whites to a medium bowl and beat with a mixer at high speed until stiff peaks form. Gently fold egg yolks into egg whites. In a shallow dish, stir together the flour and black pepper. Place cornmeal in a second shallow dish. Dredge poblanos in flour mixture, dip into egg mixture, then dredge in cornmeal.

In a large skillet, heat the oil over medium-high heat, then reduce to medium heat. Place coated poblanos to oil and cook 6 minutes or until crisp, turning to cook on all sides. Transfer chiles to a clean baking sheet, and bake until the cheese melts, about 8 minutes. Serve topped with 1/2 of prepared tomato sauce, reserving the remaining half for another use.
Makes:
4
Even though the cheesy goodness was super tempting every time I looked at my weekly menu, I just couldn't bring myself to make them. This was a multiple step process. And it involved whipping egg whites to a stiff peak. Yikes. I was surely going to mess up that step.
Then came the day when I knew it was either now or throw out the peppers. I opted to go with the money-saving technique of actually using my food. While there are most definitely multiple steps involved with this meal, it actually came together much easier than I had originally thought. Well, minus dumping half of my cornmeal all over the dining room floor, but that's another story.
As I've never had Chiles Rellenos before, I don't really have anything to fall back on to compare to. All I know is these were delicious. A bit of crisp and crunch from the cornmeal, heat from the pepper, and, oh yeah -- the gooey cheese inside. Yum. Maybe, just maybe, I'll give these a try when we're out at a Mexican restaurant. In like, another 6 months.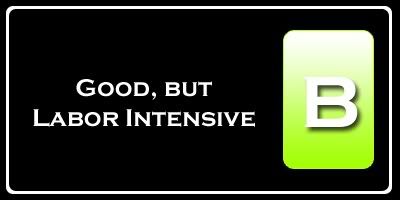 Nutrition Facts
Serving Size 213g
Amount per serving
Calories

353

Calories from fat 236
% Daily Value
Total Fat

26.2g

40%
Saturated Fat

7.7g

38%
Trans Fat 0.1g
Cholesterol

182mg

61%
Sodium 293mg
12%
Total Carbs

16.6g

6%
Fiber

2.0g

8%
Sugars 3.3g
Protein

13.1g

Vitamin A 28%
Vitamin C 19%
Calcium 24%
Iron 9%