Flank steak. Adam and I's arch nemesis in the kitchen.
You can count the number of times we have attempted making any kind of steak at home on one hand. Easily. It's 4.
And of those, how many times did we either overcook or massively under-cook (and spend forever trying to get it cooked to the right temperature) the steak? 4.
That might explain why we prefer to get steak elsewhere.
I must have been off in la-la land when picking this recipe out for dinner last week. Why on earth would I pick a steak recipe with our stellar track record, not to mention I'm not a huge steak person? Sometimes, things are meant to be.
It took a bit of patience, and lots of testing with the meat thermometer, but we finally got the steak in the golden 130-135 degree range. After pulling it off and letting it rest a few minutes came the final test. We cut into the steak with breaths held -- was it overdone? Was it still completely rare? Instead, we were presented with a perfectly pink and juicy center with a nice outside crust full of balsamic flavor. Steak - 4, Us - 1.
Grilled Balsamic Flank Steak
Adapted from:
1/3 cup
blasamic vinegar
1 1/2 tablespoons
Worcestershire sauce
3 teaspoons
brown sugar
2 small cloves

garlic

, minced
1 1/2 pounds

flank steak

, cut into 4 pieces
3/4 teaspoon

kosher salt

, divided
1/2 teaspoon
ground black pepper
In a gallon-sized ziploc bag, combine balsamic vinegar, Worcestershire sauce, brown sugar, and garlic. Add steak and seal bag. Flip bag several times to coat steak. Let steak marinate at room temperature for at least 30 minutes, turning once. Meanwhile, pre-heat grill (to medium-high if using a gas grill).

Remove steak from ziploc and place on a plate. Sprinkle both sides of steak with salt and pepper. Set aside. Pour remaining marinade into a small saucepan over medium-high heat. Bring to a boil and cook for 5 minutes. Remove from heat.

Transfer steak from plate onto the grill once hot. Cook steak for 5 minutes on each side, basting with reduced marinade every few minutes, or until steak reaches an internal temperature between 130 and 135 degrees F. Remove steak from grill and allow to rest for 10 minutes prior to serving. Cut steak diagonally across the grain into thin slices.
Serves:
5
I wanted a little something else to go with the steak that wasn't my typical go-to bagged salad. I decided to make
quinoa again
, this time off the cuff with things from our fridge. Since the hubby actually had to debate going back for seconds versus a bowl of ice cream, I figured it must be pretty dang good. And if it's good, why then, I must share it with you! :)
Quinoa with Basil, Feta, and Roasted Red Peppers
In a medium saucepan, bring
2 cups fat-free reduced-sodium chicken broth
and
1 cup rinsed and drained quinoa
to a boil over medium-high heat. Cover, reduce heat to medium-low, and cook for 20 minutes. Remove from heat and stir in
1/4 cup crumbled feta
,
2 tablespoons chopped basil
, and
1/4 cup chopped roasted red peppers
. Drizzle with
1 teaspoon balsamic vinegar
and stir well to mix.
Serves: 10 as a side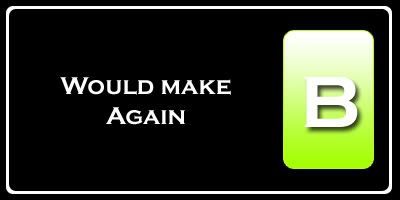 Nutrition Facts - Balsamic Flank Steak
Serving Size 161g
Amount per serving
Calories

279

Calories from fat 102
% Daily Value
Total Fat

11.3g

17%
Saturated Fat

4.7g

24%
Cholesterol

75mg

25%
Sodium 485mg
20%
Total Carbs

3.0g

1%
Sugars 2.7g
Protein

37.9g

Vitamin A 0%
Vitamin C 0%
Calcium 2%
Iron 15%
Nutrition Facts - Quinoa
Serving Size 71g
Amount per serving
Calories

71

Calories from fat 16
% Daily Value
Total Fat

1.8g

3%
Saturated Fat

0.7g

3%
Cholesterol

3mg

1%
Sodium 168mg
7%
Total Carbs

10.9g

4%
Fiber

1.2g

5%
Protein

2.9g

Vitamin A 4%
Vitamin C 13%
Calcium 3%
Iron 4%