It is no secret that Adam and I enjoy some blue box blues every now and again. Mostly when we don't know what else to make or our pantry is bare.
While the powdered cheesy goodness works in a pinch, if we're in the mood for actual mac and cheese, it has to be homemade. Hot, bubbly, and super cheesy. No ifs, ands, or buts. Those are the rules.
Most of the time, we focus on inundating the pasta with as much cheese as possible. Occasionally, we'll throw in a few extra bonuses, like
chipotles
or
apples
to kick up the flavor a notch or two. I mean, you pretty much can't go wrong with a good base of cheese and pasta.
This version is Bon Appetit's southern spin on mac and cheese, which incorporates various peppers and seasonings to bring that heat up a bit. Although for the life of me I can't figure out why it's named "Pimiento Mac & Cheese" as it doesn't call for any actual pimientos (only red bell peppers, which are close, but not quite it)... Bueller? Bueller?
Pimiento Mac and Cheese
Adapted from:
1/2 cup
water
1

bell pepper

, seeded and roughly chopped
2 cloves

garlic

, halved, divided
1/2 cup
panko
3 tablespoons

butter

, at room temperature, divided
1/2 cup

Parmesan cheese

, grated, divided
3/4 cup

sliced hot cherry peppers

, drained, 1 tablespoon brine reserved
1/4 teaspoon
ancho chile powder
1 1/4 cup

extra-sharp cheddar cheese

, shredded
1 cup

Mozzarella cheese

, shredded
8 ounces

gemelli

, or other medium-sized pasta
In a small saucepan, bring water, bell pepper, and 1 1/2 garlic cloves to a boil. Cover and reduced heat to medium-low. Simmer peppers for 15 minutes, or until soft.

Meanwhile, in a small skillet over medium-high heat, toast panko for 5-6 minutes, stirring often. Once golden, remove from heat and cool until lukewarm. Using fingers, rub in 1 tablespoon butter until all the crumbs are coated. Toss with 1/4 cup Parmesan cheese.

Once bell pepper is ready, transfer mixture to food processor. Add cherry peppers, 1 tablespoon brine, remaining butter, ancho chile powder, and remaining garlic. Add cheddar and 1/4 cup Parmesan. Process mixture until smooth.

Preheat oven to 400 degrees F. Thoroughly coat a 2-quart baking dish with cooking spray.

Bring a medium pot of water to a boil. Add the pasta and cook to al dente according to package instructions. Drain and return to pot. Add pepper sauce and Mozzarella cheese to the pot, stirring until cheese is melted.

Transfer pasta to the prepared baking dish. Cook for 25 minutes, or until top is crisp and the sauce is bubbling. Let stand 10 minutes before serving.
Serves:
4
The original recipe calls for Peppadew peppers instead of cherry peppers. Apparently, Peppadew peppers don't exist in the grocery stores I shop at. Which, of course, leaves me flustered and being "that" person on their cell phone trying to look up alternatives. While trying to dodge around carts and other shoppers giving me the side-eye, I found that you can substitute mild cherry peppers or pimientos. In all my haste, I grabbed the "hot" cherry peppers thinking, "oh it really can't be that bad". Let me tell you. Those little rings of peppers brought some stank to the table. Not a hidden heat, that slowly creeps up on you. Nope. A nice and in your face heat.
Despite the fact that this ended up far spicier than I envisioned, it was still pretty good. Although next time I think I might not puree the cheddar with the rest of the sauce, but simply add it in with the Mozzarella. I think it might give a bit more of a melty, gooey texture that way.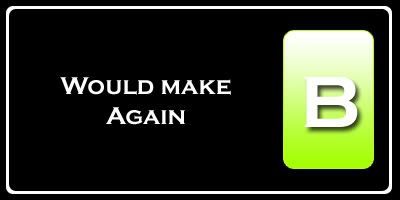 Nutrition Facts
Serving Size 255g
Amount per serving
Calories

633

Calories from fat 283
% Daily Value
Total Fat

31.4g

48%
Saturated Fat

18.8g

94%
Cholesterol

86mg

29%
Sodium 722mg
30%
Total Carbs

56.1g

19%
Fiber

3.2g

13%
Sugars 5.6g
Protein

30.2g

Vitamin A 35%
Vitamin C 64%
Calcium 63%
Iron 17%