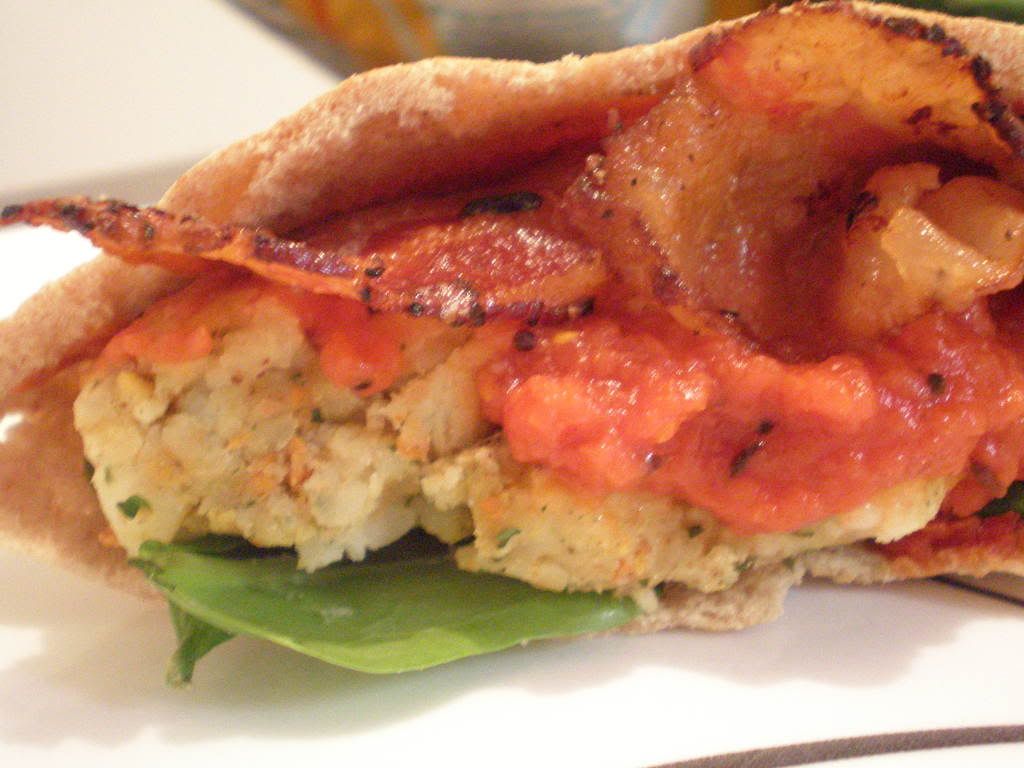 A couple years ago, I was making dinner and invited my then boyfriend over to share with me. I was making my famous stir-fry that my roommate and I loved to chow down on. Upon arriving, boyfriend wandered over to the covered pan of food, lifted the lid, and then promptly set it back down. He turns around, looks at me and says, "there's no meat. I'll get something else."
Talk about a low blow. Well, 3 years later, I'm married to the "then boyfriend" and have yet to let him live that down. However, I have been much more conscious about including meat in meals, even if it's not part of the menu.
Which is why, as much as Bacon Veggie Burgers are an oxymoron, I had to do a little compromising in order for him to even consider eating these.
(Bacon) Veggie Burgers
1 cup canned chickpeas (garbanzo beans), rinsed and drained
1 cup chopped fresh cilantro
1/2 cup coarsely chopped carrot
1 teaspoon
Garam Masala
1 teaspoon amchur powder
1 1/4 teaspoons kosher salt
1/2 teaspoon freshly ground black pepper
1/4 teaspoon ground red pepper
1 jalapeño, seeded and quartered
2 pounds peeled red potatoes, cut into 2-inch pieces
1/4 cup coarsely chopped red onion
1 cup dry breadcrumbs
2 tablespoons extravirgin olive oil
2 2/3 cups spinach
4 (6-inch) whole-grain pitas, cut in half
8 red onion slices
(8 slices bacon)


Combine first 9 ingredients in the bowl of a food processor; process until finely chopped.

Place potatoes in a large saucepan; cover with water. Bring to a boil; cook 13 minutes. Add onion, and cook for 2 minutes or until potatoes are tender. Drain; cool 10 minutes. Place potato mixture in a large bowl; mash with a potato masher or fork. Stir in chickpea mixture and breadcrumbs; cover and chill 8 hours or overnight.

Divide potato mixture into 8 equal portions, shaping each portion into a 1/2-inch-thick patty (about 2/3 cup mixture). Heat 1 tablespoon oil in a large skillet over medium heat. Add 4 patties to pan; cook 5 minutes on each side or until browned and heated through. Repeat procedure with remaining 1 tablespoon oil and 4 patties. Place 1/3 cup spinach and 1 patty in each pita half. Top each serving with 1 onion slice, 1 strip of bacon, and fiery tomato chutney.
Fiery Tomato Chutney

1 tablespoon canola oil
1 teaspoon black mustard seeds
1 teaspoon cumin seeds
4 small dried red chiles
1/4 teaspoon ground turmeric
4 cups chopped cored tomatoes
1 tablespoon sugar
2 tablespoons tomato paste
3/4 teaspoon kosher salt
1/4 teaspoon curry powder
1/8 teaspoon ground red pepper

Heat oil in a saucepan over medium-high heat. Add mustard seeds, cumin seeds, and chiles to pan; cook 1 minute. Stir in turmeric; cook 30 seconds. Add tomatoes and remaining ingredients; bring to a boil. Reduce heat, and simmer until reduced to 2 cups (about 50 minutes). Spoon into a bowl; cover and chill.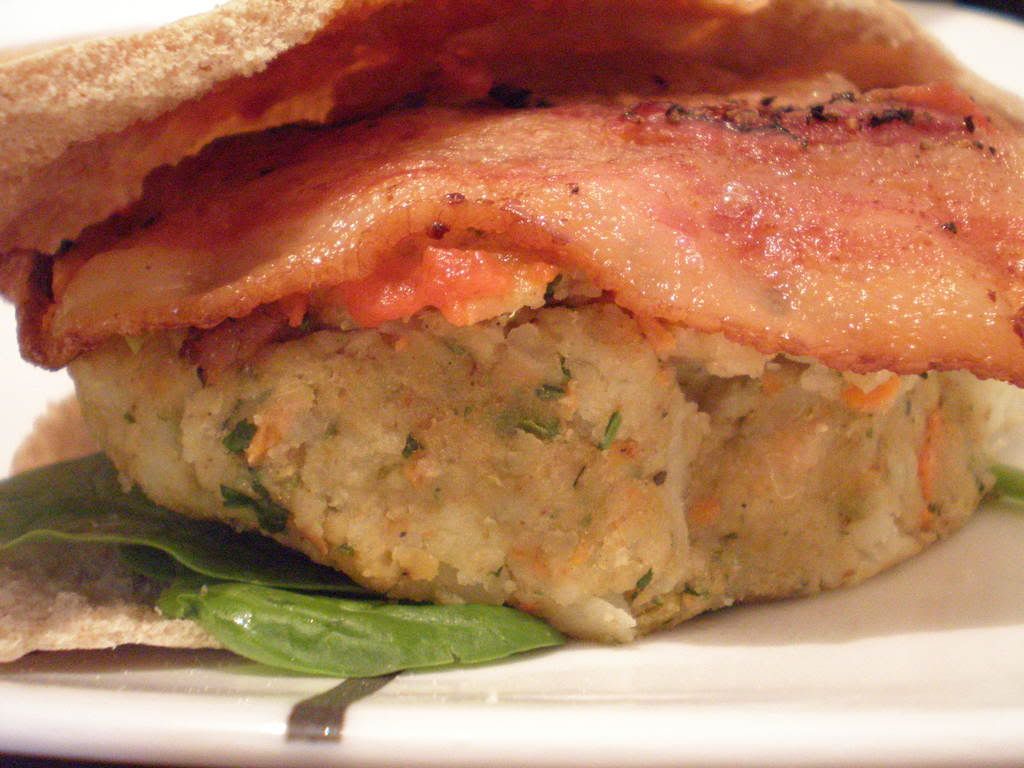 I'm not a vegetarian, but every once in a while, I do tend to crave a spicy veggie burger. So when I ran across this recipe back in April, I decided it was worth a try.
Unfortunately, this shouldn't have been made a "burger". A "veggie patty" without the pita and spinach leaves would have been more appropriate. The whole mushy potato base completely threw both me and Adam off when eating these.
The flavoring was actually pretty good -- and the chutney worked really well with these. I'm pretty sure they would make a good side, just not as a stand-alone burger.
We rated these: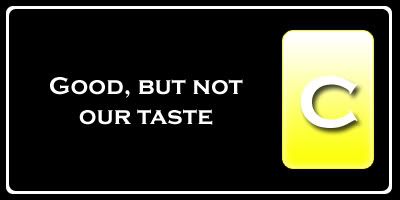 Nutrition Facts - Includes Bacon
Amount per serving
Calories 539
Calories from fat 186
% Daily Value


Total Fat 20.7g
32%


Saturated Fat 5.0g
25%


Trans Fat 0.0g


Cholesterol 31mg
10%


Sodium 1535mg
64%


Total Carbs 67.2g
22%


Dietary Fiber 11.1g
44%


Sugars 10.0g


Protein 23.7g


Vitamin A 60%
Vitamin C 47%


Calcium 11%
Iron 30%