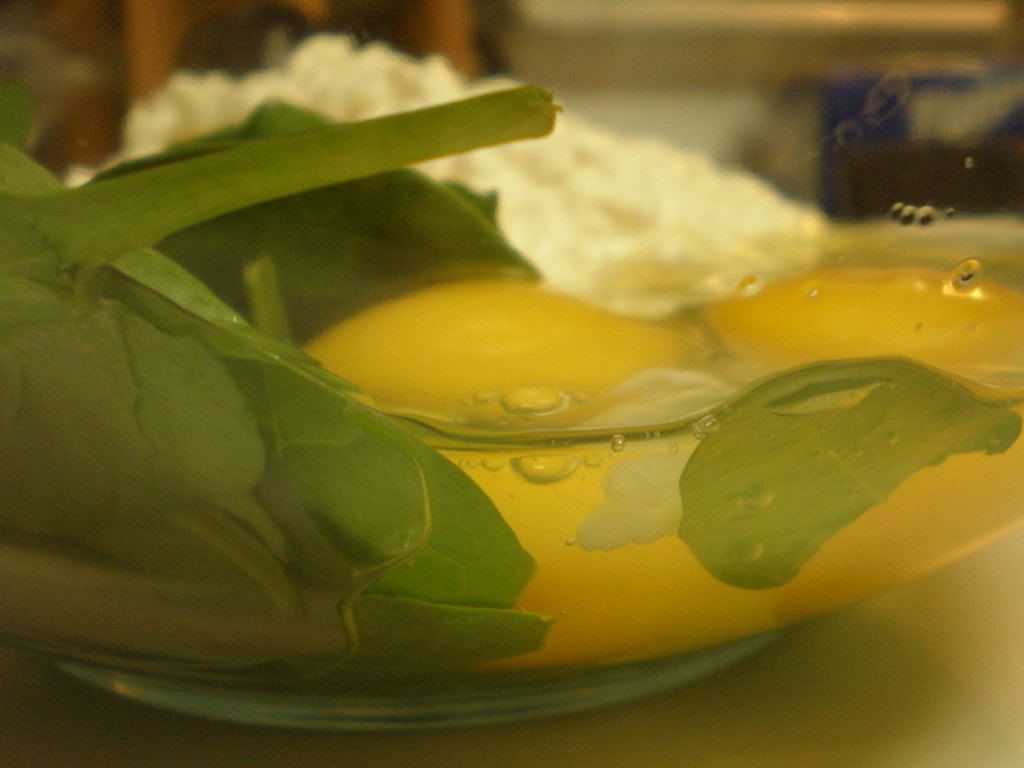 Let's just be honest from the start -- I am not a big fan of quiche. It's usually just so eggy and bland.
Adam usually isn't a fan either. Or my sister. Or my brother-in-law.
But. For some reason, the two times I made this we either fought over the leftovers, or there weren't any leftovers to speak of.

Something about the mixture of swiss and spinach with the smoked turkey-ham made this quiche very flavorful and extra edible. Even my sister (who is not the biggest fan of swiss) loved this.

And it's really not just for breakfast -- the first time I made this was for dinner (and I won the leftover argument and had it again for lunch).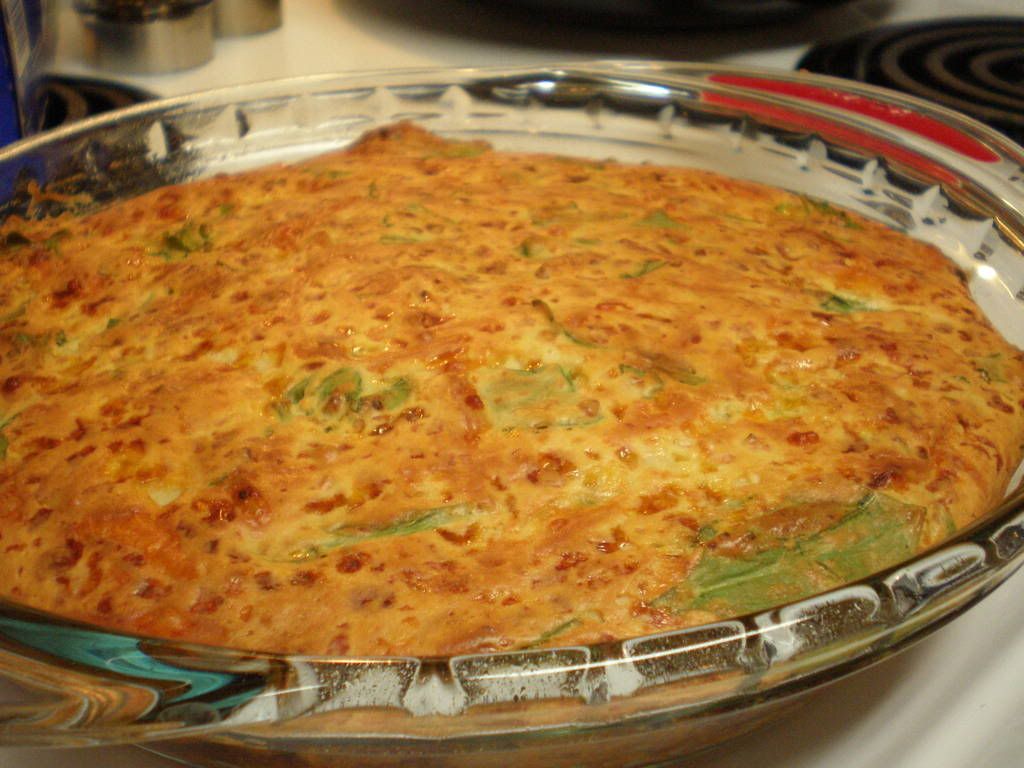 Crustless Smoked Turkey and Spinach Quiche
From: Cooking Light, June 2008

Cooking spray
3/4 cup (4 ounces) cubed smoked turkey ham (such as Jennie-0)
1/2 cup chopped onion
1/8 teaspoon freshly ground black pepper
3/4 cup (3 ounces) shredded Swiss cheese, divided
1 cup fresh baby spinach leaves
1 cup fat-free cottage cheese
1/2 cup evaporated fat-free milk
1/4 cup (1 ounce) shredded reduced-fat cheddar cheese
2 large eggs
2 large egg whites
1/2 cup all-purpose flour (about 2 1/4 ounces)
1 teaspoon baking powder

Preheat oven to 350°.

Heat a large nonstick skillet over medium-high heat. Coat pan with cooking spray. Add ham, onion, and pepper to pan; sauté 4 minutes or until ham is lightly browned.

Sprinkle 1/4 cup shredded Swiss cheese in a 9-inch pie plate coated with cooking spray. Top with ham mixture.

Combine remaining 1/2 cup Swiss cheese, spinach, and next 5 ingredients (through egg whites) in a large bowl; stir with a whisk.

Lightly spoon flour into a dry measuring cup; level with a knife. Combine flour and baking powder in a small bowl, stirring with a whisk. Add flour mixture to egg mixture, stirring with a whisk until blended. Pour egg mixture over ham mixture. Bake at 350° for 45 minutes or until a knife inserted in center of quiche comes out clean.

Serves: 8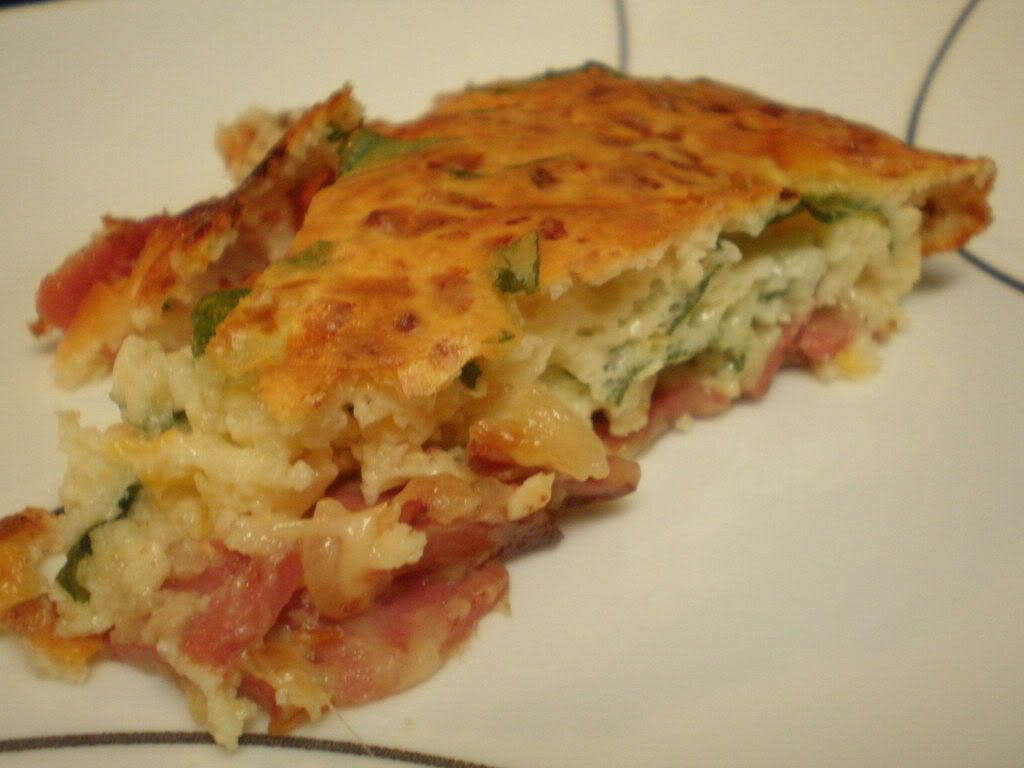 I did use much more swiss on the bottom of the pan than the recipe called for -- I just didn't feel the amount really covered the bottom enough. And I love cheese.
Between Adan, myself, my sister, my brother-in-law, and a couple of our friends, we all rated this:

Nutrition Facts
Amount per serving
Calories 163
Calories from fat 59
% Daily Value


Total Fat 6.6g
10%


Saturated Fat 3.5g
17%


Trans Fat 0.0g


Cholesterol 78mg
26%


Sodium 338mg
14%


Total Carbs 11.1g
4%


Sugars 2.7g


Protein 14.5g


Vitamin A 12%
Vitamin C 3%


Calcium 21%
Iron 6%