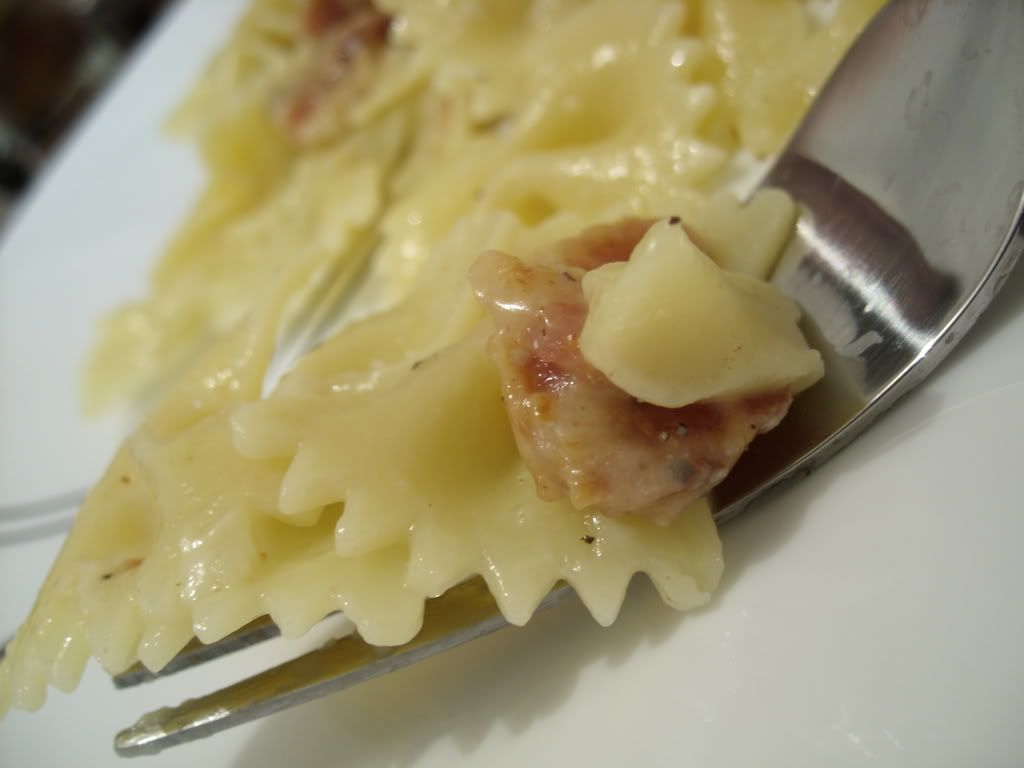 A while back I discovered what seemed to be a pretty good recipe for
Fettucine Carbonara with Gorgonzola Cheese
. However, after replicating it again at a later date (once I didn't have the cold), there was something off about it. It seemed chunkier, definitely not smooth and creamy as it should be.
Well, I'm not all about having temperamental recipes, that only work when they want to, so I went in search for a new one. Lo and behold,
Confections of a Foodie Bride
posted a much quicker and much easier recipe on her blog just a short time later.
I was very excited to see this -- not only did this one not seem to have five million calories as most carbonara recipes do, but I also liked the fact that I didn't have to prep for forever either.
1 lb Pasta
6 oz Pancetta, diced (I used bacon instead)
1 egg
3/4 cup Parmesan, grated
Ground black pepper
Salt

Cook pasta as directed. Drain, reserving 1 cup of pasta water. Place pasta in a large bowl.

Dice the pancetta into small cubes and cook until crisp. Remove from pan with a slotted spoon and add to pasta. Add the egg, Parmesan, and as much cracked black pepper as you can enjoy to the bowl with 1/4 cup of pasta water. Stir and mix well. The cheese will melt and the egg and water will create a creamy coating on the pasta. Add additional pasta water, if necessary, and stir. Salt, to taste.

Yields: 4 servings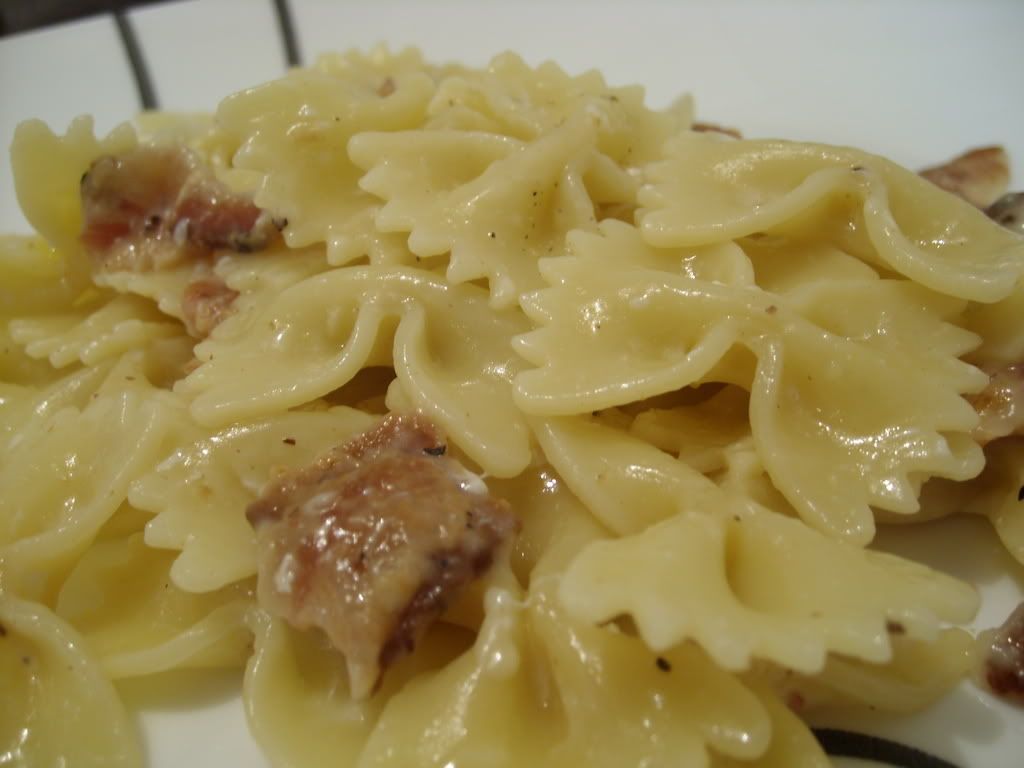 I'm not totally sure I fell in love with this recipe like she did, but it wasn't bad. I felt like a lot of the cheese got caught up in the bowtie crinkles, so that may have had something to do with it. Overall, I think this still beats out my other odd-tasting Carbonara, so this is my "go-to" for the moment.
We rated it:
Nutrition Facts
Amount per serving
Calories 653
Calories from fat 241
% Daily Value


Total Fat 26.8g
41%


Saturated Fat 9.8g
49%


Trans Fat 0.0g


Cholesterol 193mg
64%


Sodium 1353mg
56%


Total Carbs 63.5g
21%


Protein 37.2g


Vitamin A 4%
Vitamin C 0%


Calcium 24%
Iron 27%