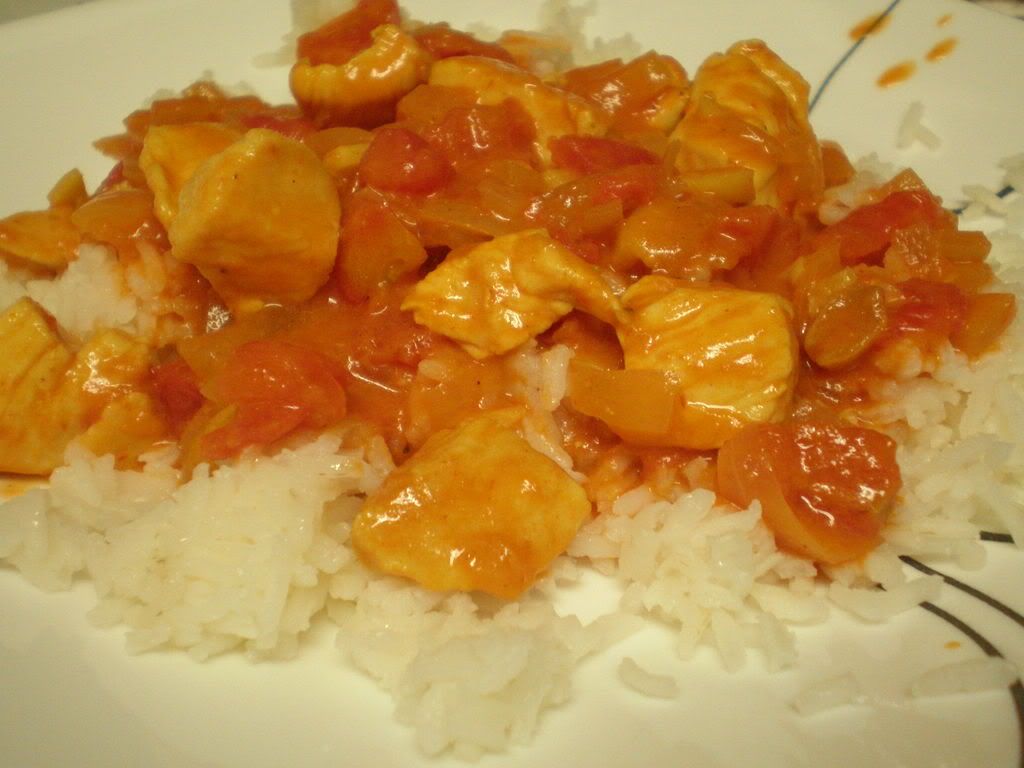 I've come to the realization that I am so very far behind in my blogging. Well at least with this post I'm moving on to my new September recipes... Horrible, I know. And I still have about 8 or so more recipes to post before I finally catch up. Eeee.
And, I left my camera at my sister's last weekend, which won't be helping the "catch-up" cause as a couple of those recipes we did at her place. I am trying to catch-up though, it's much easier to blog about a recipe I just tried tonight (or maybe last night) than remembering how it tasted a month ago.
I do remember this recipe, however. I am definitely a lover of most things peanut butter. (I would say "all", but then someone will throw some seafood dish out there involving peanut butter and I'll just have to turn it down.) And spicy peanut butter dishes are even better. :) Yum.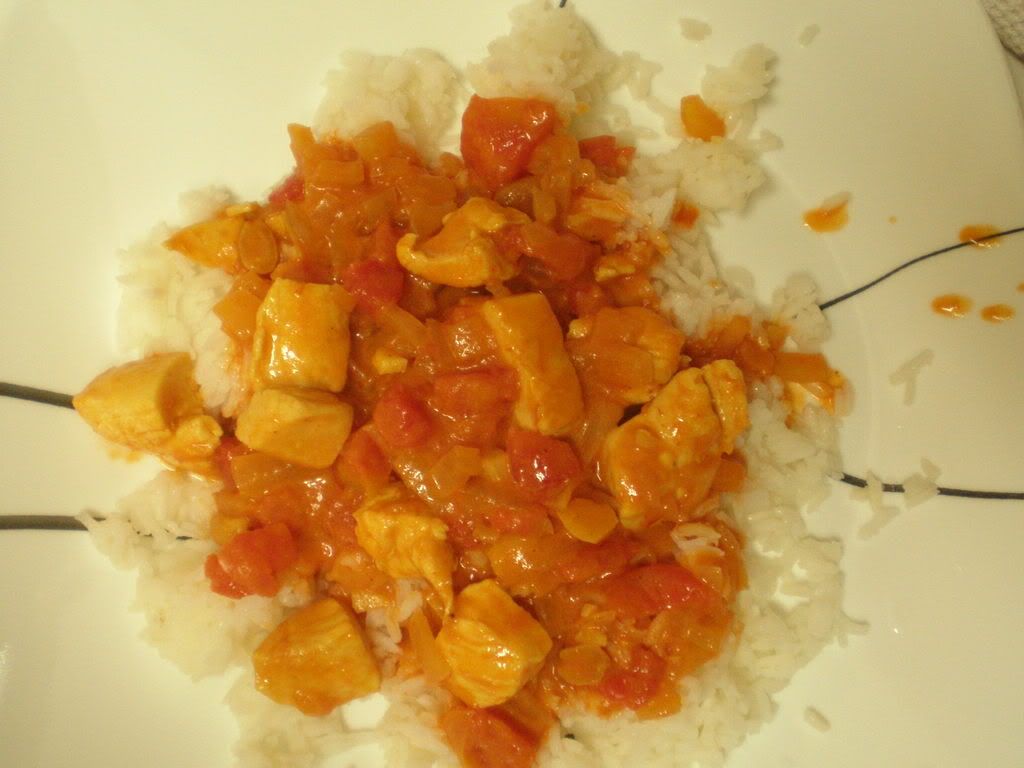 Spicy Peanut Chicken over Rice

1 tablespoon peanut oil
1 cup chopped onion (about 1 medium)
1 1/2 tablespoons minced garlic (about 4 cloves)
2 1/2 pounds skinless, boneless chicken breast halves, cut into 1-inch pieces
1/3 cup chunky peanut butter
1 1/2 teaspoons curry powder
1 teaspoon salt
1 teaspoon crushed red pepper
1/2 teaspoon freshly ground black pepper
1 (6-ounce) can tomato paste
3 cups chopped plum tomato (about 6 tomatoes)
2 (14-ounce) cans fat-free, less-sodium chicken broth
8 cups hot cooked brown rice
3/4 cup 2% Greek-style yogurt (such as Fage)

Heat oil in a Dutch oven over medium heat. Add onion and garlic to pan; cook 5 minutes or until tender, stirring frequently. Add chicken to pan; cook 4 minutes or until chicken is done, stirring frequently. Stir in peanut butter and next 5 ingredients (through tomato paste); cook 1 minute. Add tomato and broth to pan; bring to a boil. Reduce heat, and simmer 30 minutes or until slightly thickened, stirring occasionally. Serve chicken mixture over rice; top each serving with yogurt.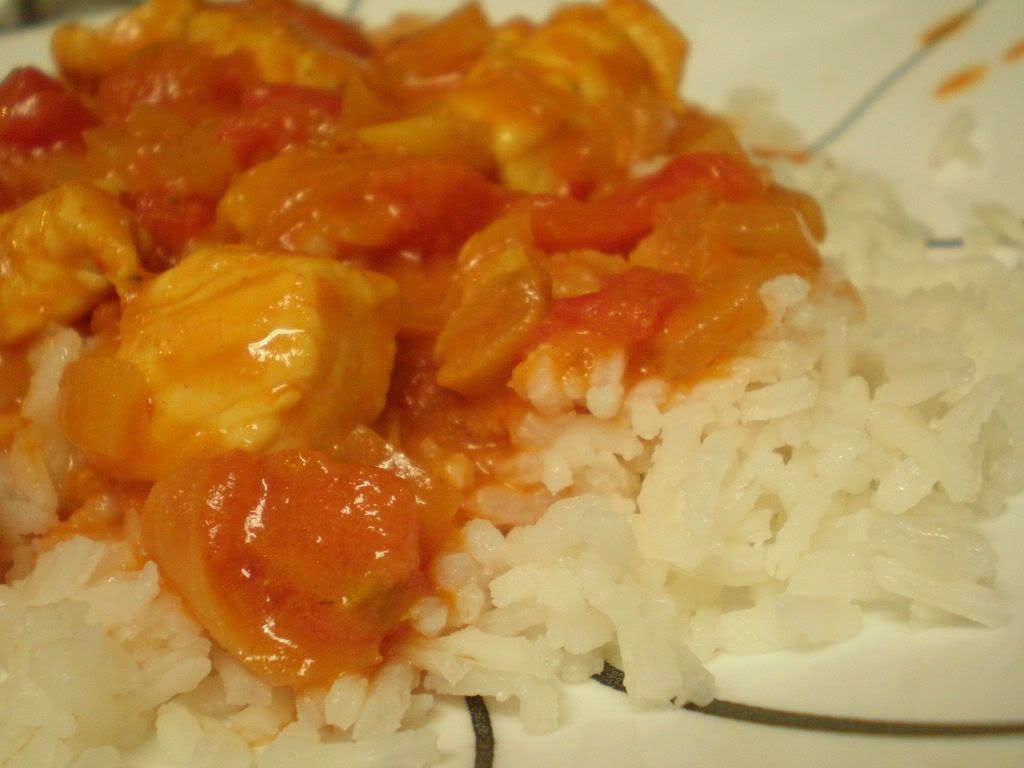 I did change a few things up in this recipe. I used vegetable oil instead of peanut oil, diced tomatoes instead of plum tomatoes, white rice instead of brown, and creamy peanut butter instead of chunky (although in my defense I did throw in some dry roasted peanuts). Nothing that would drastically change the taste of this dish.
Overall it turned out pretty good, although it was a lot more "soup-ier" than I expected. The hubs and I rated it:


Nutrition Facts
Amount per serving
Calories 647
Calories from fat 97
% Daily Value


Total Fat 10.8g
17%


Saturated Fat 2.1g
11%


Trans Fat 0.0g


Cholesterol 56mg
19%


Sodium 537mg
22%


Total Carbs 106.0g
35%


Dietary Fiber 6.5g
26%


Sugars 5.8g


Protein 33.7g


Vitamin A 14%
Vitamin C 31%


Calcium 7%
Iron 18%