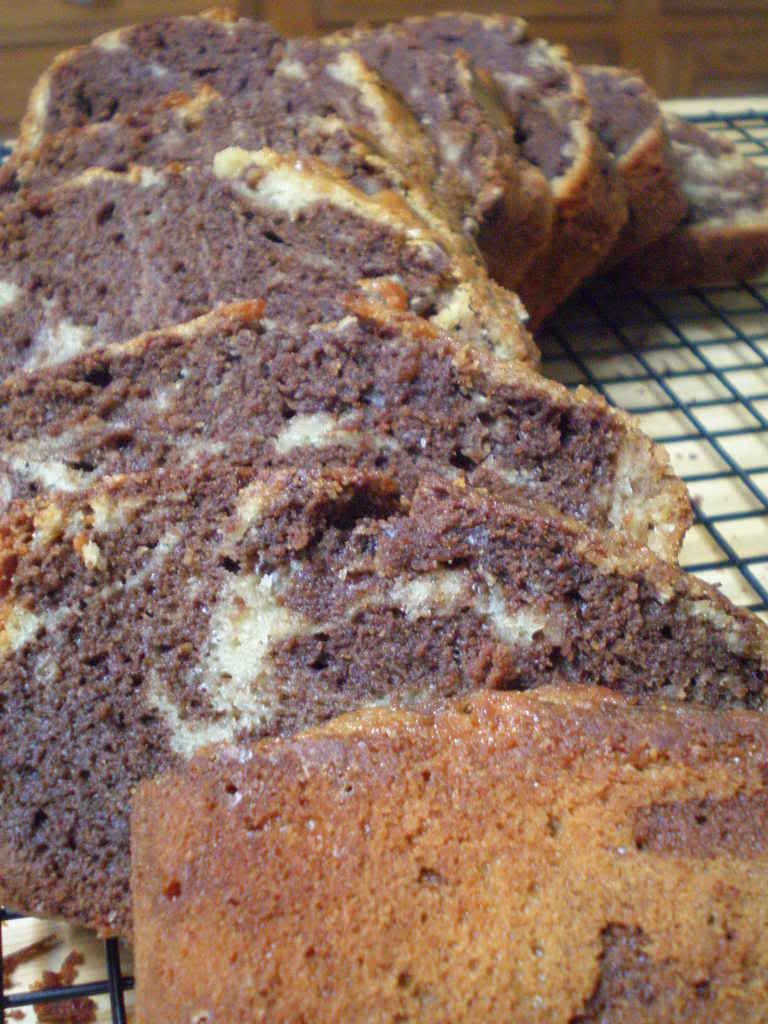 One last recipe from the weekend at my sisters. (I can't help it -- we were busy cooking.)
Now I will say that I'm partial towards my mom's banana bread, which is your basic banana bread loaf with chocolate chips in it, but I decided to break the rules and try a different recipe.
Upon seeing the marbled swirls, I had to see if chocolate incorporated in the batter was better than the individual chips.
1 1/3 cups all-purpose flour
1 teaspoon baking powder
½ teaspoon salt
¼ teaspoon freshly grated nutmeg
1½ ripe bananas, peeled
Squirt of fresh lemon juice
Grated zest of ½ a lemon
1 tablespoon dark rum
3 ounces bittersweet chocolate, finely chopped
1 stick plus 2 tablespoons (10 tablespoons) unsalted butter, at room temperature
2/3 cup (packed) light brown sugar
1/3 cup sugar
4 large eggs
1 teaspoon pure vanilla extract
½ cup whole milk
Getting ready: Center a rack in the oven and preheat the oven to 325 degrees F. Butter and 8 ½ x 4 ½ x 2 ½ inch loaf pan, dust the inside with flour and tap out the excess. Place the pan on an insulated baking sheet or on two regular baking sheets stacked on top of the other.
Whisk together the flour, baking powder, salt and nutmeg.
In a small bowl, mash the bananas with the lemon juice and zest, then stir in the rum.
Melt the chocolate and 2 tablespoons of the butter together in a microwave oven or in a heatproof bowl set over a saucepan of gently simmering water.
Working with a stand mixer, preferably fitted with a paddle attachment, or with a hand mixer in a large bowl, beat the remaining stick (8 tablespoons) of butter at medium speed until creamy, about 3 minutes. Add the sugars and beat for another 2 to 3 minutes, until light and smooth. Add the eggs one at a time, beating well after each addition, then beat in the vanilla. The batter will look curdled, and it will continue to look curdled as you add ingredients. Reduce the mixer speed to low and add half the flour mixture, mixing only until it is just incorporated. With the mixer running, pour in the milk, and when it is blended, add the remaining dry ingredients. Scrape down the bowl and mix in the mashed bananas. The batter will look even lumpier.
Pour a little less than half the batter into the bowl with the melted chocolate and stir to blend. Drop alternating spoonfuls of both batters into the prepared pan, then, using a table knife, swirl the batters together, taking care not to overdo it.
Bake for 1 hour and 20 to 30 minutes, or until a knife inserted deep into the center of the cake comes out clean. Check after 30 minutes and if the cake starts to brown too much, cover it loosely with a foil tent. Transfer the cake to a cooling rack and let it rest for about 15 minutes before unmolding, then cool the cake to room temperature right side up on the rack.
Serving: This cake is good cut thick or thin, served plain or with some ice cream. It's very good with coffee or tea and especially good with chocolate milk, hot or cold.
Storing: Wrapped in plastic wrap, the cake will keep for 4 to 5 days at room temperature; wrapped airtight, it will keep for up to 2 months in the freezer.
Playing around: If you'd like to add a little more texture to the cake as well as another flavor, add 1/3 cup chopped toasted pecans to either of the batters.
Makes: 12 slices
As much as I wanted this recipe to be over the top "wow", my mom's recipe is still the winner. The outer crust on this was just too thick and tough to beat it out.
I would rate it: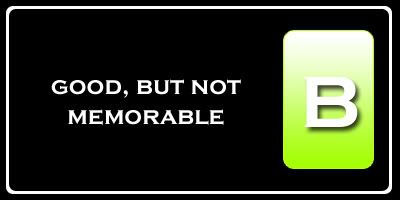 Nutrition Facts
Amount per serving
Calories 273
Calories from fat 125
% Daily Value


Total Fat 13.9g
21%


Saturated Fat 8.3g
41%


Cholesterol 99mg
33%


Sodium 201mg
8%


Total Carbs 32.5g
11%


Dietary Fiber 1.0g
4%


Sugars 19.6g


Protein 4.7g


Vitamin A 8%
Vitamin C 2%


Calcium 6%
Iron 7%