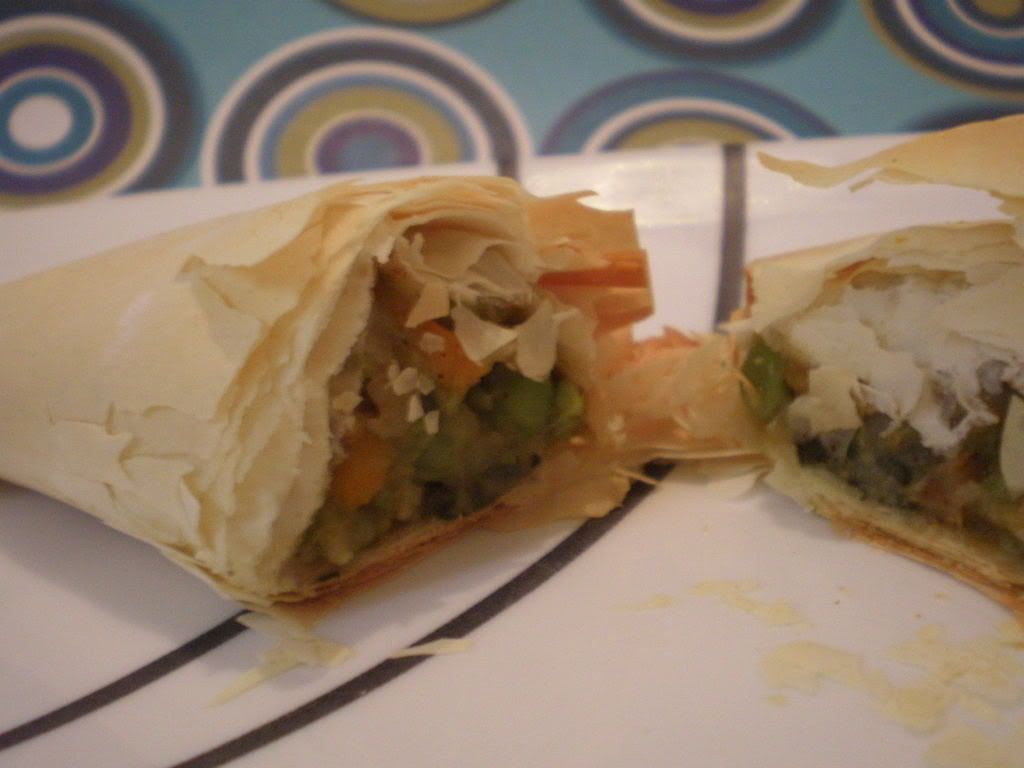 Every once in a while I get an inch to try something really new -- something that stretches my cooking abilities a bit. Well, I have never played with phyllo dough before. Actually, I was never really able to find it before I moved up to Pennsylvania... excuses, excuses I know.
I also know, that it's probably not really something all
that
difficult to work with, but hey, it was something new to try out. Kind of like guys and gadgets.
This recipe caught my eye back in May, but as many of my recipes, got shoved into an ever growing pile and neglected. Not really hard to do with a hard-to-find ingredient. That and I'm not the
biggest
fan of mint.
As soon as I discovered phyllo dough in a specialty food shop conveniently located to our new place, I snatched it up. But what to make with it? After much searching (and looking at what all I had on hand), I decided to go with my forgotten recipe.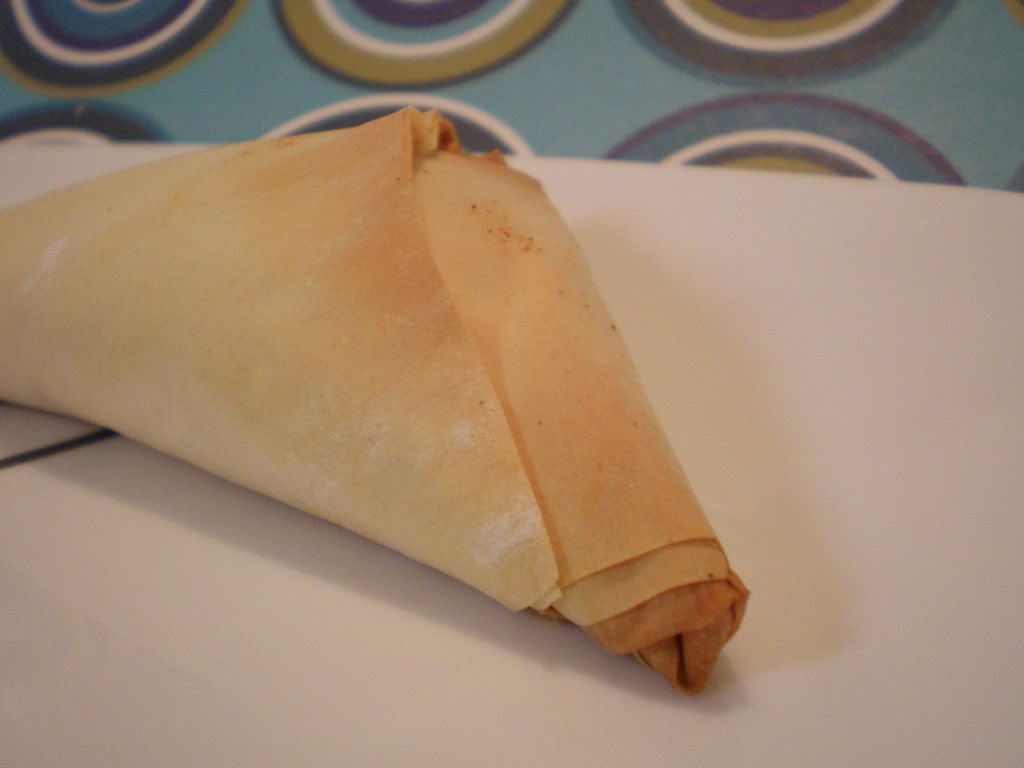 Cumin-Scented Samosas with Mint Raita

Samosas:
2 1/4 cups chopped peeled baking potato
1 1/2 cups chopped peeled carrot
1 1/2 tablespoons olive oil
2 cups finely chopped onion
2 1/2 tablespoons minced peeled fresh ginger
1 1/2 tablespoons minced garlic
3/4 teaspoon crushed red pepper
1 tablespoon ground cumin
2 teaspoons ground coriander
1 teaspoon ground cinnamon
3/4 teaspoon salt
1/2 teaspoon freshly ground black pepper
1/4 teaspoon ground turmeric
1 1/4 cups frozen green peas, thawed
1/2 cup chopped fresh cilantro
1 tablespoon fresh lemon juice
16 (18 x 14–inch) sheets frozen phyllo dough, thawed
Cooking spray

Raita:
1 cup plain low-fat yogurt
1/3 cup chopped fresh mint

To prepare samosas, cook potato and carrot in boiling water 8 minutes or until tender; drain.

Heat oil in a wok or large skillet over medium heat. Add onion to pan; cook 10 minutes or until lightly browned, stirring frequently. Add ginger, garlic, and red pepper; cook 2 minutes, stirring frequently. Stir in cumin and next 5 ingredients (through turmeric); cook 15 seconds, stirring constantly. Add potato mixture, peas, cilantro, and juice, stirring well to combine; cool slightly. Place half of filling in a food processor; pulse until coarsely chopped. Spoon chopped filling into a bowl. Repeat procedure with remaining filling.

Preheat oven to 350°.

Place 1 phyllo sheet on a large cutting board or work surface (cover remaining dough to prevent drying); lightly coat with cooking spray. Fold phyllo sheet in half lengthwise to form an 18 x 7–inch rectangle. Spoon about 3 tablespoons filling onto bottom end of rectangle, leaving a 1-inch border. Fold left bottom corner over mixture, forming a triangle; keep folding back and forth into a triangle to end of phyllo strip. Tuck edges under triangle; lightly coat seam with cooking spray. Place triangles, seam side down, 2 inches apart on baking sheets coated with cooking spray. Repeat procedure with remaining phyllo, cooking spray, and filling to form 16 samosas.

Bake at 350° for 13 minutes with 1 baking sheet on bottom rack and 1 baking sheet on second rack from the top. Rotate baking sheets; bake an additional 12 minutes or until samosas are lightly browned.

To prepare raita, combine yogurt and mint. Serve with samosas.

Serves: 8
I guess Adam and I are just not the biggest fan of Indian food. They were pretty good, but I wasn't really a big fan of the raita. The samosas by themselves were kind of bland, not really having the kick I was expecting and the raita didn't really add all that much. But overall, still not too bad.
Nutrition Facts
Amount per serving
Calories 261
Calories from fat 57
% Daily Value


Total Fat 6.4g
10%


Saturated Fat 1.5g
7%


Cholesterol 2mg
1%


Sodium 481mg
20%


Total Carbs 43.6g
15%


Dietary Fiber 5.0g
20%


Sugars 6.4g


Protein 7.9g


Vitamin A 79%
Vitamin C 39%


Calcium 11%
Iron 19%