Now, typically I'm not a super huge fan of holiday food. (Minus desserts.) Ham is my one exception. Every Christmas at my Grandma's we always had this amazing spiral-cut ham -- BUT seeing as she lives out in the middle of Nowhere North Dakota, it's not really possible to get my hands on one of those. So I have to work with what I have (and I didn't feel like splurging at
HoneyBaked Ham
).
Nothing like finding a highly rated recipe online to try out on my parents. :)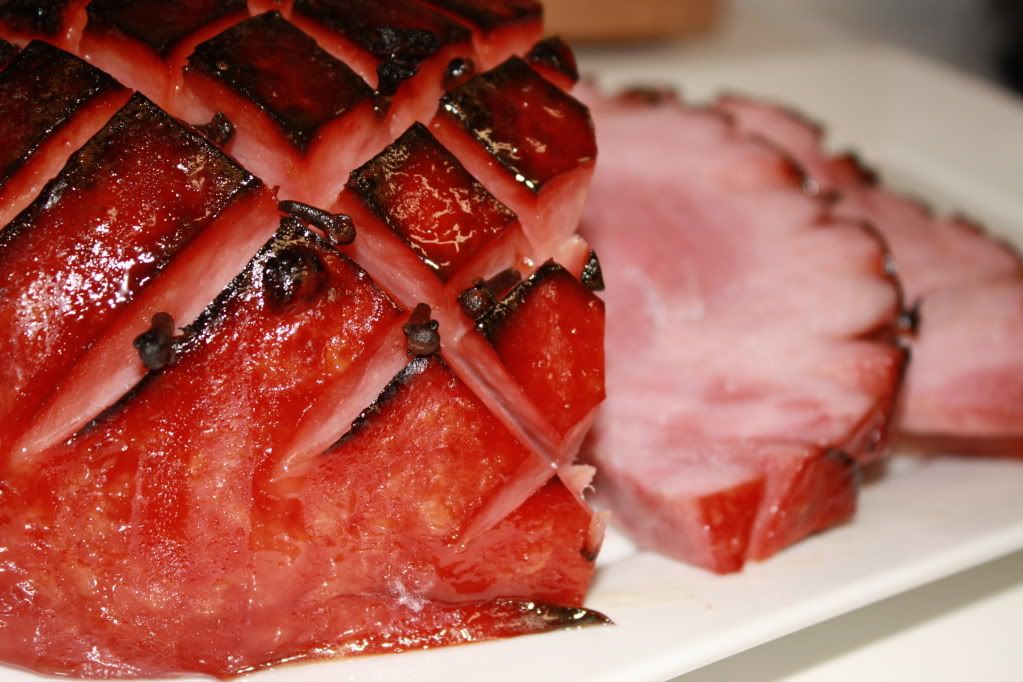 Honey Glazed Ham
5 pounds ready-to-eat ham
1/4 cup whole cloves
1/4-1/3 cup brown sugar
2 cups honey
2/3 cup butter
Preheat oven to 325 degrees F (165 degrees C).
Score ham, and stud with the whole cloves. Place ham in foil lined pan.
In the top half of a double boiler (or a glass bowl over water simmering in a saucepan), heat the brown sugar, honey and butter until the sugar is melted. Keep glaze warm while baking ham.
Brush glaze over ham, and bake for 1 hour and 15 minutes in the preheated oven. Baste ham every 10 to 15 minutes with the honey glaze. During the last 4 to 5 minutes of baking, turn on broiler to caramelize the glaze. Remove from oven, and let sit a few minutes before serving.
Serves: 15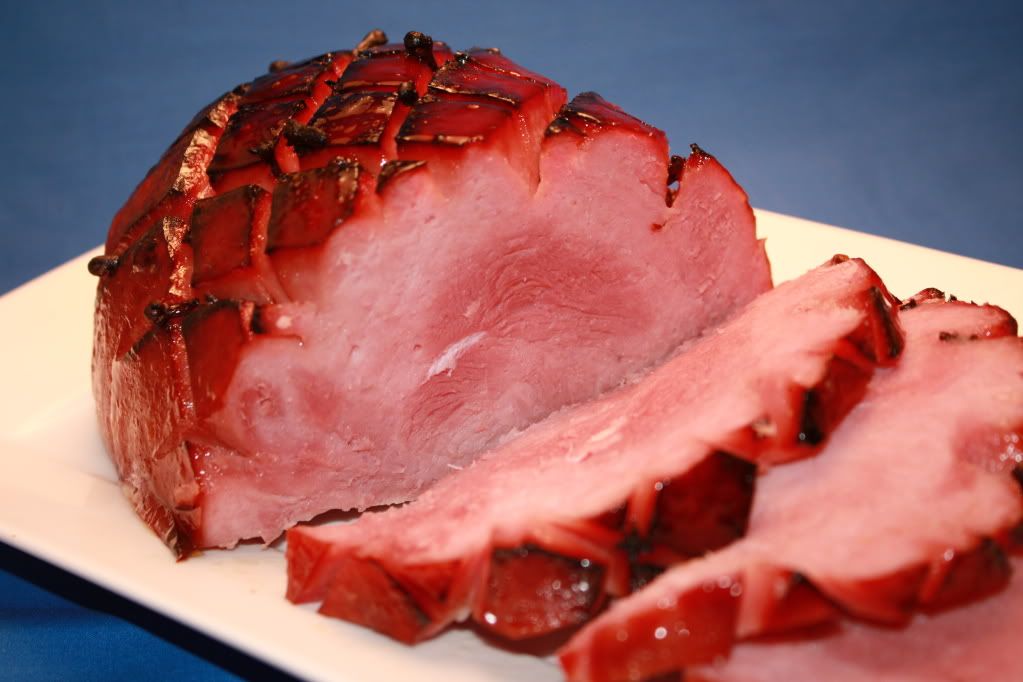 This turned out absolutely delicious! I did have the oven up a little higher than 325 (I think it was on 350) due to cooking the side dishes, hence the super crisy edges. The crust was a little tough from the higher temp, but it still had a great flavor. (Just make sure not to eat the cloves!)
I'm definitely keeping this one around for the next holiday ham.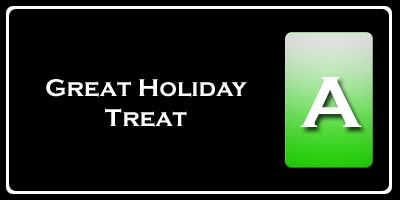 Nutrition Facts
Amount per serving
Calories 471
Calories from fat 194
% Daily Value


Total Fat 21.5g
33%


Saturated Fat 9.7g
49%


Cholesterol 108mg
36%


Sodium 2036mg
85%


Total Carbs 46.4g
15%


Dietary Fiber 2.6g
11%


Sugars 39.5g


Protein 25.4g


Vitamin A 5%
Vitamin C 13%


Calcium 5%
Iron 11%