As I mentioned
yesterday
, I have been on a quest to clear out my freezer to be able to have room for my ice cream maker. Best of intentions, yes, my pants are fully aware.
Due to this massive clean-out, I found myself with lots of protein-only entrées. My usual go-to in this situation is a bag of lettuce and some salad dressing. Nothing too fancy, obviously. However, since all I had to do with the ribs I re-discovered was pretty much stick them in the oven to reheat, I figured I could put a little more work into my side dish.
Adam is from Kansas City, and fiercely loyal to their barbecue style. One of his favorite places to go when we visit his parents is
Jack Stack
. It's almost always a full slab of ribs and some sort of combination of sides -- one always being their cheesy corn bake. Now their cheesy corn bake is fantastic, so trying to replicate it at home was kind of a dicey move. I usually try and stay away from doing restaurant replicas at home since, oh, that's why we go to the restaurant in the first place (and on the off chance that my re-creation is better, well, that just ruins the whole restaurant experience for me).
However
, I will make exceptions when it comes to restaurants we just don't have access to, like Jack Stack. For me, this was more about giving Adam a taste of home, rather than just trying to duplicate a favorite dish.
Cheesy Corn Bake
Adapted from:
2 tablespoons
butter
3 tablespoons
all-purpose flour
1/4 teaspoon
garlic powder
3/4 cup
milk
1 1/2 cups

sharp American cheese

, shredded
3 ounces

reduced-fat cream cheese

, cubed
30 ounces

frozen whole kernel corn

, thawed
3 ounces
diced ham
Preheat oven to 350 degrees F. Coat a 2 quart baking dish with cooking spray.

In a large saucepan, melt butter over medium heat. Whisk in flour and garlic powder. Add milk and cook until thick and bubbly, stirring frequently. Add cheeses and reduce heat to medium-low. Stir until cheeses melt. Add corn and ham to pan and stir until coated with cheese mixture.

Pour corn mixture into baking dish. Bake for 45 minutes. Allow to cool for 10 minutes before serving.
Serves:
12
(as a side)
And surprise, surprise, Adam actually ended up liking this better than the original. I have to admit, I was a little more partial to this recipe as well, mostly because I feel the corn is a bit crisper, rather than leaning towards the mushy side.
I was a little skeptical when I saw the recipe called for sharp American cheese.
American
? Not really the cheese I would have gone with. Then I tasted it, and it was worlds away from those Kraft prepackaged singles. Note: I found sharp American at the deli counter, and I do think it's important you use sharp, not regular American.
I can definitely be sure that this side dish will be showing up again at some point or other.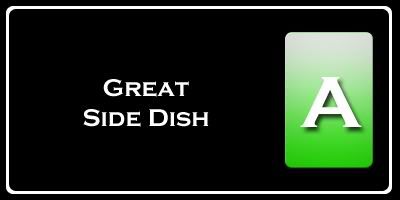 Nutrition Facts
Amount per serving
Calories

176

Calories from fat 87
% Daily Value
Total Fat

9.7g

15%
Saturated Fat

5.4g

27%
Cholesterol

29mg

10%
Sodium 323mg
13%
Total Carbs

17.3g

6%
Dietary Fiber

2.1g

8%
Sugars 4.1g
Protein

7.3g

Vitamin A 8%
Vitamin C 9%
Calcium 11%
Iron 4%