Pretty much as soon as I made my
Dark Chocolate Peanut Butter
I knew exactly what I wanted to do with it. Which is weird, seeing as I'm not a huge muffin person. But there was just something inside my head insisting that my new peanut butter would be fantastic in a muffin. With bananas. Which aren't exactly my favorite fruit. Odd again.
But I made those muffins anyways. And even stuck some bananas in there for good measure -- I mean it
is
a breakfast food after all, might as well get some fruit in there. While they were baking all I could smell was the peanutty goodness coming out of my kitchen. I might have drooled a little.
Let me tell you, it was painful letting these beauties just sit there cooling. Mocking me. Then I ate one. Ha, take that muffins. I'm not sure I'll even tell the hubby I made these, just bury them deep in the freezer for me to eat at my leisure. Now that, my friends, is an excellent idea.
Chocolate Peanut Butter Banana Muffins
2 cups
all-purpose flour
1/2 cup
granulated sugar
2 tablespoons
brown sugar
1 tablespoon
baking soda
1/2 teaspoon
salt
1 cup

Dark Chocolate Peanut Butter*
2 tablespoons
cold butter
2
eggs
1 cup
milk
2 medium

ripe

bananas

, diced
Preheat oven to 400 degrees F. Line (or grease) a muffin tin; set aside.

In a large bowl, combine flour, granulated sugar, brown sugar, baking powder, and salt. Using a pastry blender, or two knives, cut in the peanut butter and butter until the mixture resembles coarse crumbs.

In a small bowl, lightly beat the eggs. Stir in the milk. Pour the egg mixture into the dry ingredients and stir until all the ingredients are moistened. Gently fold in the bananas.

Fill the muffin tin about three-quarters full. Bake for 15-17 minutes, or until a wooden toothpick inserted comes out clean. Let cool in pan 5 minutes, then transfer to a rack to cool completely.
Makes:
14
muffins
*You can substitute regular peanut butter here with 2 ounces dark chocolate melted and stirred in.
The only thing I would really change if I made these again would be to add a bit more chocolate. The peanut butter and banana flavors come across so strong that the subtle nuance of the chocolate tends to get a little lost. And really, it's not like you can go wrong with more chocolate. :)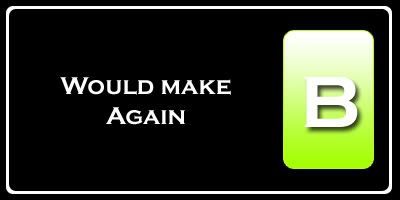 Nutrition Facts
Amount per serving
Calories

265

Calories from fat 117
% Daily Value
Total Fat

13.1g

20%
Saturated Fat

3.4g

17%
Cholesterol

56mg

19%
Sodium 436mg
18%
Total Carbs

32.4g

11%
Dietary Fiber

2.0g

8%
Sugars 14.1g
Protein

7.7g

Vitamin A 3%
Vitamin C 9%
Calcium 7%
Iron 25%