I'm finally back! I have to admit, it was a tough week without my computer, even though I was borrowing the hubby's. There's just something about having my own stuff with all my files and programs. Although heading down to my parents for the weekend made it about a 100 times better since I had chunky baby cheeks to pinch and a three-year-old's birthday party to help throw. And of course I had to forget my camera, so I have no pictures. Sad day.
Once my power cord died and I realized there would be no editing and uploading of pictures, I decided to completely take the week off from blogging. There were other things piling up for me to do, so I decided to take advantage of my power-cord-failure-imposed time off and get a few of those done, or at least make some progress on them. However, before I essentially skedaddled out of the kitchen for a week, I did happen to try my hand at a quick and easy veggie side dish.
One of my goals as of late is to get my freezer cleaned out. Not really for any budget or old food reasons -- nope, I simply want to be able to fit my ice cream maker in there. It's starting to get warmer and warmer out (oh so gradually, but it is) which is only making Adam and I crave some ice cream. After throwing out several nasty looking freezer-burned foods, I came across a couple easy entrées and decided that I could actually maybe try my hand at a side dish since the main dish was almost no work at all.
Shaved Asparagus with Parmesan Vinaigrette
, May 2011
1 pound

large asparagus spears

, trimmed and peeled
1/4 cup

finely grated Parmesan

, plus more for shaving
1 1/2 tablespoons
lemon juice
1/4 cup
extra-virgin olive oil
1/2 teaspoon
kosher salt
1/4 teaspoon
ground black pepper
Using a vegetable peeler, shave asparagus spears into long thin shavings. Place shavings and asparagus tips in a medium bowl.

In a small bowl, whisk together the grated Parmesan, lemon juice, and olive oil until well blended. Whisk in salt and pepper. Drizzle vinaigrette over asparagus, tossing to coat. Serve with shaved Parmesan.
Serves:
4
This side dish fit the bill for quick and easy, exactly what I was going for last week. The vinaigrette takes about 2 minutes to put together, and there is zero cooking, baking, or heating of any kind involved. Win. The asparagus spears are a little unwieldy at first when you start peeling them, but once you have a rhythm figured out, it goes by pretty fast.
I was a little hesitant at first with this recipe -- eating raw asparagus? That just sounded odd, something I'd never done before. But surprisingly, it works. The trick is to use the vegetable peeler rather than a knife so you have super thin shavings. Despite being drizzled in a vinaigrette, the asparagus remains bright, fresh, and crispy. Definitely something out of the ordinary rotation of steamed or roasted veggies, and perfect for spring.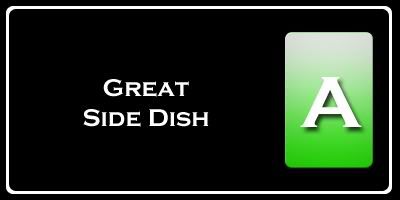 Nutrition Facts
Amount per serving
Calories

171

Calories from fat 139
% Daily Value
Total Fat

15.4g

24%
Saturated Fat

3.0g

15%
Cholesterol

6mg

2%
Sodium 389mg
16%
Total Carbs

5.2g

2%
Dietary Fiber

2.4g

10%
Sugars 2.3g
Protein

4.9g

Vitamin A 18%
Vitamin C 15%
Calcium 10%
Iron 15%