A little while ago I tried my hand at making
Pistachio Butter
and had a pretty epic fail. Well, the flavors were there, but the smoothness and consistency one expects from a nut butter was nowhere to be found. Ever since then I've been itching to make a nut butter again. I figured out that I didn't dry the nuts properly between the blanching and processing stages, giving me clumpy unappetizing "butter". So I decided to altogether skip blanching and go straight into processing.
Lucky for me (or so I thought), peanuts just happened to be on sale that week -- a 10 ounce bag for $1. Note that these were unshelled guys. By the time I had cracked a cereal bowl full of shells, I barely even had 1/2 a cup of nuts. Frustrating and time consuming. And the hubby kept walking by and eating the shelled ones. Not cool. So in my impatient ways while at the grocery store, I decided to give in and buy jarred peanuts, ready to go. The slight slight price difference was definitely worth my time.
Once shelling and blanching are no longer factors, it literally takes under 10 minutes to make your own peanut butter. Not too shabby. Especially when the food processor is doing all the work. I opted to add in some chocolate because, well, that's how I roll. Chocolate + peanut butter = one of the best flavor combinations out there, I just couldn't resist.
Dark Chocolate Peanut Butter
16 ounces
lightly salted peanuts
2 tablespoons

oil

(peanut, canola, vegetable)
4 ounces

dark chocolate chips

, melted
Pour peanuts into a food processor. Process nuts 5-7 minutes, adding oil 1/2 tablespoon at a time until smooth (more or less oil may be needed). Add melted chocolate and process until fully incorporated.
Yields:
1 pint
(serving size: 2 tablespoons)
I ended up adding just a bit too much oil (I added upwards of 3 tablespoons) so my end result was a bit on the runny side. Still super tasty though. Next time I might add in more chocolate as the peanut butter is upfront and prominent, with just a hint of chocolate.
I think I have now entered the never-ending loop of wanting to keep trying to make nut butters. I am really wanting to go back and try pistachio butter again, this time without the blanching. I just have to talk my poor little fingers into shelling those things again.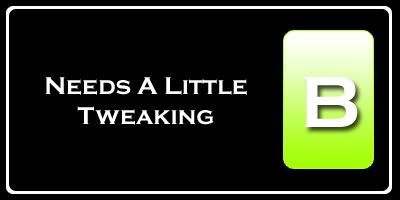 I almost forgot! Denise from
We Like to Cook
has bestowed me with the
Sisterhood of the World Bloggers Award
!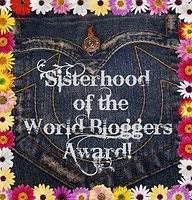 I love the simple yet tasty looking dishes that Denise and Dom share, so make sure you
head over to their blog
and check them out! Accepting this award involves me sharing 7 things you might not know about me, and then passing the award along to 15 other bloggers. As I just shared 7 things with you just about a month ago, I will direct you to
that list
if you're just dying to know something about me. ;) As for the 15 bloggers to pass this along to:
Enjoy ladies!
Nutrition Facts
Amount per serving
Calories

210

Calories from fat 160
% Daily Value
Total Fat

17.8g

27%
Saturated Fat

3.4g

17%
Cholesterol

0mg

0%
Sodium 96mg
4%
Total Carbs

9.8g

3%
Dietary Fiber

2.0g

8%
Sugars 4.8g
Protein

7.6g

Vitamin A 0%
Vitamin C 6%
Calcium 4%
Iron 19%