Months and months and months ago (okay, maybe only back in August) I threw a totally awesome
Beer Tasting Party
complete with a full-blown hot dog bar. I gave you the recipes for three of the four "fancy-pants" hot dogs, but I kind of left you hanging on the last one.
Of course, I also pulled one of those "things you should never do at a dinner party" moves too -- you know, the one about never making anything at a dinner party you haven't made before? Yeah, that one. And to top it off, I
didn't even try them
before we served them. Tsk tsk. Martha Stewart I am not. (In my defense, I had been feeling absolutely horrible all morning and didn't taste-test anything.)
See what you're subjected to when you come for a party at my place?
Not only did I not taste-test them, I didn't get a chance to taste them. At all. So after I got past the whole, oh.my.goodness.I.never.want.to.see.another.hot.dog.for.a.very.long.time stage, I was curious about how those mysterious beer hot dogs actually tasted. I guess a couple months late is better than never, right?
Beer-Braised Hot Dogs with Braised Sauerkraut
Adapted from:
3 cups

refrigerated sauerkraut

, rinsed, drained
2 teaspoons

olive oil

, divided
1/2 cup

dark beer

(such as a porter)
1 tablespoon
dark brown sugar
1 (12 ounce) bottle
raspberry lambic beer
2 tablespoons
sugar
6
all-beef hot dogs
6
hot dog buns
4 tablespoons
coarse ground mustard
Pre-heat grill (or a grill pan over medium-high can also be used).

In a large skillet over medium-high heat, add sauerkraut, beer, and brown sugar. Simmer for 5 minutes.

Meanwhile, in a medium skillet over medium-low heat, simmer the beer and sugar. Add hot dogs and continue to simmer until the hot dogs are plump and coated lightly with beer syrup, about 8 minutes. Remove hot dogs. Increase heat to medium-high and boil syrup for an additional 5 minutes; remove from heat. Place hot dogs on prepared grill and cook until char marks appear on all sides.

Top each hot dog bun with a grilled hot dog, sauerkraut, a drizzle of beer syrup, and mustard.
Serves:
6
Surprisingly, the beer and the sauerkraut flavors weren't as potent as I expected. The sauerkraut probably lost most of its bang when it was rinsed and drained, but I'm not completely positive where the bold beer flavors I was expecting disappeared to. Oh they were definitely present, don't get me wrong, but more in a subtle fashion rather than in your face.
I would probably make these again in the same type of party-with-multiple-kinds-of-hot-dogs situation, but it probably wouldn't be the first one I'd run back and make on its own again when serving it just by itself.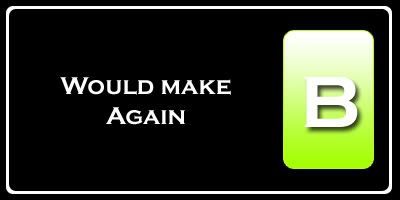 Nutrition Facts
Serving Size 298g
Amount per serving
Calories

313

Calories from fat 115
% Daily Value
Total Fat

12.8g

20%
Saturated Fat

3.7g

19%
Cholesterol

30mg

10%
Sodium 1305mg
54%
Total Carbs

32.5g

11%
Fiber

1.1g

4%
Sugars 12.4g
Protein

11.6g

Vitamin A 0%
Vitamin C 0%
Calcium 4%
Iron 6%