30+ hours in a car, 2 turkeys, a 5k run, and lots of in-law family time. That pretty much sums up my 10-day Thanksgiving vacation. This year, Adam and I trekked out to Kansas City for the turkey holiday, and thank goodness we timed our holiday out there this year right. Not only was the usual family present, but also a couple cousins from Cincinnati, as well as a long lost uncle from Texas. Needless to say, there were quite a few of us. 21 to be exact.
Of course we ate a ridiculous amount, longed for stretchy pants, saw the Plaza lighting ceremony, then came back and ate some more.
Although I didn't get to go Black Friday shopping, I did see this a few days later at Lowe's
and came this.close to buying it. Except it was $68, and I was there for some cheap lights. Boo. I need to watch that movie again.
Now that Thanksgiving is over (whew) I can focus my full attention on Christmas baking (yay!). Because let's face it, it's just not Christmas season without a cookie plate floating around.
In the meantime, I'm going to try my hardest not to eat cookies with a side of pie for dinner. It'll be tough, I know. But with these vegetarian tacos, it's not so bad. Quite tasty actually. And definitely a good switch from your everyday ground beef, cheese, and lettucetomatoessourcream tacos.
Mushroom, Corn, and Poblano Tacos
Adapted from:
2 tablespoons

olive oil

, divided
8 ounces
sliced mushrooms
1 cup

onion

, diced
1 teaspoon
dried oregano
1 teaspoon

garlic

, minced
3/4 teaspoon
chili powder
3/4 teaspoon
ground cumin
1

poblano chile

, chopped
1 1/2 cups
frozen corn
1 (14.5 ounce) can

black beans

, rinsed and drained
1/4 cup
salsa verde
1 tablespoon
lime juice
1 teaspoon
hot sauce
1/2 teaspoon
kosher salt
8 (6-inch)
corn tortillas
3/4 cup

crumbled feta

(or queso fresco)
1/4 cup

cilantro

, chopped
Heat 1 tablespoon oil in a large non-stick skillet over medium-high heat. Add mushrooms; cook 4 minutes, stirring occasionally. Add 1 tablespoon oil to pan, followed by onions, oregano, garlic, chili powder, cumin, and poblano. Cook 4 minutes, or until onions have started to soften, stirring occasionally. Add corn and beans. Cook for another 4 minutes. Remove pan from heat. Stir in salsa, lime juice, hot sauce and salt.

Meanwhile, warm tortillas according to package instructions. Divide mushroom mixture evenly between the 8 tortillas. Top each with 1 1/2 tablespoons feta and 1 1/2 teaspoons cilantro.
Serves:
4
I have to admit, I was a little surprised that between the poblano, hot sauce, and chili powder, the tacos weren't as spicy as I was expecting. So don't worry if you're a bit afraid of some heat, these won't scare you away. If you're a huge lover of spicy things -- add some more hot sauce.
Both of us thought these were nice and filling, despite being vegetarian. Those mushrooms make a great filler. So glad I decided to like them.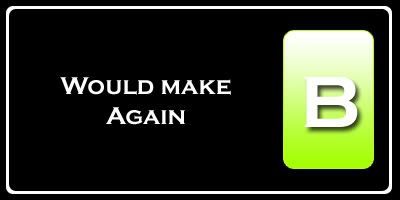 Nutrition Facts
Serving Size 353g
Amount per serving
Calories

674

Calories from fat 151
% Daily Value
Total Fat

16.7g

26%
Saturated Fat

5.9g

30%
Cholesterol

25mg

8%
Sodium 769mg
32%
Total Carbs

104.3g

35%
Fiber

21.8g

87%
Sugars 8.3g
Protein

33.4g

Vitamin A 12%
Vitamin C 21%
Calcium 33%
Iron 41%