There was about a 3 day span of time between when we arrived home from visiting the in-laws to leaving to go visit my family over New Years. During these 3 days I wanted to finish up the rationale for my thesis so I wouldn't have that hanging over my head over New Years and the following week. All of this led to me avoiding the grocery store and staying out of the kitchen as much as possible.
Well, if you've been out of town for 9 days, there's not an awful lot that is still good remaining in the fridge. Or actually much of anything in there at all. I had to be creative and start emptying out the freezer in search of things I could mix and match to form something resembling a meal. There was a loaf of angel food cake hiding out in there (from who knows when) as well as some frozen strawberries. Hmmm, french toast? At least eggs keep for a nice long while, so those were still good. I did have to cheat on my grocery store ban and have Adam pick some milk up on the way home -- but that's almost a staple that you
have
to have to get through the week. Or, at least we do.
Angel Food French Toast with a Strawberry Sauce
From: Original Recipe
1 (16 oz) box angel food cake mix
1 1/4 cup water
4 eggs
3 tablespoons milk
1/2 teaspoon cinnamon
8 ounces strawberries, frozen
1/4 cup water
1/2 tablespoon sugar
Preheat oven and prepare two loaf pans as directed by the cake mix box. Mix together the cake mix and 1 1/4 cup water. Divide batter between loaf pans, then bake as directed by the box. Allow to fully cool before use. Wrap one of the loaves in wax paper, followed by aluminum foil and store in the freezer for another use.
In a small saucepan over medium-high heat, combine the frozen strawberries and water. Once the strawberries have thawed, coarsely mash them, leaving some chunks of berries. Add the sugar and bring to a boil over medium heat, stirring frequently. Allow the mixture to reduce until the sauce has a syrup-like consistency.
Meanwhile, in a shallow dish, lightly beat together the eggs, milk, and cinnamon. Cut one loaf of angel bread into 1/2 inch slices. Warm a large non-stick skillet over medium heat. Place four slices of bread into the egg mixture and allow to sit for about 30 seconds. Flip and repeat. Transfer the four slices from the egg mixture to the skillet. Cook on each side for about 4-5 minutes, or until a light brown. Serve with the strawberry sauce.
Serves: 4
I was a little worried at first that the sweetness from the angel food cake plus the strawberry sauce would just be overpoweringly sweet. If you aren't a huge fan of sweets at all, you might want to pass this one on by, but for those with a sweet tooth this is right up your alley. It ended up definitely sweeter than your normal french toast (obviously), but not cloyingly so -- I thought it helped offset the egg flavor even better than regular bread. And yes, I totally just made cake into a breakfast food. Now that's what I'm talking about!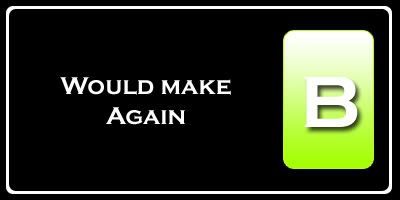 Nutrition Facts
Amount per serving
Calories 239
Calories from fat 44
% Daily Value
Total Fat 4.9g
8%
Saturated Fat 1.5g
8%
Trans Fat 0.0g
Cholesterol 187mg
62%
Sodium 358mg
15%
Total Carbs 40.3g
13%
Dietary Fiber 1.4g
6%
Sugars 22.6g
Protein 9.8g
Vitamin A 5%
Vitamin C 56%
Calcium 10%
Iron 7%