Well, it's still winter and there is still snow on the ground out there. That can only mean one thing, okay maybe two: 1) I want it to be summer out, and 2) I'm still in my "comfort food/heavy eating" mode. There's just something about sitting down to a nice warm meal on a chilly day (yeah, think in the teens with a wind-chill below 10 degrees).
This was actually the second time I made this -- just long enough for Adam to forget all about it and love it all over again. :) The first go-around I foolishly decided to make this right before a night class, and of course, ran out of time to take any pictures and had to take it with me to eat in class. Sigh. Will I ever learn? Probably not.
1 pound boneless, skinless chicken breast halves
Salt and Pepper
1 1/2 tablespoons olive oil
1 1/2 tablespoons butter
1/2 cup onion, diced
1/2 shallot, thinly sliced
2 tablespoons flour
1 1/2 cups low-sodium fat-free chicken broth
1/3 cup heavy cream
2 tablespoons dry sherry
4 medium carrots, peeled and cut into 1/2 inch slices
1 bay leaf
1/4 teaspoon ground nutmeg
1/2 teaspoon finely chopped fresh oregano leaves
1/2 teaspoon finely chopped thyme leaves
1/3 cup frozen peas
1/2 cup + 2 tablespoons flour
1/3 cup cornmeal
1 1/4 teaspoons baking powder
1/4 teaspoon salt
3 1/2 tablespoons chilled butter
1/2 teaspoon dried rosemary
1/2 cup milk
1/4 teaspoon kosher salt
Preheat oven to 425 degrees F.
In a Dutch oven, heat 1/2 tablespoon oil over medium-high heat. Slice chicken breasts into 1-inch cubes, then season with salt and pepper. Add chicken to Dutch oven and cook until chicken is cooked through (no longer pink), about 5 minutes. Remove chicken from pan and place in a warm spot (I usually stick mine in the microwave).
Using the same Dutch oven, lower the heat to medium, and melt your butter in the pan. Add the onion and shallots and cook until onion turn soft and translucent, about 5 minutes. Whisk in 2 tablespoons flour, then the broth, cream, and sherry. Let the mixture come to a boil, whisking frequently, then reduce heat. Add the carrots and next 4 ingredients (through thyme). Season with salt and pepper, and allow the mixture to simmer for 5 minutes. Stir in the chicken and peas and cook for another 5 minutes.
Meanwhile, stir together the remaining flour, cornmeal, baking powder and salt in a medium mixing bowl. Using a pastry cutter, cut the butter into the flour mixture until it is in pea-sized chunks. Stir in the rosemary, the slowly add the milk. Stir the batter together until all the dry ingredients are fully incorporated. The batter will be wet and slightly sticky.
Drop about 2 tablespoon-sized dumplings on top of the chicken mixture in the Dutch oven (make roughly 7-8). Place the Dutch oven in the oven and bake for 20-25 minutes, or until the dumplings are golden brown.
Serves: 4
If you didn't notice in the pictures, I was actually missing the peas for this dish, and it really does need them (my freezer stash failed me this time). I ended up cutting this dish in half (changes are reflected above) since it was just for the two of us -- we are already up to our eyeballs in leftovers, we don't need tons and tons more. This amount ended up working out beautifully, as I can usually count on Adam to take down at least two servings.
Both of us really enjoyed this, I really loved the extra punch the rosemary gives the dumplings, and Adam just loved the fact he was getting a very hearty "comfort" meal (well, he also really liked how it tasted, too). This is definitely a keeper for a cold day!
(Oh, and for those of you who wanted to see pics of my new little nephew, you can
click here
.)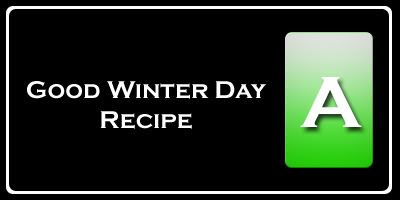 Nutrition Facts
Amount per serving
Calories 620
Calories from fat 298
% Daily Value
Total Fat 33.1g
51%
Saturated Fat 15.0g
75%
Trans Fat 0.0g
Cholesterol 155mg
52%
Sodium 596mg
25%
Total Carbs 39.0g
13%
Dietary Fiber 4.3g
17%
Sugars 5.9g
Protein 39.8g
Vitamin A 226%
Vitamin C 11%
Calcium 17%
Iron 22%