Sunday was apparently deemed "breakfast day" last weekend. Not only did we bust out some
scones
for
breakfast
brunch, but we continued with the breakfast theme into dinner with Quiche Lorraine. I had seen recipes for it here and there, but really, what was so special about this particular quiche?
I bookmarked this recipe over a year ago -- yes, it really took me that long to work up the gumption to make it. But it involves caramelizing the leeks! But it involves making my own crust! But, but, but. I finally quit making excuses and picked a day with plenty of time to spend in the kitchen. (Yes, that's what happens when we don't have things going on over the weekend -- I go into the kitchen and cook.)
1 3/4 cups leeks, diced, white and light green parts only
3/4 cup onion, diced
3 teaspoons olive oil
1 1/4 cups flour
1 tablespoon plus 2 teaspoons cornstarch
1/2 teaspoon salt
6 tablespoons butter, diced
4 eggs, divided
Water (optional)
1/2 cup plus 1 tablespoon heavy cream
1 cup plus 2 tablespoons sour cream
1/4 teaspoon nutmeg
1/4 teaspoon pepper
1 1/2 cups diced ham
3/4 cup grated Swiss cheese
In a large sauté pan over low heat, sauté the leeks and onions in the olive oil 30 to 40 minutes until caramelized, stirring occasionally. Remove from heat and set aside.
Meanwhile, combine the flour, cornstarch and one-fourth teaspoon salt in a mixing bowl. Cut the butter in with a pastry blender until the mixture has a crumb-like texture. Add one egg and mix it until a dough forms. If dough is too dry to fully incorporate all the ingredients, add water, 1 tablespoon at a time just until all the ingredients are wet.
Roll out the dough into a 12-inch disk on a lightly floured surface. Transfer the dough to a 9-inch pie plate, and press to remove any air bubbles. Crimp the edges, and refrigerate for 30 minutes.
While the quiche shell chills, in a medium bowl, mix together the heavy cream and sour cream. Whisk in the remaining three eggs, nutmeg, remaining salt, and pepper to form a batter.
Preheat the oven to 350 degrees.
Remove the shell from the refrigerator and spread the leek and onion mixture evenly over the bottom. Sprinkle the ham, followed by the cheese over the leeks and onions. Pour in the batter and place the quiche in the oven. Bake until puffed and golden, about 25 to 30 minutes. Remove from the oven and cool slightly on a rack. Serve warm or at room temperature.
Serves: 8
Looking back, I wish I hadn't waited so long to make this. Adam quickly took down 3 slices, and was eye-balling a fourth until he realized there just simply wasn't any more room. I was just fine with my one slice. I bet you can guess who won the leftover fight the next day (definitely wasn't me). This quiche has almost a custard-y quality to it, with the heavy cream and sour cream forming an almost silky-smooth texture.
One note: I ended up having to cook my quiche for almost and hour to get it golden brown and puffed (and it was in no way overdone). The edges definitely browned up much faster than the middle, so I simply covered the outside edges with foil and kept baking until I got the color I was going for in the middle.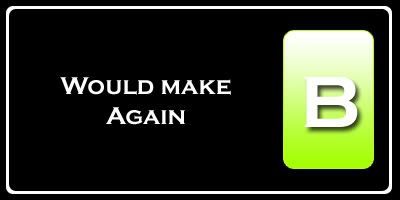 Nutrition Facts
Amount per serving
Calories 397
Calories from fat 252
% Daily Value
Total Fat 27.9g
43%
Saturated Fat 15.3g
76%
Cholesterol 167mg
56%
Sodium 614mg
26%
Total Carbs 23.6g
8%
Dietary Fiber 1.4g
6%
Sugars 1.7g
Protein 13.4g
Vitamin A 23%
Vitamin C 8%
Calcium 16%
Iron 12%