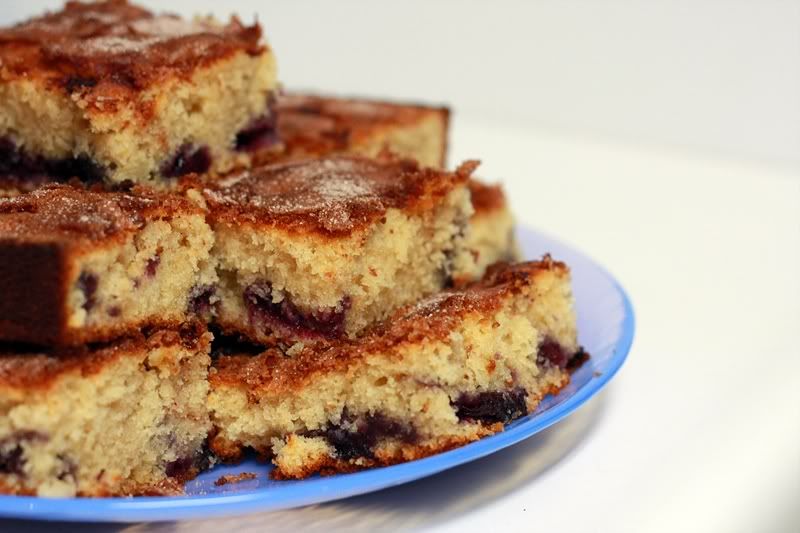 Ever see one of those recipes you just have to make? Right now? Every once in a while I get on a baking kick and just.have.to.make.it.right.now. Usually when this happens I simply send the majority of the goods with Adam to work the next day. Works for me as I get to make whatever it is I'm craving, but I don't get stuck eating the whole entire batch. As much as I would like to, it's really not the best of ideas.
And so for a while our little arrangement has worked out well. Until this recipe. Then Adam decided to go into hoarding mode and eat the entire plate of coffee cake by himself at work. With its juicy blueberries and crispy cinnamon-sugar topping, can't say I really blame him. Except that he didn't share with me either. Guess the whole "boy bait" part is really true.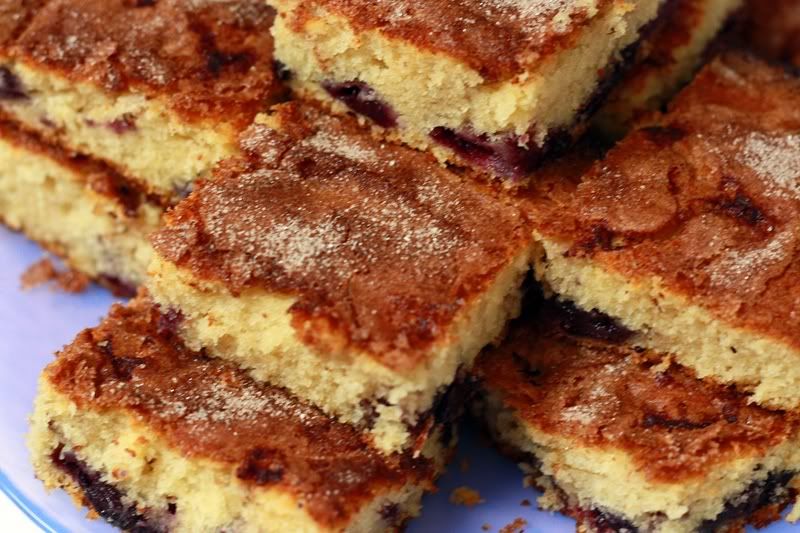 For the Cake:
2 cups all-purpose flour, plus 1 teaspoon
1 tablespoon baking powder
1 teaspoon table salt
16 tablespoons (2 sticks) unsalted butter, softened
3/4 cup packed light brown sugar
1/2 cup granulated sugar
3 eggs
1 cup whole milk
1/2 cup blueberries
For the Topping:
1/2 cup blueberries*
1/4 cup granulated sugar
1/2 teaspoon ground cinnamon
For the Cake:
Adjust the oven rack to middle position and heat oven to 350 degrees F. Grease and flour a 13×9-inch baking pan.
Whisk 2 cups of flour, baking powder, and salt together in a medium bowl; set aside. With an electric mixer, beat the butter and sugars together on medium-high speed until fluffy, about 2 minutes. Add eggs, one at a time, beating until just incorporated. Reduce speed to medium and beat in one-third of the flour mixture until incorporated; beat in half of the milk. Beat in half of the remaining flour mixture, then remaining milk, and finally remaining flour mixture. Toss the blueberries with remaining 1 teaspoon flour. Using a rubber spatula, gently fold in blueberries. Spread the batter into the prepared pan.
For the Topping:
Scatter the blueberries over top of the batter. Stir the sugar and cinnamon together in a small bowl and sprinkle evenly over the batter. Bake until toothpick inserted in center of cake comes out clean, 45 to 50 minutes. Cool in pan 20 minutes, then turn out and place on serving platter (topping side up). Serve warm or at room temperature. (Cake can be stored in an airtight container at room temperature for up to 3 days.)
Note: If using frozen blueberries, do not let them thaw, as they will turn the batter a blue-green color.
Serves:12
Not only were these good, but they are also really easy to throw together. I even had everything in my pantry ready to go, no grocery shopping necessary. (Now that's the kind of recipe I'm talking about!) I did use frozen blueberries vs. fresh, and I'm wondering if these would be even better with fresh berries. I would recommend making these the night before rather than day of if you're looking for breakfast, as these guys take a while to bake.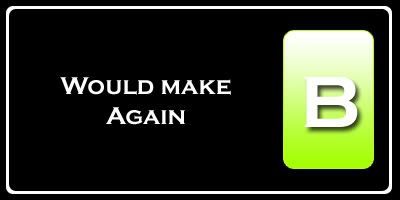 Nutrition Facts
Amount per serving
Calories 331
Calories from fat 156
% Daily Value


Total Fat 17.4g
27%


Saturated Fat 10.5g
52%


Trans Fat 0.0g


Cholesterol 89mg
30%


Sodium 331mg
14%


Total Carbs 40.7g
14%


Dietary Fiber 0.9g
4%


Sugars 23.7g


Protein 4.4g


Vitamin A 11%
Vitamin C 2%


Calcium 10%
Iron 8%