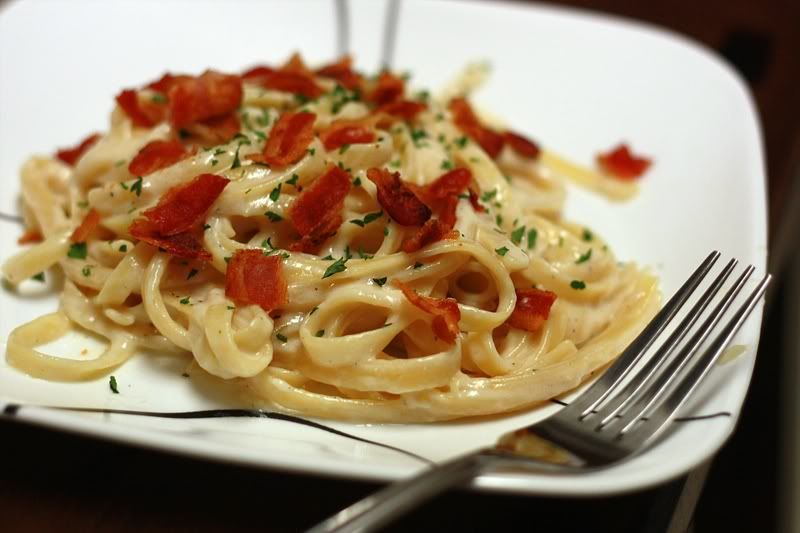 Ah bacon, we meet again! How I love you so. To me, fettuccine alfredo is just fettuccine alfredo, and there is usually nothing special about it. I've tried jarred versions and homemade versions of the sauce and... it is what it is. Slight variations on a theme, but usually no "wow" factor. Until it met bacon. The crunchy-smoky-chewy-salty-meaty awesomeness that is bacon pairs excellently with the smooth-creamy-understated alfredo. The bacon is the star in this dish and the alfredo is the chorus-line doing high kicks in the background -- you notice and appreciate it, but that's not what you came for.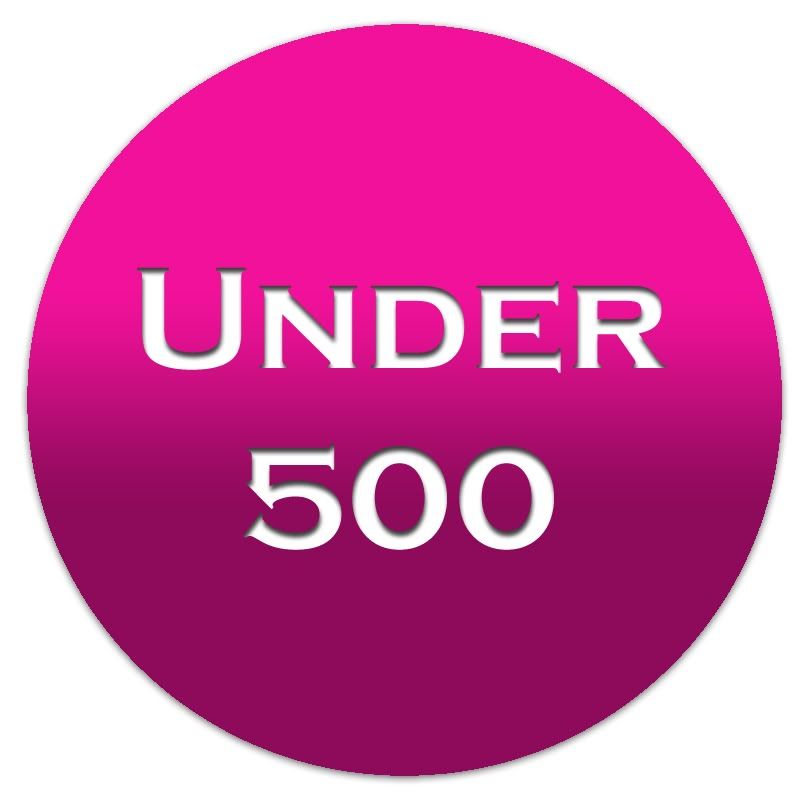 Fettuccine Alfredo with Bacon
Adapted From:
Cooking Light
, January 2010
8 ounces dried fettuccine
2 slices bacon, chopped
1 teaspoon minced garlic
1 tablespoon all-purpose flour
1 cup 1% low-fat milk
2/3 cup (about 2 1/2 ounces) grated Parmesan cheese
1/2 teaspoon salt
2 tablespoons chopped fresh parsley
1/2 teaspoon freshly ground black pepper
Cook pasta according to package directions, omitting salt and fat. Drain in a colander over a bowl, reserving 1/4 cup cooking liquid.
While pasta cooks, cook bacon in a large nonstick skillet over medium-high heat 4 minutes or until crisp, stirring occasionally. Remove bacon from pan, reserving drippings. Add garlic to drippings in pan; sauté 1 minute, stirring constantly. Sprinkle flour over garlic; cook 30 seconds, stirring constantly. Gradually add milk, stirring constantly; cook 2 minutes or until bubbly and slightly thick, stirring constantly. Reduce heat to low. Gradually add cheese, stirring until cheese melts. Stir in salt and reserved 1/4 cup cooking liquid. Add hot pasta to pan; toss well to combine. Sprinkle with bacon, parsley, and pepper.
And what makes this dish even better is that it almost qualified as a healthy dish! Yay for second place! It only has 347 calories, 12.6 g fat (5.4 g saturated fat), 20.5 g protein, and 37 g carbs.
However,
it does have 75 mg cholesterol and 916 mg of sodium (over 60% of the %DV, yikes!). So enjoy this dish, but only in moderation! ;)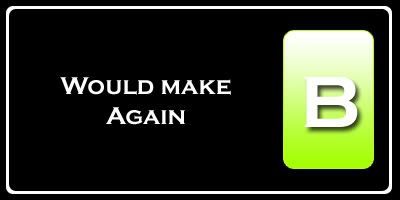 Nutrition Facts
Amount per serving
Calories 347
Calories from fat 114
% Daily Value


Total Fat 12.6g
19%


Saturated Fat 5.4g
27%


Trans Fat 0.0g


Cholesterol 75mg
25%


Sodium 916mg
38%


Total Carbs 37.0g
19%


Sugars 3.4g


Protein 20.5g


Vitamin A 8%
Vitamin C 5%


Calcium 27%
Iron 14%