As Adam and I were driving to our soccer game the other night, we passed by an Outback Steakhouse, and I noted how we have never once been there. Don't get me wrong, it's not that they have bad food, but of all things that I
don't
crave, steakhouse-type meals top that list. And the fact that Outback is notorious for have ridiculously high calorie-content foods doesn't help those cravings all that much either.
Every once in a while I do crave a nice meaty entrée. Especially when there is bacon involved. Wrapped around chicken. With a cream cheese filling. My interest is piqued.
12 slices of bacon
6 (4 ounce) boneless, skinless chicken breasts
1 (8 ounce) package reduced-fat cream cheese
1 cup sweet onion, diced
2 tsp olive oil
Dash of salt and pepper
In a large skillet over medium heat, cook bacon until done but not crisp. Remove to paper towels to drain.
In a small skillet, heat the oil over medium heat. Sauté the onions until translucent, about 5 minutes. Set aside.
Flatten chicken to 1/8-in. thickness. Spread 1 1/3 ounces cream cheese down the center of each chicken breast; top with onion. Roll up from a long side; tuck ends in. Sprinkle with salt and pepper. Wrap two bacon strips around each piece of chicken; secure with toothpicks.
Place in a greased 13-in. x 9-in. baking dish. Bake at 350° for 35-40 minutes or until a meat thermometer reads 170°.
Serves: 6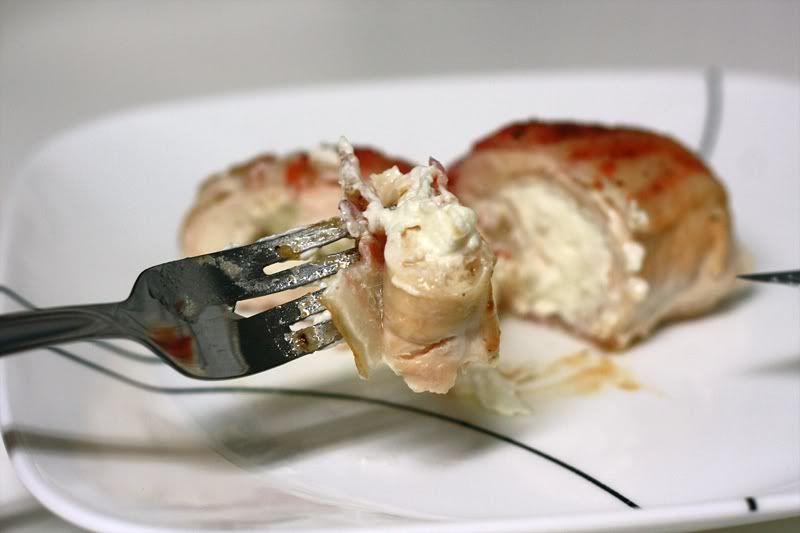 I can't say that this dish fared much better in the calorie department, but it had bacon, so taste-wise, it wins hands down. The only thing about this dish that kind of got me was the crunchy fresh onions. Thus I have adjusted the recipe above to reflect a nice short sauté to soften them up a bit and bring out their sweetness. I think it would pair much nicer texturally with the cream cheese. Maybe some day when I'm ready to splurge on some meaty-fatty-goodness I'll give this another try.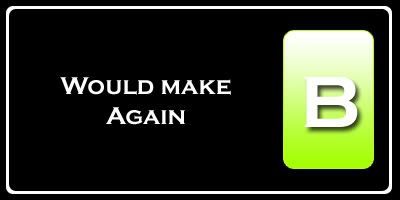 Nutrition Facts
Amount per serving
Calories 675
Calories from fat 421
% Daily Value


Total Fat 46.8g
72%


Saturated Fat 18.6g
93%


Trans Fat 0.0g


Cholesterol 205mg
68%


Sodium 1520mg
63%


Total Carbs 3.6g
1%


Sugars 0.9g


Protein 56.9g


Vitamin A 12%
Vitamin C 2%


Calcium 6%
Iron 15%