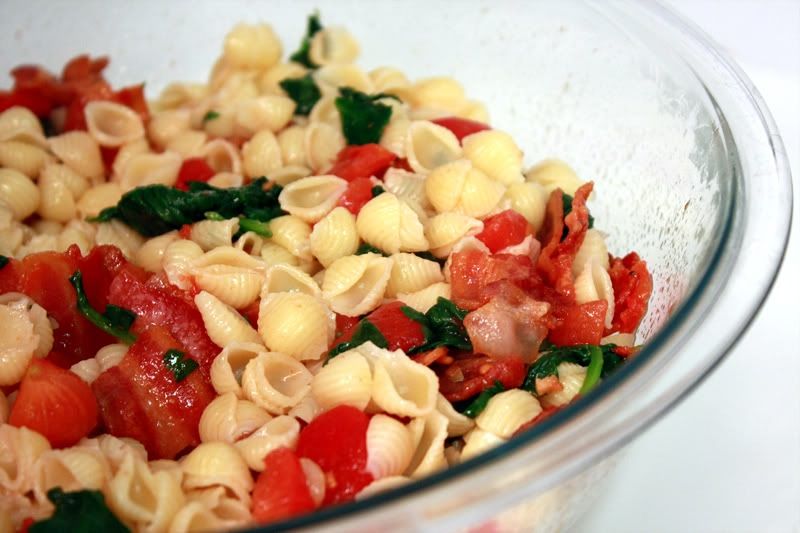 I love meals that bring everything you're looking for together in one place. I am notorious for not making any side dishes to go with my meals. Unless my main entrée is just a piece of meat, but then it's usually just some bagged salad to keep the plate from looking so sad. I don't know why I don't plan sides -- probably because I become too lazy at that point in time during my meal planning. I consider it a job well done just to figure out the main courses and call it good. Then again, I just had my
veggie rant
the other day, so it's not too much of an imaginative leap to go figure why I shy away from side dishes.
That's why I love what I call my "all in one" meals. Take this recipe for example. It has pasta, meat, and vegetables. Why do you need a side? You don't! Well at least in my book anyways. Yeah... maybe I should work on that.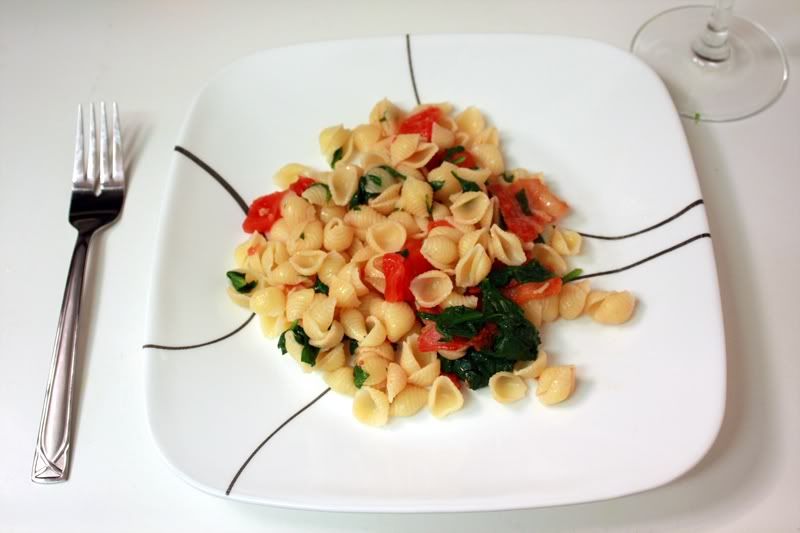 12 ounces medium-sized pasta
6 slices bacon, chopped
2 tablespoons minced garlic
1 (14.5 ounce) can diced tomatoes, drained, juices reserved
3 cups fresh spinach, rinsed and cut into bite-size pieces
Bring a large pot of lightly salted water to a boil. Add the pasta, and cook following package directions.
Meanwhile, place bacon in a large skillet over medium heat. Cook until done - browned but still slightly chewy. Add garlic, and cook for about 1 minute. Stir in the tomatoes, and cook until heated through.
Place the spinach into a colander, and drain the hot pasta over it so it is wilted. Transfer to a large serving bowl and toss with the bacon, tomato mixture, and about 1/2 of reserved tomato juice.
Note: If for some reason your bacon drippings and tomato juice does not coat your pasta enough, add 1 - 2 tablespoons of olive oil.
Serves: 4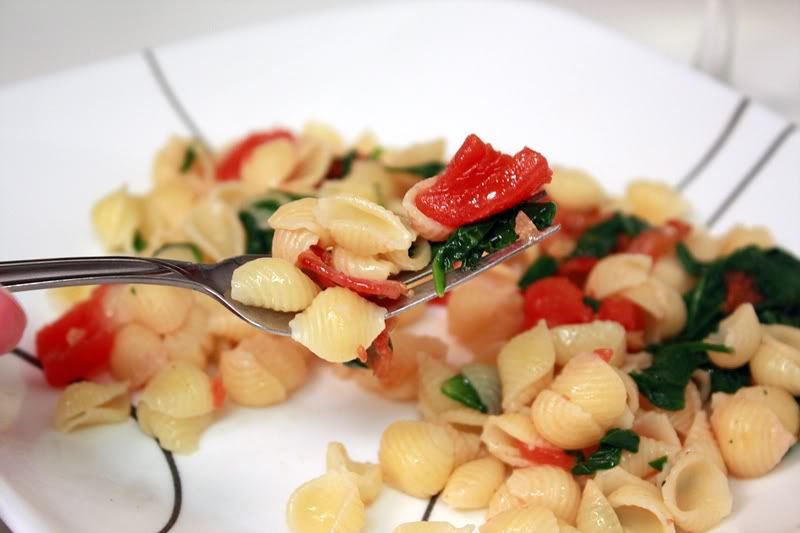 Adam and I both really liked this dish. I switched up a couple things from the original recipe (um, why do you need oil to cook bacon in???), and I thought it turned out great. It is super easy to throw together, and takes under 30 minutes to do so. And better yet, my favorite ingredient gets to be the star: bacon! So of course, what's not to love about it?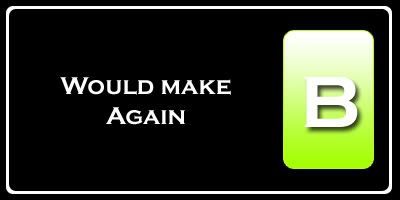 Nutrition Facts
Amount per serving
Calories 505
Calories from fat 180
% Daily Value


Total Fat 20.0g
31%


Saturated Fat 6.2g
31%


Trans Fat 0.0g


Cholesterol 109mg
36%


Sodium 1028mg
43%


Total Carbs 53.4g
18%


Dietary Fiber 1.8g
7%


Sugars 16.5g


Protein 27.2g


Vitamin A 60%
Vitamin C 34%


Calcium 6%
Iron 25%