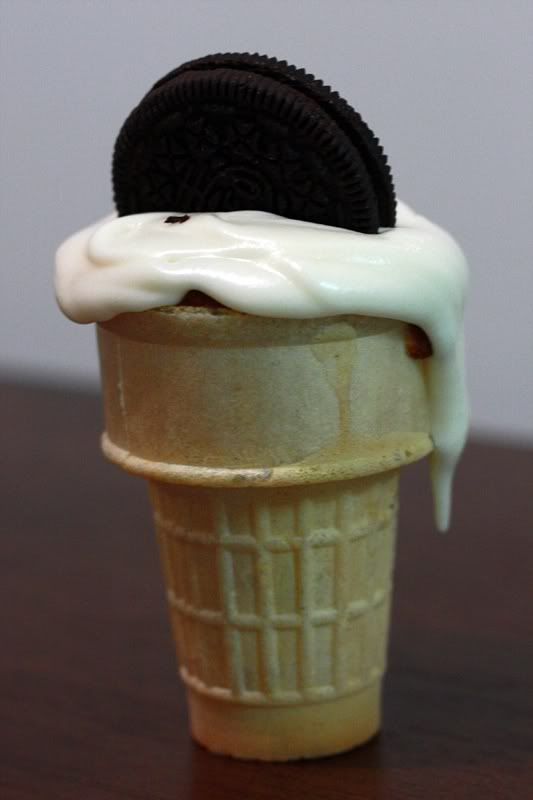 Is it just me or is this summer a hot one? My little cupcake even agrees.
While most of my friends like to come home, turn on the TV and watch shows such as American Idol, The Bachelor/ette, any reality TV show on MTV... our TV gets turned to the Food Network. Or well, after we watch Lie to Me, or Leverage, or one of our other DVR-ed shows. Yes, we are "those kids", party of 2. We are more into the late night Food Network -- Iron Chef, The Next Food Network Star, and Good Eats (one of Adam's favorites). One of the new shows they debuted this summer was Cupcake Wars. I figured, I like cupcakes, let's watch it.
Definitely not what I was expecting, but interesting nonetheless. In one of the first episodes, one of the bakers made Root Beer Float cupcakes -- root beer cupcakes with a creamy frosting with a cherry on top. In an ice cream cone. All I could think was, did that just happen? I would have never thought of that! Right then and there I decided I had to try it. Well, come to find out, it's not exactly a new trick. They even make pans to hold the cones while baking.
When I decided to make these, I was faced with a dilemma. What flavor should I make? It has to be your typical ice cream flavor, or it's just going to be weird. Chocolate? No, I make those too often. Vanilla? Eh. Then I remembered I had a recipe for cookies and cream cupcakes starred in my Google Reader. Sold.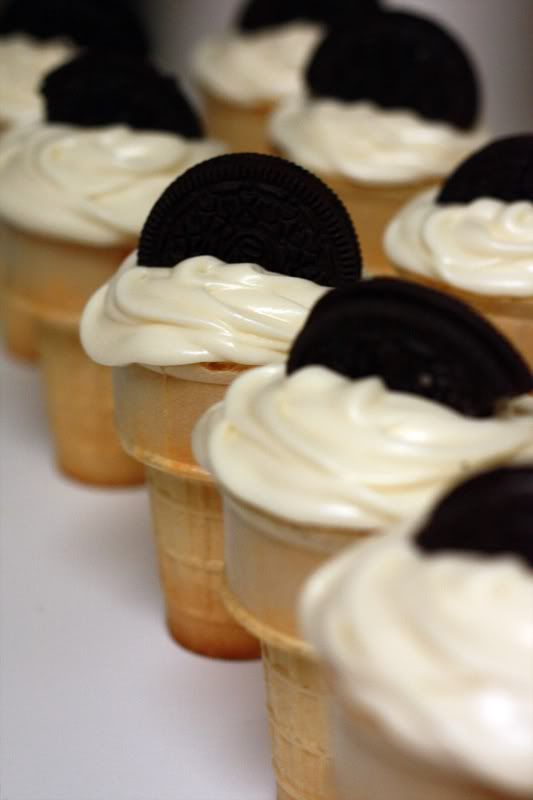 Cookies and Cream Ice Cream Cone Cupcakes
Adapted from:
Annie's Eats
For the cupcakes:
2¼ cups all-purpose flour
1 tsp. baking powder
8 tbsp. butter, at room temperature
1 2/3 cup sugar
3 large egg whites, at room temperature
2 tsp. vanilla extract
1 cup milk
20 Oreo cookies, rough chopped (I quarter them)
24 regular-sized sugar ice cream cones
For the frosting:
8 oz. reduced-fat cream cheese, at room temperature
6 tbsp. butter, at room temperature
1 tbsp. vanilla extract
4 cups confectioners' sugar, sifted
2 tbsp. heavy cream
For garnish:
Oreo cookie crumbs
24 Oreo cookies, cut in half
Preheat the oven to 350˚ F. Place the ice cream cones standing up on two baking sheets.
In a medium bowl, combine the flour and baking powder; stir together with a fork to blend and set aside. In the bowl of an electric mixer, combine the butter and sugar and beat together on medium-high speed until light and fluffy, about 2 minutes. Blend in the egg whites one at a time, beating well after each addition. Blend in the vanilla extract. With the mixer on low speed, beat in half of the dry ingredients just until incorporated. Add the milk and beat just until combined, then mix in the remaining dry ingredients. Gently fold in the chopped Oreos with a rubber spatula until evenly incorporated, being careful not to over-mix.
Fill each ice cream cone to the top with batter. (
Don't worry about trying to get batter down into the bottom of the cone, the batter will spread and fill it during baking.
) Lightly cover pans with foil. Bake for ~15 minutes; remove foil and bake for another 5 minutes, or until a toothpick inserted in the center comes out clean. (
These may take longer than usual to bake.
) Allow to cool on the pans 5-10 minutes, then transfer to a wire rack to cool completely.
To make the frosting, combine the cream cheese and butter in the bowl of an electric mixer and beat on medium-high speed until smooth, about 1 minute. Blend in the vanilla extract. Beat in the confectioners' sugar until incorporated and smooth, 1-2 minutes. Add the heavy cream to the bowl and beat on medium-low speed just until incorporated, then increase the speed to medium-high and whip for 4 minutes until light and fluffy, scraping down the sides of the bowl as needed.
Frost the cooled cupcakes as desired. Sprinkle with Oreo crumbs and garnish with Oreo halves.
Makes: 24 cupcakes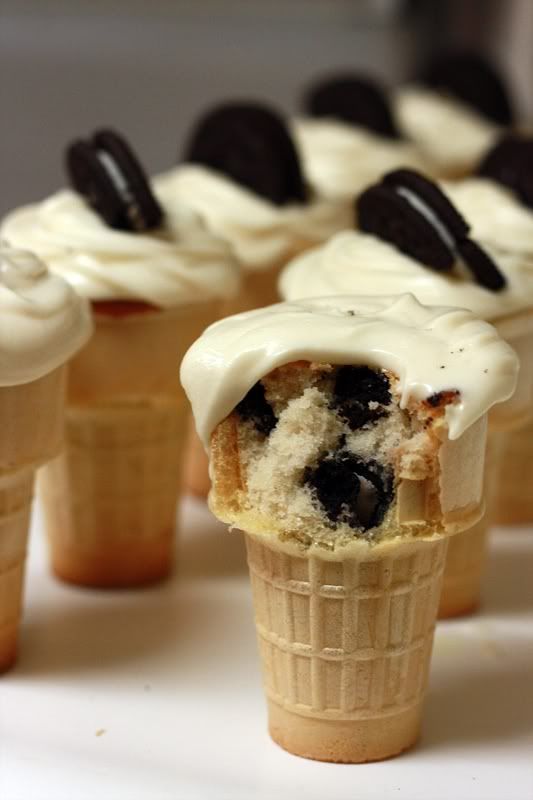 So yes, this whole process was a trial and error. My first 12 cupcakes turned out a bit dark, so I added foil. And then I had one cone (that had to be in the back of course) that just insisted on falling over several times while trying to put these in the oven. Frustrating, yes.
I think these would be super cute at a kid's birthday party. Although you kind of do have to get used to the idea of biting into an ice cream cone and getting cake, not ice cream. It's a little weird at first. And I need to figure out a way to get some frosting down into the bottom of the cone. The cup part of the cone was great, and you had a good frosting-to-cake ratio, but once you get down near the bottom, there's no frosting left. I guess that wasn't too bad of a thing though, as the actual cupcake was really delicious. The frosting wasn't bad, but it was very soft. That plus the high temps and humidity around here... well see the first picture in this post.
I definitely want to try this idea out again. I just need a party and a way to get them there...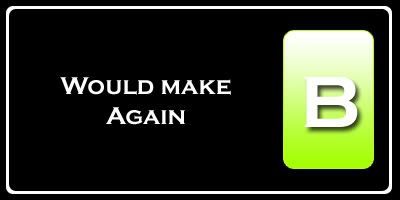 Nutrition Facts
Amount per serving
Calories 475
Calories from fat 143
% Daily Value


Total Fat 15.8g
24%


Saturated Fat 7.7g
39%


Trans Fat 0.8g


Cholesterol 31mg
10%


Sodium 256mg
11%


Total Carbs 78.0g
26%


Dietary Fiber 1.7g
7%


Sugars 42.3g


Protein 6.0g


Vitamin A 7%
Vitamin C 0%


Calcium 4%
Iron 13%