Last October, Cooking Light came out with a medley of Asian noodle recipes. All of them looked scrumptious, especially their
Spicy Malaysian-Style Stir-Fried Noodles
. So I perused the ingredient list and directions and it all seemed very doable. Until I went grocery shopping. No sweet bean sauce at Giant Eagle. No sweet bean sauce at McGinnis Sister's. Problem. This delicious looking dish got shuffled into "the pile", continuing to be skipped over time and time again.
Then, at the end of June, Adam and I decided to visit my parents for the 4th of July weekend. And I had a brainstorm. I knew the town right next to my parents had both Latin and Asian grocery stores -- score. This recipe had life again! It only took forever for us to finally locate the can of sweet bean sauce hiding out on the shelves, but we did. I brought that sucker home and knew just what we were having for dinner the first time I got a chance (which unfortunately wasn't for a while). That poor little can of sweet bean sauce sat on my kitchen counter staring at me for almost a month.
Far far too long before we got to enjoy this dish. Well of course after all that wait, finding the remaining "normal" ingredients was supposed to be a breeze. Ha. Of course we went grocery shopping late on Sunday so the shelves were all but stripped bare. Including the organic section where we were trying to find the tofu. All that was left was firm tofu, not extra-firm. I said "screw it, we're going with firm, and I am making this dish". Good call, good call.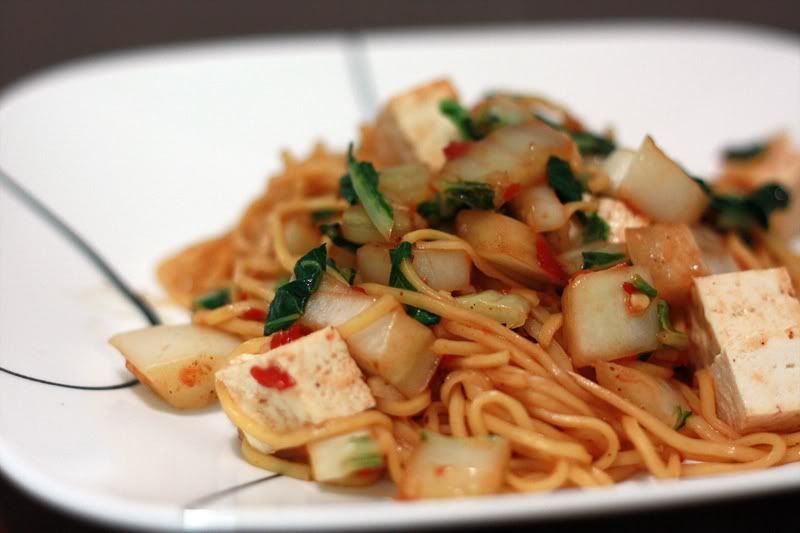 Spicy Malaysian-Style Stir-Fried Noodles
Adapted from:
Cooking Light
, October 2009
1 (14 ounce) package water-packed extra-firm tofu, drained
2 (6 ounce) packages Chinese chow mein noodles
2 tablespoons sesame oil
4 garlic cloves, minced
1/4 teaspoon salt
1 head bok choy, trimmed and cut crosswise into 2-inch-thick strips
1 tablespoon sugar
3 tablespoons chile paste with garlic (such as sambal oelek)
2 tablespoons fresh lime juice
2 tablespoons sweet bean sauce
2 tablespoons soy sauce
Line a plate with a triple layer of paper towels; top with tofu. Place a triple layer of paper towels on top of tofu; top with another plate. Let stand 20 minutes. Cut tofu into 1/2-inch cubes.
Cook noodles in a large saucepan of boiling water according to package directions; drain in a colander over a bowl, reserving 1 cup cooking liquid. Wipe pan with paper towels. Heat oil in pot over medium heat. Add garlic to pan; cook 30 seconds, stirring constantly. Add salt and bok choy; cook 30 seconds, stirring frequently. Stir in 1/2 cup reserved cooking liquid; bring to a boil. Reduce heat, and cook 4 minutes.
Combine sugar and the final four ingredients, stirring until combined. Add noodles, remaining 1/2 cup cooking liquid, and sugar mixture to pan; toss to combine. Cook 30 seconds or until thoroughly heated, tossing to coat. Add tofu; toss to combine. Serve immediately.
Serves: 6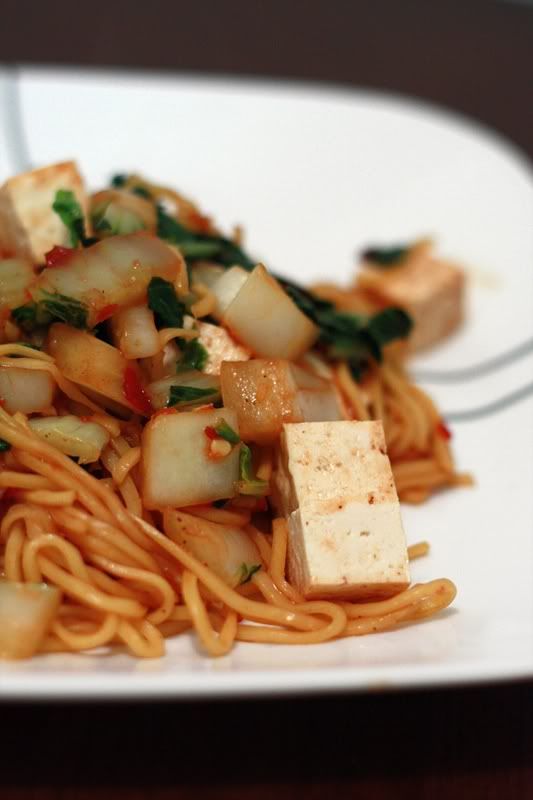 So the extra-firm tofu is probably the wiser choice for this dish as I found the firm to be kind of squishy and weird. But then again it was the first time I'd cooked with tofu, so I had no idea what to expect.
This dish was super tasty. Really really spicy, but very tasty. As in, oh-my-gosh-it's-so-spicy-it-hurts-but-its-so-good-I-have-to-keep-eating-it. I think I might back off a tidge on that chile paste next time (go for 2 tablespoons rather than 3) so we can enjoy this dish even more. Even if it's too spicy, a nice big glass of milk makes it totally possible. Now I just need to find a place up here that sells that sweet bean sauce. Although... the sweet been sauce reminded me of a mixture of hoisin and teriyaki sauces, but much thicker. Maybe I can get away with doing a combination of the two with some cornstarch... I'll have to think on that one.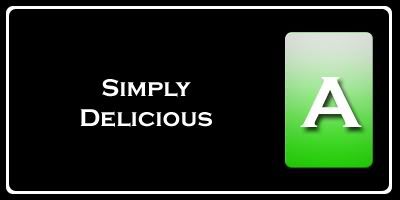 Nutrition Facts
Amount per serving
Calories 433
Calories from fat 235
% Daily Value


Total Fat 26.1g
40%


Saturated Fat 3.5g
18%


Cholesterol 0mg
0%


Sodium 835mg
35%


Total Carbs 40.8g
14%


Dietary Fiber 4.0g
16%


Sugars 4.6g


Protein 13.9g


Vitamin A 126%
Vitamin C 114%


Calcium 28%
Iron 29%