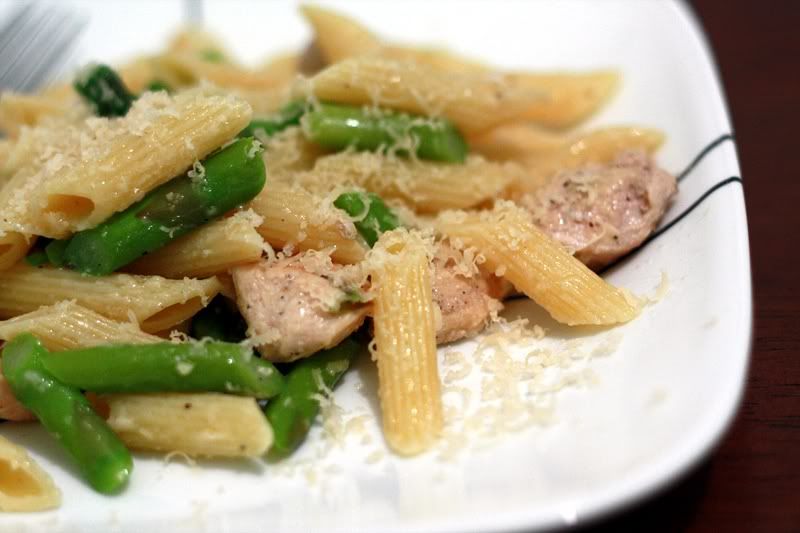 I think I have come to the conclusion that I grew up on chicken nuggets and baked goods. Surely I had to eat more than that, but Lord knows it was not vegetables. If we would have owned a dog while I was growing up, I would have totally been that kid shoving veggies under the table for it to eat. We just don't get along. We have a love-hate relationship. They love me and I hate them. Good thing veggies don't have feelings.
You want me to eat squash? How about I eat an apple. Green beans? I think I'll go with strawberries instead. Now there are a few vegetables that I have come to enjoy (occasionally) over the years -- tomatoes (as long as they are cooked in something), onions (as long as they aren't raw), broccoli, lettuce, carrots, corn. Um. Yeah, I'm sure there are more. There must be. I think there are veggies out there that I've had before, liked, and then forgotten that I liked them. Such as asparagus. I always tend to forget about it.
When performing one of my marathon recipe searches the other day, I came across this recipe for pasta with chicken and asparagus. It was simple and to the point. Good thing one of my good friends had made grilled asparagus for us a few months back. It jumped started my memory that -- why yes, in fact, asparagus does belong on the "vegetables I like" list.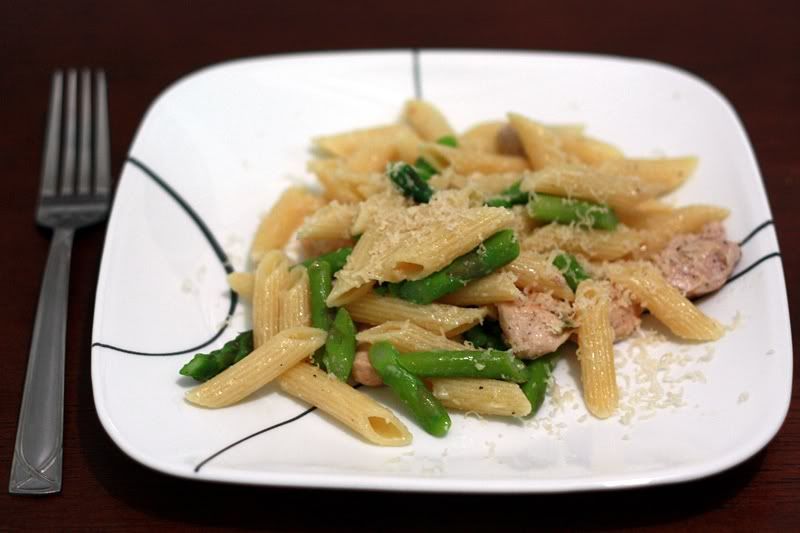 1 pound penne pasta
5 tablespoons olive oil, divided
2 (4 ounce) skinless, boneless chicken breast halves, cubed
3/4 tsp salt
1/2 tsp pepper
1 - 2 teaspoons garlic powder
1/2 cup low-sodium, fat-free chicken broth
1 bunch slender asparagus spears, trimmed, cut on diagonal into 1-inch pieces
1 clove garlic, thinly sliced
1/4 cup Parmesan cheese
Bring a large pot of lightly salted water to boil. Add pasta, and cook until al dente, about 8 to 10 minutes (or according to package directions). Drain, and set aside.
Warm 3 tablespoons olive oil in a large skillet over medium-high heat. Add chicken; season with 1/2 teaspoon salt, 1/4 teaspoon pepper, and 1 to 1 1/2 teaspoons garlic powder. Cook until chicken is cooked through and browned, about 5 minutes. Remove chicken to a paper towel-lined plate.
In the same pan, add chicken broth. Stir in asparagus, garlic, remaining garlic powder, salt, and pepper. Cover, and steam until the asparagus is just tender, about 5 to 10 minutes. Return chicken to the pan and warm through.
Add chicken to pasta, mixing well. Let sit about 5 minutes. Drizzle with 2 tablespoons olive oil, stir again, then sprinkle with Parmesan cheese.
Serves: 8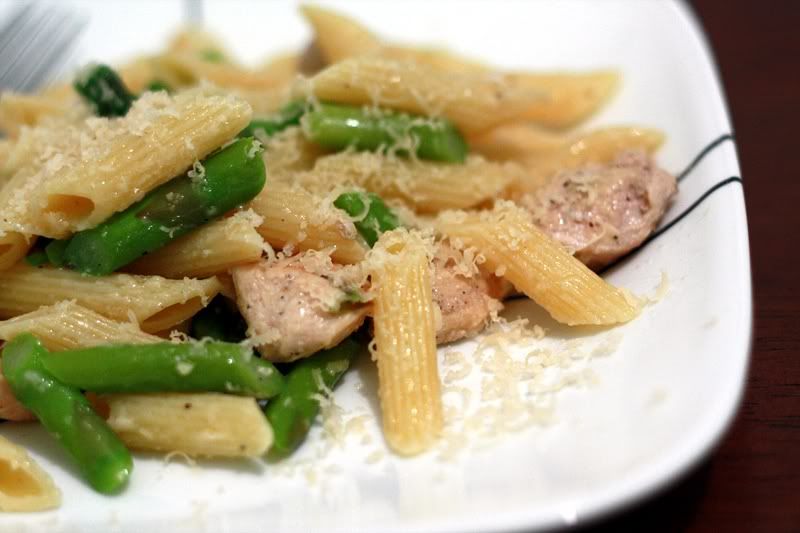 When I had first started on my little culinary adventure a couple years ago, I wish I had found recipes like this to being with. It is quick and easy, yet still fairly healthy. It's simple enough for a beginner cook, but flexible enough to be played with by a cook with more experience.
I liked the nice quick steam of the asparagus with chicken broth done in the same pan as the chicken (gotta love those one dish deals). I have a new love of cooking/boiling things in broths and stocks instead of water nowadays. It just seems to give the food so much more flavor. The other part I like about this dish is that it fits in with my "light sauce for pasta" craving that hits with summer. No heavy red or white sauce here. Just a nice light olive oil drizzle to finish it off. It's that kind of sauce that really makes the summer produce shine.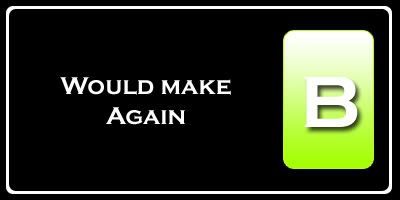 Nutrition Facts
Amount per serving
Calories 319
Calories from fat 115
% Daily Value


Total Fat 12.8g
20%


Saturated Fat 2.5g
13%


Cholesterol 69mg
23%


Sodium 240mg
10%


Total Carbs 33.7g
11%


Dietary Fiber 1.2g
5%


Sugars 1.1g


Protein 17.2g


Vitamin A 10%
Vitamin C 6%


Calcium 6%
Iron 20%