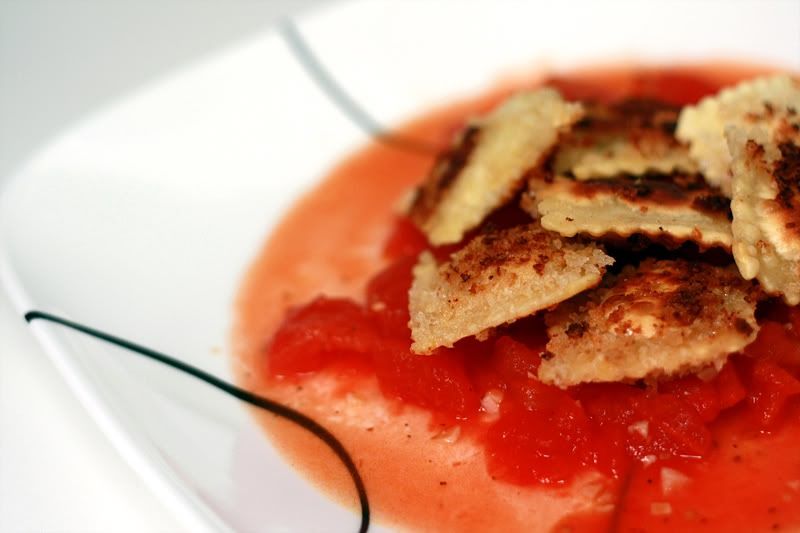 Of all the eating places we
didn't
have in the small town where Adam and I went to college, what we did have was an
Imo's Pizza
. Imo's set itself apart from the typical Domino's or Pizza Hut by being a true blue St. Louis-style pizza. Thin crispy crust and that awesome Provel cheese, which just gives the pizza a gooey almost buttery texture.
Every time we would go to Imo's it never failed -- Adam always had to get their toasted ravioli. He just could not get enough of it. 10 little raviolis breaded and fried, then surrounded by a moat of marinara sauce. Can't really say I blame him. Needless to say, Imo's does not exist out here, and we rarely make it back to the St. Louis area. Thus, Adam is sorely deprived of his favorite little toasted raviolis. So when I saw breaded and pan-fried ravioli in Cooking Light I knew I had to make these for him.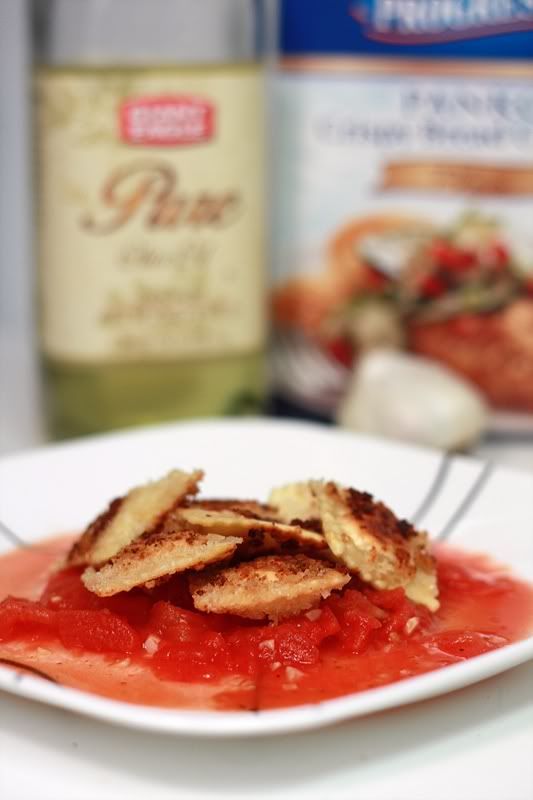 Quick Toasted Ravioli with Tomato Sauce
Adapted from:
Cooking Light
, September 2010
2 tablespoons water
1 large egg, lightly beaten
1 cup panko (Japanese breadcrumbs)
1/4 cup grated fresh Parmigiano-Reggiano cheese
1 (9-ounce) package fresh cheese ravioli
3 tablespoons olive oil, divided
1 (15.5 ounce) can diced tomatoes
1/2 teaspoon salt
1/4 teaspoon freshly ground black pepper
3 garlic cloves, coarsely chopped
Combine 2 tablespoons water and egg in a shallow dish, stirring well. Combine panko and cheese in a shallow dish, mixing well with a fork. Dip each ravioli in egg mixture; dredge in panko mixture. Place on plate and repeat with remaining ravioli.
Heat a large skillet over medium-high heat. Add 1 1/2 tablespoons oil to pan; swirl to coat. Add half of ravioli to pan in a single layer; sauté 1 minute on each side or until golden. Remove ravioli from pan using a slotted spoon; drain on paper towels. Keep warm. Repeat procedure with remaining 1 1/2 tablespoons oil and ravioli. Wipe skillet with paper towels.
Lower heat to medium. Add garlic to pan; sauté 30 seconds, or until fragrant. Add tomatoes, salt, and pepper to pan; sauté 2 minutes, stirring frequently. Slightly mash half of the tomatoes with the back of a fork. Divide the tomato sauce evenly among 4 plates; top each with 1/4 of the ravioli.
Serves: 4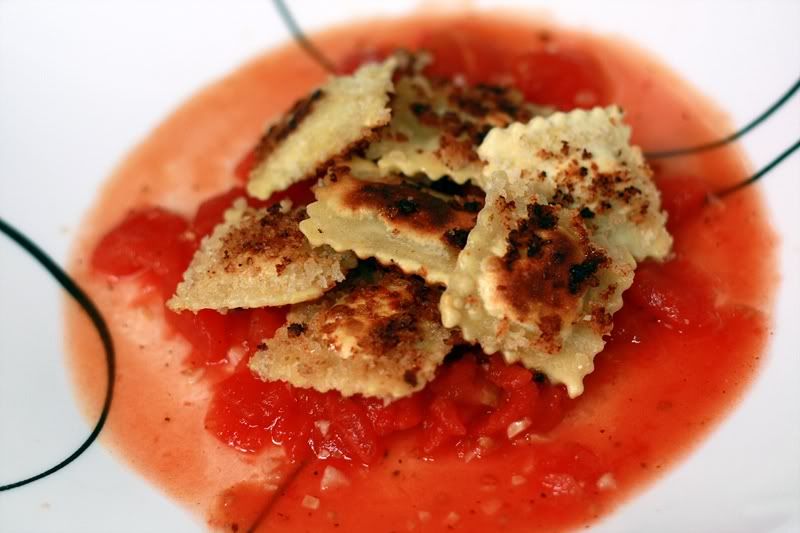 I switched some things up from the original recipe -- such as mashing the tomatoes and serving the ravioli on top, to make this a little closer to Adam's comfort food. Next time I think I would add a can of pureed tomatoes to thicken the sauce up a bit and a dash of Italian seasoning to really enhance the flavor. And I need to figure out a better way to flip those little raviolis...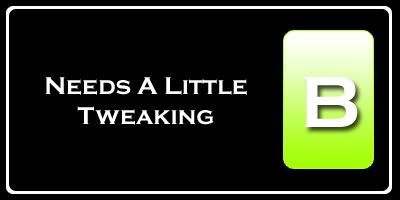 Nutrition Facts
Amount per serving
Calories 462
Calories from fat 168
% Daily Value


Total Fat 18.7g
29%


Saturated Fat 3.2g
16%


Cholesterol 71mg
24%


Sodium 805mg
34%


Total Carbs 58.1g
19%


Dietary Fiber 2.6g
10%


Sugars 4.7g


Protein 16.3g


Vitamin A 20%
Vitamin C 24%


Calcium 14%
Iron 11%